Browns CB Joe Haden Must Back Up Big Talk on the Field
September 28, 2015

Joe Robbins/Getty Images
There are times when the NFL is a simple thing to explain. One team outscores the other through various methods, and the team that wins the last game of the season is crowned the champion. In the meantime, fans of all 32 NFL franchises live and breathe for the next game to arrive because it could bring hope that this is their year to bask in a Super Bowl victory.
The Cleveland Browns have long had the most long-suffering fanbase in football. Growing up in the Northeast Ohio area, I had a firsthand look at how the Browns' faithful fans have been subjected to putrid football since returning in 1999. The years of blown draft picks, botched head coach searches, and now two underwhelming owners, have tested maybe the country's most deserving fans.
The Browns are still struggling to win games, but they have built a more talented roster than they have had in a long time. Recent draft classes have provided Cleveland with several building blocks for the franchise. Left tackle Joe Thomas, left guard Joel Bitonio and free safety Tashaun Gipson are all excellent starters when compared to their peers league-wide. In theory, cornerback Joe Haden should be up there as well.
The hype around Haden has been present since he was drafted seventh overall in the 2010 NFL draft. His high draft status and penchant for interceptions have helped create a narrative that he is a shutdown cornerback. His 16 career interceptions is tied for 30th among active players.
Part of the reason Haden is so beloved by his fans is how good of a leader he is. He has fully embraced the city of Cleveland since being drafted. His Instagram account often features Cleveland as the focal point, with hashtags like #GoBrowns and #DawgPound. If you spend enough time in the city, you may have seen him driving around or attending a Cleveland Cavaliers game courtside.
He's a great sports ambassador for the city, which has only endeared him to the fans even more. Cleveland has embraced the former Florida Gator as much as he's adapted to the city, leading to his jersey topping the sales charts this past summer.
But it has somewhat clouded how good of a cornerback he has been to this point in his career. His rocky start to 2015 continues to show major concerns that he's had since entering the NFL. In fact, there's been almost no growth to his game in five seasons, which cannot be said for the actual top cornerbacks in the league.
His confidence has also been a big reason for the reputation he's garnered. He talks a good game and has played well against division rival A.J. Green on several of their matchups. But outside of those games with Green, Haden has been far from shutdown. However, apparently defensive coordinator Jim O'Neil thinks differently, per his comments (via Daryl Ruiter of 923 The Fan) this past summer:
"I think we have the potential to be the best secondary in the NFL." - DC Jim O'Neil continuing the talk generated by Haden/Whitner & co

— Daryl Ruiter (@RuiterWrongFAN) June 18, 2015
Quantifying the Film
When looking at why teams win and lose, football becomes a complex web of relationships. There are 22 moving bodies on the field at one time, on top of the numerous positional coaches and coordinators who must keep everyone on the same page. One cog that fails must be compensated for elsewhere or else the entire unit could potentially break.
In other words, the team will only succeed if individuals are playing at a high level consistently. But measuring the individual success at particular positions is difficult with traditional statistics. That's where we must improvise a little and devise a way to look deeper.
The baseline data we have for cornerbacks feature tackles, interceptions and passes defensed. That's it. But these three number totals really tell us very little in terms of how well a cornerback performs in his primary responsibility, which is coverage.
The issue with this is that good cornerbacks are less likely to be targeted. Less targets mean less chances for interceptions or other game-breaking plays. Really, the best cornerbacks are the ones who smother receivers throughout a variety of routes on a consistent basis.
Last summer I created a charting system to track how productive cornerbacks are. By tracking every route faced throughout the 2014 season and comparing it to their peers, we can get a realistic look at how often a cornerback is providing good and bad coverage. You can read more in depth about the project here to get a better feel for my criteria.
After charting 36 cornerbacks on the All-22 coaches film through NFL Game Pass, I found Haden to be rather average with his overall burn rate of 36.84 percent. That means that on every route defended in man coverage, Haden was getting beat almost 37 percent of the time.
2014 Burn Rate Totals vs Joe Haden
Routes Defended
Haden's Losses
Haden's No. of Routes Defended
Haden Burn Percentage
NFL Total Losses
NFL Total No. of Routes Defended
NFL Average Burn Percentage
Cross
4
10
40%
80
214
37.4%
Quick In-Out
2
7
28.5%
113
351
32.2%
Slant
5
12
41.6%
161
325
49.5%
Comeback
6
11
54.5%
123
316
38.9%
Curl
7
31
22.5%
195
790
24.7%
Deep Out
3
6
50%
86
193
44.6%
Dig
5
10
50%
110
275
40%
Corner
3
7
42.8%
52
131
39.7%
Post
7
12
58.3%
84
234
35.9%
Go
14
46
30.4%
243
1,005
24.2%
Cumulative
56
152
36.84%
1,247
3,834
32.5%
DraftCentric.Weebly.Com
The leaders in 2014 had a burn rate of 16, 17.8 and 23.7 percentage, with those marks going to Jimmy Smith, Darrelle Revis and Chris Harris, Jr., respectively. Those are shutdown cornerback numbers, since they consistently bottled up their assigned target, regardless of any affect of pass rush or opposing quarterback skill level.
Above you can see all of the data I gathered for Haden compared to the NFL averages from the 2014 season. He was beaten at an abnormally high rate on posts, comebacks and go-routes. These are all routes that require great closing speed and excellent footwork. Unsurprisingly, those are the two biggest areas Haden struggles with.
His physical play style has generally helped him play against the likes of A.J. Green, Vincent Jackson and Andre Johnson. It takes a pit bull-like attitude to win against those stronger receivers. But it also is less challenging than facing guys like Antonio Brown, Amari Cooper and many of the other more explosive receivers. No matter who doubts Haden ability, he has apparently not bought into it; he has confidence in himself, according to his comments back in 2014 (via NFL on ESPN):
Joe Haden says he's the best CB in the league. pic.twitter.com/57zd2Lmdud

— NFL on ESPN (@ESPNNFL) May 15, 2014
It takes excellent discipline and focus to hold up against the best NFL route-runners. Haden's proclamations that he's the best in the NFL are nice, but they're baseless, as he's routinely found out of position when the receiver makes his break. Haden often guesses where the receiver is heading, whereas guys like Revis and Harris have been running routes as if they're the offensive player.
Haden's issues have crept up again as recently as this past Sunday against the Oakland Raiders, but he was also torched Week 1 against Brandon Marshall. Let's take a look at his numbers and some clips against Marshall.

Credit: self-charting
As you can see above, Haden defended Marshall on 11 pass plays where Haden was directly responsible for Marshall in man coverage. He lost positioning to challenge the catch on five of those occasions. Marshall was able to use his bigger frame and great feet to create separation on sharp-cutting routes.
Credit: NFL Game Pass
That's been a constant area of concern for Haden. He's never improved his footwork since entering the NFL, which has too often left him steps behind on the types of plays like the one above. You can easily see Chris Owusu get Haden turned around, and Haden was fortunate Owusu wasn't heading upfield on a double move as the primary target.
Owusu beat Haden on three of four matchups, which is a small sample, but also eye-opening. Owusu is a borderline NFL rotational player, but he confounded Haden with his suddenness. The Browns must expect much better from Haden.
Credit: NFL Game Pass
Haden is routinely taking false steps, or he stops moving his feet because he doesn't feel where the route is heading. This is either an issue with film study or instinct for the position. Once he hesitates, he lacks the burst and top-end speed to compensate for it.
The first example is a bad burn by Marshall on a go route. Haden doesn't win at the line with his press, as he allows Marshall to get inside positioning instead of pushing him to the boundary. The whole purpose of press coverage is to pin the receiver against the sideline so that he has to make a spectacular catch, if one at all. 
Credit: NFL Game Pass
Cooper was able to cross Haden's face in press and then separate with ease on a corner route. The corner route is a very difficult route because anything less than a good pass can be intercepted or thrown out of bounds. Regardless of the pass, Haden was beaten and was about three yards behind Cooper at the catch point.
Credit must be given to Cooper, of course, but Haden's uncertainty in the route is obvious. Haden lost the jam, allowing Cooper inside. Haden then doesn't know where Cooper is heading, so he slows a tad to hedge against a curl or 90-degree route. But as Cooper glides at a 45-degree angle, Haden has no chance because he's not near the receiver's hip pocket.

Credit: Self-charting
Haden's performance against Cooper can be found above. Haden allowed all six of his targets to be completed to Cooper for a total of 87 yards. After getting demolished on the first drive, Cleveland began moving Haden around more and into more zone coverages throughout the game. He simply couldn't slow Cooper down on his own.
Cooper is certainly a standout NFL receiver, but expectations for Haden based on his draft status and the hype around him are on a higher level. If we want to see how Haden played against lesser competition, we only have to go back to Week 2. Haden didn't guard a standout talent against the Tennessee Titans, but the results were still mediocre.

Credit: DraftCentric.Weebly.Com
Facing rookie Dorial Green-Beckham and Harry Douglas for much of the game, Haden still graded out to an average burn rate of 36.8 percent. That's the same rate he had all of 2014, with a much bigger sample size. Plays like the one below is another example of Haden's lack of feel for routes and his speed deficiency.
Credit: NFL Game Pass
On Green-Beckham's first route of the day, he performs a relatively simple out and up pattern. Haden gets caught watching Marcus Mariota too long, and Green-Beckham created two yards of separation by the first-down marker. Haden is bailed out by a bad pass, but it's still a loss because the 6'6" Green-Beckham had an easy first down if the throw is anywhere close and on time.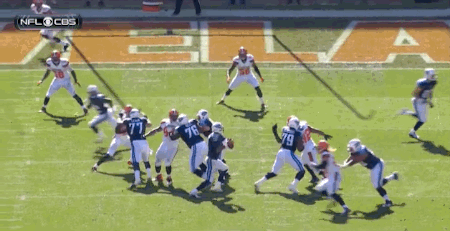 Credit: NFL Game Pass
Later in the game, Haden allows Green-Beckham to cross his face with ease on a dig route in the end zone. Green-Beckham has to adjust to the high pass, but Haden is clearly trailing throughout the entire route. It's an easy pass and catch because Haden didn't keep up after the sharp inside cut to the middle of the field from Green-Beckham.
What's Next
Sport society nowadays often seems to be on the fence of both extremes. Either a player is elite or completely worthless. The truth is often closer to what is between. That's the case for Browns cornerback Joe Haden.
Haden's film is littered with inconsistency that leads to back-breaking touchdowns or drive-extending catches. Cornerback will lose eventually, but Haden is losing much more often than any of the NFL's top-tier cornerbacks. Even his big-play ability cannot overcome this until he becomes more reliable, if he ever does.
Haden is a high-variance player who relies on aggression to make the big interception. Sometimes it pays off, but the Browns need their No. 1 cornerback to create a more stable situation. Smothering the first option can greatly disrupt the offense.
Some may point to Haden's rib injury in the third quarter against the Raiders or how at times he shadows opposing No. 1 receivers, but that's missing the point. Haden doesn't always stick to the top receiver, and only Patrick Peterson and Malcolm Butler have been used that way this year. That Madden-esque thinking isn't nearly as practical or productive, despite the desire to fault cornerbacks for not doing it.
Also, most of Cooper's work came in the first half. Once Haden returned to the game, he lined up on receiver Seth Roberts on most snaps. 
For Haden to ascend into the top-tier of cornerbacks, he'll need to overhaul several aspects of his game. He must finally address his messy footwork for starters. His natural feel for the game just doesn't compare to guys like Revis, Desmond Trufant or Harris at this time, and that may never come.
Until that happens, the secondary will continue to disappoint when held to the high standard the Browns have set for themselves. It's a talented unit, especially at safety, but the top-end talent is not an overall major strength.
All stats used are from Sports-Reference.com, Pro Football Focus and Draft Centric, unless noted otherwise.

Ian Wharton is an NFL Featured Columnist for Bleacher Report.