Is Zac Stacy Emerging as Newest Star NFL RB?
October 29, 2013

Getty Images
He's becoming the life force of an otherwise anemic St. Louis Rams offense, an attack with no stability nor a consistent spark, but he's a relative unknown. 
He's running back Zac Stacy, a 2013 fifth-round pick out of Vanderbilt, arguably the least powerful of the SEC powerhouses.
When veteran Steven Jackson was signed by the Atlanta Falcons during the free-agency period, the Rams had an attractive job opening at the featured running back position. 
At the outset of the season, second-year pro Daryl Richardson won the Rams' starting gig, as fellow sophomore 2012 second-round pick Isaiah Pead was suspended for the first game of the year for violating the league's substance abuse policy. 
Richardson, who was a pleasant surprise a year ago as a seventh-round pick out of Abilene Christian, managed a paltry 2.71 yards per carry in the opening month of the season and ultimately lost his "starting" role to Stacy in Week 5.
Since then, the Rams have experienced a run-game revitalization. 
Here's a look at Stacy's game log since he was given the starting role: 
Zac Stacy's 2013 Game Log
Carries
Yards
Yards Per Carry
Catches
Yards
vs. Jaguars
14
78
5.6
0
0
at Texans
18
79
4.4
2
11
at Panthers
17
53
3.1
4
34
vs. Seahawks
26
134
5.2
1
-5
Totals
76
348
4.6
7
40
ESPN
For running backs or quarterbacks with at least 75 carries on the season, the new Rams' No. 1 back trails only Alfred Morris, DeMarco Murray and LeSean McCoy in the yards-per-carry department. 
With an absolute boulder of a frame at 5'8'' and 224 pounds, Stacy is built like San Francisco 49ers reliable runner Frank Gore. 
Also, they turned in eerily similar performances at their respective combines:
Zac Stacy vs. Frank Gore, Combine Performances
40-yard dash
Vertical
3-cone
20-yard shuttle
Zac Stacy
4.55
33''
6.70
4.17
Frank Gore
4.66
32''
6.95
4.13
NFL.com and 40-yard-dash-times.com
In fact, the two share a similar patient, low center-of-gravity, forceful running style, one that features an unusually high amount of finesse born from enviable balance and vision.
For years, Gore has won with a fantastic anticipatory sense to notice the early formation of running lanes, the natural intelligence to crisply cut off blocks and reactionary quickness instead of raw speed or sheer explosiveness. 
In his first four games, Stacy has exhibited comparable running characteristics. 
Oh, and he tends to finish runs with Gore-like authority as well. 
Let's compare with visuals. 
Here's a 10-yard run by Gore in the second quarter of Week 6's win against the Arizona Cardinals. 
Notice how he patiently waited for blocks to create a crease off the right tackle, how decisively he hit the hole and the way he finished low to pick up a few extra yards after he was met by cornerback Tyrann Mathieu.
On a run off the left guard in Week 7 against the Tennessee Titans, Gore demonstrated his uncanny ability to locate a cutback lane before it fully forms, then jump cut through it before ending the run with a major strike to gain as much yardage as physically possible. 
Based on the pre-snap formation, it appears he 49ers want to dominate the right side of the line. 

Gore initially followed fullback Bruce Miller and tight end Vance McDonald. 

Because McDonald can't fully control defensive tackle Antonio Johnson, who's leaned into the designed running lane, Gore instinctively stuck his foot in the ground and utilized his patented one-cut move against the grain behind center Jonathan Goodwin. 

As usual, Gore ended the run with a low center-of-gravity hit on linebacker Colin McCarthy. 
The result was a six-yard gain on a play in which the Titans defended well. 

Stacy has shown strikingly similar one-cut, north-south running in his first four games as St. Louis' feature back. 
In Week 7's loss to the Carolina Panthers, Stacy showed his ability to read ahead of the blocking in front of him to maximize the yardage he gains on a run. 
Upon receiving the snap, Stacy correctly followed pulling left guard Chris Williams and center Scott Wells around the corner to the left.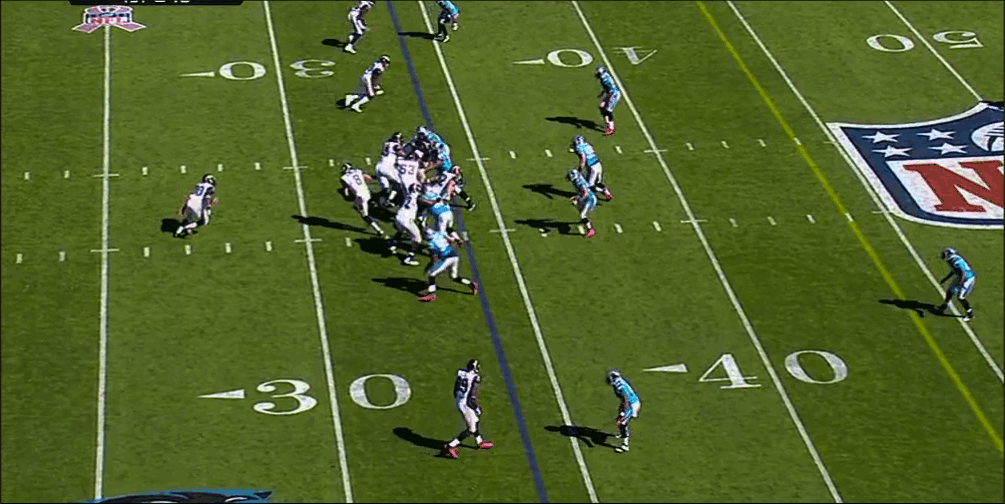 But instead of bouncing the run outside, where a cornerback was waiting, he read the momentum of linebacker Chase Blackburn and made a tight cut to the inside to pick up six yards. 
Even more Gore-esque the week before, Stacy sold a power run play to the left and hit the backside cutback lane before lowering the boom on Brian Cushing and falling forward for an extra two yards. 
Everything looked like a run to the left at the start of the play, as right guard Harvey Dahl pulled and H-back Cory Harkey came across the formation from right to left to form a seal on the left side. 

But when Stacy noticed linebacker Joe Mays in his gap, he stuck his leg in the turf, hit the counter inside, squeezed through the hole and ran over Brian Cushing for a seven-yard gain. 


Against the Seattle Seahawks in Week 8, Stacy exhibited more deft anticipation, backside vision and Goreian one-cut power running. 
It's early in Stacy's NFL career, but he looks to be the latest reminder that reliable running backs can be found much later in the draft than Round 1. 
The St. Louis Rams hoped a combination of Daryl Richardson and Isaiah Pead would be enough to replace Steven Jackson's steady production in 2013.
But they discovered Zac Stacy, a young running back with many Frank Gore-like attributes and an extremely bright NFL future.