Forget Adrian Peterson: The Vikings Are Fine with Toby Gerhart for Now
June 22, 2012

Patrick McDermott/Getty Images
Vikings fans are spending much of the offseason receiving endless rehab reports on the progress of Adrian Peterson as he battles back from a catastrophic knee injury suffered against the Washington Redskins late last season.
As with seemingly all athlete injuries these days, Peterson is well ahead of schedule, proving to be a freak of nature when it comes to recovery, and hopes to be back in the fold by opening day of the season.
As the face of the franchise the Vikings will want him back as soon as possible, but regardless of how his recovery is going, you likely can't rely on Peterson for 2012;catastrophic knee injuries are simply too destructive to fully heal that quickly.
Vikings fans themselves don't need to go back far to see the devastating affects an injury like that can have.
Daunte Culpepper was coming off one of the greatest quarterback seasons in history in 2004, but his offensive line collapsed the next season and he was running for his life when he suffered a similarly disastrous knee injury as Chris Gamble threw himself through his knee in an attempt to tackle the big passer.
Culpepper was never the same.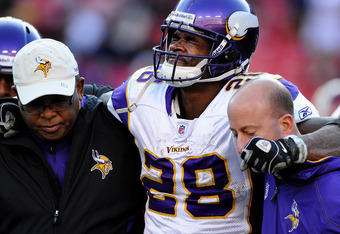 Patrick Smith/Getty Images
Despite being cleared to play in relative quick order, that injury lingered and he never got close to the level of play he had attained before the injury.
Athletes at the NFL level are so gifted that they've never had to think about their body letting them down. They do things without thought, relying on instinct and superior genes to move in ways most of us could only dream about.
When they suffer major injuries like those of Peterson and Culpepper, suddenly they have to think about things that they have never considered before.
No longer can they just cut and go, but when they move to do so there's now a lingering mistrust in the joint they're relying on to get the job done. If I cut left, will my knee be OK?
Athletes routinely take a full year of play to get comfortable again in their own bodies, to regain the trust in their own joints that they always took for granted before they got hurt.
Adrian Peterson may well suit up in Week 1 for the Vikings, but it likely won't be All-Day in a Vikings uniform until the 2013 season.
Even if that is the case, the Vikings will be OK, if they lean heavily on Toby Gerhart, who is quietly a much better player than he is being given credit for at the moment.
Gerhart was a strange pick at the time for the Vikings, who clearly wanted to give Peterson all the workload he could handle, and if they needed to give him help, the logical place would have been on third downs.
Gerhart is not a traditional third-down back. He doesn't have the acceleration or quickness to exploit space on screens or draw plays; he isn't a downfield threat as a receiver, although he is a capable pass protector.
The Stanford product is a tough, hard-nosed grinder of a running back, and is the type of player that gets better, or at least more effective, the more carries he gets.
Obviously, this is usually an unlikely event in Minnesota, and only happens if Adrian Peterson goes down injured, but when that happened, Gerhart looked far better than he has at any other stage.
Until the Atlanta game in Week 12 last season, Gerhart didn't have a game in which he touched the ball more than eight times. That high point came the week before in Oakland, and on those eight touches he gained just 25 yards.
He had his first significant workload against the Falcons, touching the ball 19 times, scoring his first touchdown of the season, and down the stretch, he had five games in which he had double-digit touches, with his workload topping out against Denver, where he had the rock a season-high 29 times.
Though his first game against Atlanta wasn't special beyond the touchdown, in the other games, his impact only got greater. Against Denver, he gained 131 yards from scrimmage despite never breaking anything longer than 16 yards at a time.
The following week against Detroit, he gained 109 yards and a touchdown, again without breaking off anything significant. When Peterson went down against the Redskins, he received 11 carries and broke off his longest run of the season, a 67-yard effort that saw him outrun linebackers even if he couldn't make the end zone before being chased down by Josh Wilson at corner.
The point I'm making is that Gerhart is a weapon when he is fed the rock. Over four seasons at Stanford, he had 671 carries, and that's with a season (2007) that featured just 12.
In his senior season he carried the ball 343 times, in just 13 games (over 26 times a game) and still maintained a 5.5 yards per carry average.
He also scored 28 touchdowns that season and was a serious candidate for the Heisman trophy, ahead of his quarterback, some guy called Andrew Luck.
The NFL loves players with electric speed, with superior quickness, and with the ability to break open a big play at any second, but that isn't what Toby Gerhart does.
He is a big, powerful back who grinds down a defense, a throwback to the days of Walter Payton where come the fourth quarter, defenses started to back off from the guy they knew was still going to come at them like the first snap of the game.
Gerhart didn't just rack up more yards in those five games down the stretch in which he saw more work, he also broke 21 tackles. He is a 231-pound back that people don't like to get in the way of, because he's not going to go down easy.
Adrian Peterson is one of the most electrifying players in football. At his best, he is in my opinion the best running back in football, but the player we're likely to see in 2012 won't be that guy.
The Adrian Peterson that suits up for the Vikings this season is likely to be a shadow of his former self. Maybe he makes it back on time, maybe he suffers a setback that delays his return, but either way the Vikings will be fine if they have to rely on Toby Gerhart. 
Just feed him the football and watch.