New York Rangers: What to Do This Offseason and $20 Million to Spend
June 14, 2012

Bruce Bennett/Getty Images
There is nothing better than hockey in June. The Stanley Cup playoffs are underway and the teams no longer in contention are evaluating their rosters. This time of year brings out the inner general manager in all of us.
Being a Rangers fan living in Chicago, I have often found myself at a local sports bar to catch the Blueshirts play. For those who share my position of living out of market of their team's might be able to relate to the conversations I have had. On a consistent basis I have heard what the Blackhawks should do. The pub top GM's ranged from lifelong season ticket holders who experienced the glory days of Hull, Esposito, etc. to the fair-weather fans.
I quickly realized how much I missed the same conversations I had with New York Rangers fans. I missed their input, no matter how ridiculous some of it may be. With that said, it would be interesting to hear what Rangers fans would do if they were in Glen Sather's shoes. What would I do with the $20 million in cap space?
What are the major needs of our team? How do I build on last year's success? Last season, along with deep playoff run, showed that our team lacks quality defensive depth. The power play is still struggling and scoring isn't where it needs to be. My job is simple, correct those issues.
First on the agenda it is obvious to re-sign the critical pieces. The first player I open my check book to is:
Michael Del Zotto: I would offer MDZ a 3 year, $9 million contract. With Del Zotto, I am flexible on years and price to an extent. If MDZ wants more than a 3.5 cap hit, I would let it go to arbitration.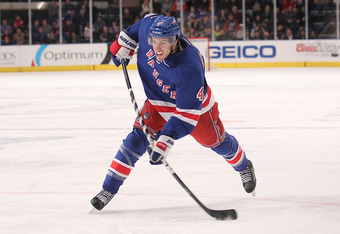 Nick Laham/Getty Images
Brandon Prust: 2 year, $2.4 million. I would go as high as a 3 year and $1.6 million cap hit with Prust. Negotiations shouldn't be too tough with him. He seems to like New York and his teammates. Even more importantly, he is returning from surgery.
Martin Biron: 2 year, $1.9 million. I do not foresee Biron wanting much more, but my cut off with him would be $2.1 million. I am confident that I can play Lundqvist 70-plus games. So Biron is more of a luxury and not a necessity.
Anton Stralman: 1 year, $1.1 million. Stralman is expendable to me. I would like him for some extra depth at defense, but I would like to see what Erixon will bring after some time to develop. Stralman would be my security blanket, especially with the uncertainty of Michael Sauer's return. If Stralman wants more the 2 years or a cap hit over 1.5 million, I would let him walk.
With that I know who is leaving town. Even though these players all played a role in our success, but they just are not in the organization's future at this time. Ruslan Fedotenko, John Mitchell, Stu Bickel, Jeff Woywitka, Steve Eminger and John Scott would all be sent into the free agency market.
The draft day is quickly approaching. I need to know who I am willing to part ways with for the right offer. No one would be "off limits" to hear an offer. Certainly, like Columbus with Rick Nash, the price would be way too steep for certain players, but at least I know who other teams are willing to move. I would make the price tag on a handful players extremely high to discourage any teams from making an offer.  But my trade block would consist of: Draft Picks, Brandon Dubinsky, Artem Anisimov, Brian Boyle, and AHL prospects.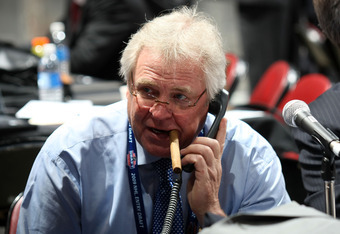 Bruce Bennett/Getty Images
In the days leading up to the draft, I would get on the phone to see if I could make any moves to address my needs. Giving up some draft picks for more NHL ready players could be my best option to address the scoring issues.
My first call, the Anaheim Ducks. I want Bobby Ryan not only for is offensive talent but to fill in for Gaborik while out with injury. I would offer Brandon Dubinsky and the 27th pick overall for him. I would be willing to part with a third round prospect with the deal, but would not include that with my original offer. Let the negotiations begin.
If the Bobby Ryan sweepstakes have come and gone, then I would talk to Calgary and see what it would take for Jerome Iginla to wear the red, white and blue of New York. Most likely, pre-draft, he would be too costly for me to make a move. So I would wait on him.
Next phone call, the Dallas Stars. What would Loui Eriksson cost me? I'm willing to part ways with Dubi, Anisimov or prospects, and my first rounder for this guy. I would be willing to give up a decent amount of talent to bring him to Broadway. It is unlikely that Dallas would move on this, but it wouldn't hurt to offer.
If none of those teams bite on my offers then I would recheck the Rick Nash situation. If Columbus asks more than Dubinsky, Anisimov/prospect, and a draft pick for him, then it would be time to walk away.
My last ditch effort for a pre-draft day move, the Winnipeg Jets. Evander Kane. I want him on my team; I need him on my team. I would trade a draft pick/s for his rights. He could complete my/Tortorella's team.
If draft day comes and no one bites on my moves, then this is how I would draft.
Upper Picks:
Draft an offensive defensive man. Someone that could replace Michael Del Zotto, if traded. MDZ had a great regular season, but shaky post season. The jury is still out on him and his value is fairly high right now, so he wouldn't be completely off-limits. I will look for his replacement now, so in a few years, I could let him go without question.
Draft a defensive-defenseman...with cannon for a shot. A guy like Chara or Weber. I would look for a guy that could blast a shot from the point, but hold his own in the defensive end. He wouldn't have to be shutdown like Girardi or be an offensively talent like Karlsson, but a McDonagh with a bit of a harder shot on the point.
Mid/Lower Picks:
Draft a Center. Not just any center, a power forward. This center needs to be a beast in the faceoff circle and strong on the puck. We don't need him to score tons of goals, but to work hard and win the timely draws. I would like my third rounder to have size and make his home in front of the net, but size isn't everything. On this team, Ryan Callahan proves this.
Draft a goaltender in the middle rounds. A Lundqvist-type goaltender. We all know King Henrik can carry a heavy load, but I would like to fine someone he can groom into himself. At worst case scenario, we run into Vancouver's problem, a stellar backup goaltender that is capable of being someone's number one.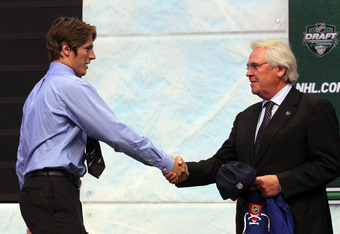 Bruce Bennett/Getty Images
Draft a winger. A smaller size winger, one with speed. Let him be overlooked because of lack of size. Here is where you can make a difference. I would draft a speedy winger, one with stick handling skills, a crafty winger.
Aww...Free Agency Day, Christmas in July.
As a GM, I am excited to see what Carl Hagelin and Chris Krieder will do with a full 82 game season. I am confident that they will make up the goals lost to Gaborik's injury. I am still aware that I will need to add some more scoring to our roster. I would feel confident in acquiring another 50 or so goals split between a few players. I would use a score by committee approach in Gaborik's absence.
I would like to add Jared Stoll to our lineup. Even though Brad Richards did pretty well in the faceoff circle, I would like another guy out there who can take the timely draws. I would offer Stoll a 2 year deal, worth $4.5 million.
Parise apparently doesn't want to come across the Hudson, but I would throw out and offer of 6 year $39 million. Even though Parise most likely wouldn't accept any offers from the Rangers it doesn't mean we can't drive up the price for every other team.
Ryan Suter, the New York Rangers offer a...5 year, $29 million offer. The top cap hit I would take for him is $5.9 million. That would make him the top paid defensive player on the New York Rangers.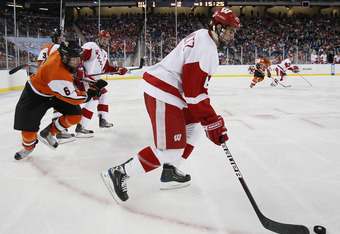 Elsa/Getty Images
Yes, as a proper GM, I would dabble in Shane Doan and Ray Whitney. But it is unlikely these guys will come to New York because I will not offer anything over $3 million a year for them. I would be paying for their experience and 40 plus points, not to lead my team.
Behind the scenes, I will be actively targeting Justin Schultz. Schultz would be offered a 4 year, $11 million contract. I would be willing to bend with him greatly, both years and cap hit.
At this time, I would have put the Rangers in a good position. The young core of the group is still intact. But more importantly, I still have young, tradeable talent and cap room should a team decide to be sellers early. All there is left to do is take the ice and defend our Atlantic Division title.
Would you have made the same moves or gone a different route? I'm interested in hearing how you believe the organization should approach this offseason. But the real question remains. What will Glen Sather do?