New York Giants: Is Jason Pierre-Paul the Early Favorite to Win DPOY?
June 11, 2012

Win McNamee/Getty Images
In sports, projecting and predicting future events based on trajectory is a dangerous game. There's nothing scientific about year-to-year performances. Defenses adjust, players get hurt, unexplainable slumps occur. 
Still, it's hard not to consider New York Giants defensive end Jason Pierre-Paul the early favorite to win Defensive Player of the Year in 2012. Allow me to break it down...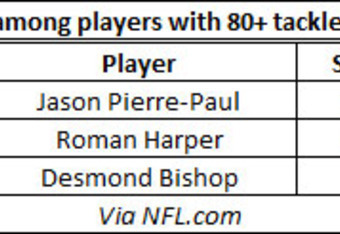 He's versatile: Pierre-Paul was the only defensive end in the league to receive a Pro Football Focus rating of 14 or higher against both the pass and run in 2011. He was the only player in football with double-digit sacks and over 70 tackles.
Not a single other member of the 80-tackle club had more than eight sacks. He had 16.5.
He's consistent: PFF gave him only two negative rankings all year, and none after Week 12 (including the playoffs).
He's a closer: Pierre-Paul only had 26 hurries last season, which ranked 26th among defensive ends, per Pro Football Focus. That's not impressive. But what's amazing is that he still managed to hit the quarterback 14 times (second in the league) while recording 16.5 sacks (fourth among 4-3 ends).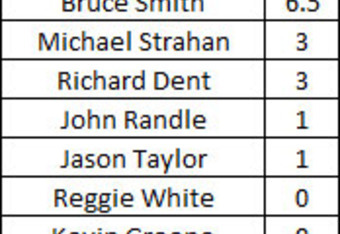 He's only going to get better: He only turned 23 this past winter. Michael Strahan had just 17 sacks before his 25th birthday. Pass-rushers don't typically hit their prime until they're at least 26, which means JPP should be rising for several years to come.
Terrell Suggs isn't a factor: It certainly doesn't hurt Pierre-Paul's cause that the reigning DPOY is expected to miss much of the 2012 campaign due to a partially torn Achilles. The only other players to receive more votes than Pierre-Paul's five in DPOY voting last year were Jared Allen (14) and Justin Smith (six), but it's possible that both of those veterans peaked in 2011.
JPP certainly is far from peaking.
So the stars have aligned quite nicely, but there's still quite some work to be done. A few factors that could interfere with Pierre-Paul's attempt to be the league's most valuable defensive player in his third season...
It's his third season: He took offenses by surprise in 2011—his first year as a starter—but it might be a whole new ballgame this year. Pierre-Paul wasn't much of a force as a rookie, so he could be in for an unofficial sophomore slump in year three, especially if offenses are keying on him this time around.
Osi Umenyiora and Justin Tuck are happy and healthy: JPP's five best games of 2011—from a sack perspective—took place when Umenyiora or Tuck were out of the lineup. In fact, in two of those cases, both Umenyiora and Tuck weren't playing. There's no guarantee those two will be any healthier this year, but both are right now, and Umenyiora could be primed for a big year with a long-term contract on the line.
While a full season with Pierre-Paul, Umenyiora and Tuck would be great for the Giants, it could prevent Pierre-Paul from having enough opportunities to win the award.
He's a defensive end: We can argue over whether Suggs is technically a defensive end, but if anything he's a hybrid linebacker/end. The reality is that only one true, pass-rush-first defensive end has won this award in the last 10 years.
He's not a turnover machine: That only defensive end was Jason Taylor in 2006, but that year, Taylor had nine forced fumbles, two picks and two touchdowns, in addition to 13.5 sacks and 60 tackles. Last year, Suggs produced nine takeaways.
No one who has won the award since 2008 has had fewer than eight combined interceptions and forced fumbles. JPP had just two forced fumbles last season and has forced only seven takeaways in 45 games dating to his junior year at South Florida.
That last one could be key. To be considered the best defensive player in football, you have to change games, and nothing changes a game like a turnover. If Pierre-Paul can make more plays to get his defense off the field in 2012, he could be in line to win the award.