2012 NBA Lottery Results: Wise Moves for Washington Wizards at No. 3
May 31, 2012

Jeff Gross/Getty Images
The Washington Wizards were bumped down from second to third in the 2012 NBA Draft order, just as the Charlotte Bobcats were bounced from the top, when the ping pong balls proclaimed that the top pick in the lottery should go to the New Orleans Hornets.
Never fear, though, Washingtonians. There should be plenty of players available with whom the franchise can continue its painful rebuilding process. GM Ernie Grunfeld did well to replace a pair of knuckleheads (JaVale McGee and Nick Young) with one hard-working big man in Nene at the trade deadline.
What he decides to do with the dead weight of Rashard Lewis and Andray Blatche remains to be seen. In the meantime, here are a few humble suggestions for players who might pair well with John Wall, like grape juice and curds still yearning to be wine and cheese (or not).
Thomas Robinson
If storylines are the order of the day, then the Wizards will do whatever they can to get Thomas Robinson in uniform. The Kansas product carries with him the potential to fulfill the fairytale of a local boy made good, a DC product returning to the Beltway with a well-paid job and the opportunity to start anew after losing much of his immediate family to illness.
Tugging of heart strings aside, Robinson is a fine prospect in his own right, one who'd fit in well at power forward in Washington. Robinson has drawn favorable comparisons to All-Rookie performer Kenneth Faried–albeit with considerably more upside.
No offense to Blatche or Trevor Booker, but the Wiz could use a "four" with Robinson's heart, hustle and desire to improve every day.  
Michael Kidd-Gilchrist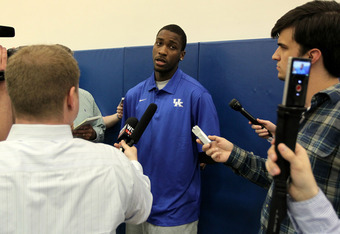 Andy Lyons/Getty Images
If Michael Kidd-Gilchrist should survive the first two picks, the Wizards would do just as well (if not better) to make him the third player off the board. He boasts all the same intangibles as Robinson, but with even more upside and athleticism for his position.
Granted, MKG doesn't yet have the smooth shooting stroke, deft passing touch and refined ball-handling abilities that might be expected of an NBA small forward, but, at his age (he'll be 19 in late September), it's somewhat forgivable.
Especially given the qualities that he already brings to the table—leadership, a relentless motor, a nose for the ball and the athleticism and footwork to be a lockdown perimeter defender.
Ted Leonsis knows his team could use a hefty helping of each of those, not to mention another good reason to cut ties with Rashard Lewis. 
Bradley Beal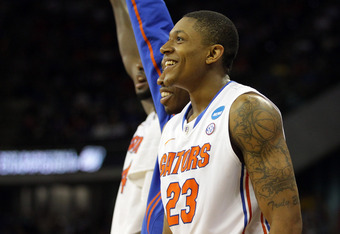 Doug Pensinger/Getty Images
Is Jordan Crawford the answer at shooting guard?
Do the Wizards really want to find out?
With Bradley Beal on board, they won't have to. The Florida product comes complete with a solid shooting stroke and a slasher's mentality (and leaping ability). Put him next to John Wall, and the Wizards could have the most lethal fast-break in the league for years to come.
As if Washington ever needed help filling highlight reels with spectacular plays to begin with.