Why the Dolphins' Defensive Unit Will Improve in 2012
May 21, 2012

J. Meric/Getty Images
Without question, the Dolphins defense is the strength of the team. Even in a wholly disappointing 2011 season in which the team stumbled to an 0-7 start and finished 6-10, the defense played superbly and was key in the victories Miami did manage to get.
The unit finished ranked sixth in points allowed and third against the run, no easy accomplishment when the Dolphins' offense was as inept as it was for most of the season.
Asking more of the defense in 2012 would be almost unfair. But here's why they will get even better.
First, the scheduling will be much more in their favor.
In that opening seven game stretch of the 2011 season that essentially removed Miami from contention before Halloween, the Dolphins had to face top level QBs Tom Brady, Matt Schaub, Philip Rivers, and Eli Manning. Combine that with an offense that managed to score more than 17 points only once in those seven games, and it's no surprise that Miami couldn't come away with a victory.
In 2012, Miami opens with a tough test in Houston against an AFC favorite. But after that, the next 10 opponents have an average 2011 rank in scoring offense of 20th. The game against the Texans and the two against New England are the only ones against a top 10 scoring team.
It should be much easier for the Dolphins' defense to assert its will against below average offenses and help the team win some games, even if the offense takes a little while to catch up.
Critics of the Dolphins defense point out that the team was only ranked 25th against the pass. While there were some breakdowns in the course of the season, that ranking is misleading due to the competition they had to face. The Dolphins faced six of the top 15 rated passers last season. This season, they will only face three of those 15.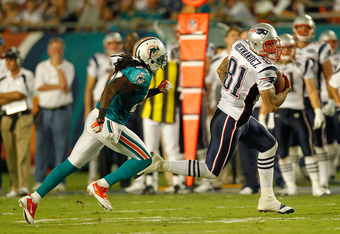 Mike Ehrmann/Getty Images
That drop off in quality of opponent will help the team finish ranked closer to where they should be in passing defense and higher overall.
The Dolphins also improved personnel-wise. They lost some quality players in Kendall Langford and Yeremiah Bell, and Dolphins legend and pass rushing specialist Jason Taylor called it a career.
Fortunately, Miami has plenty of young talent to fill the holes left by these departures. 2010 first round pick Jared Odrick had six sacks last year as Langford's back up and is poised to step in and take a starting role in the defensive line.
2012 third round pick Olivier Vernon is expected to take over Taylor's situational pass rushing duties. Though only a rookie, Vernon is an extremely talented player who should have no problem contributing right away.
The abrupt release of Bell in March was a surprising one in that he was the team's leading tackler and that the Dolphins haven't done anything to replace him.
His position was strong safety, or one who primarily plays close to the line of scrimmage and helps in run support. New defensive coordinator Kevin Coyle's scheme will likely feature two free safeties instead.
A big question mark is who will be those two free safeties. The leading candidates on the roster are Tyrone Culver, Chris Clemons and Reshad Jones. They are unproven at this point in their careers and will have to show that they can be reliable players for Coyle's defense.
Coyle was a secondary guru in Cincinnati and the development of these young defensive backs is in very capable hands. All three are talented and have potential to be the starter, but it will likely come down to a training camp battle to see who edges out who will win the most playing time.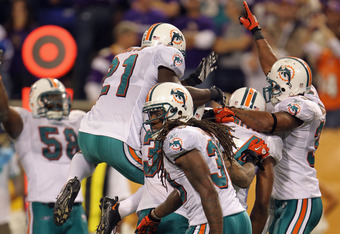 Jamie Squire/Getty Images
Another personnel upgrade was the signing of CB Richard Marshall. Will Allen served as the team's nickel corner last season and while he was not terrible, the aging veteran left a lot to be desired. Marshall is an athletic, versatile defensive back who should provide better coverage against slot receivers and the hybrid tight ends that are becoming more common in the league.
The third reason the Dolphins will improve is their scheme. Coyle is incorporating a 4-3 defensive front, which is a change from the 3-4 that Miami ran for the past couple seasons under former DC Mike Nolan. While the 4-3 will be the base, Miami will still rotate in some 3-4 to defend different packages.
This versatility will allow them to better defend any opponent, and personnel grouping, and any situation.
With all the wholesale changes that have come to Miami this offseason, don't count on the Dolphins' defense missing a beat. They have great players across the board and this unit will continue to keep the Dolphins in every game.