LeBron James Will Never Be a Legendary Player Until He Proves Himself in Clutch
May 16, 2012

Marc Serota/Getty Images
The critics have been harsh on Miami superstar LeBron James as it relates to his performance in clutch situations. Some of that criticism is fair, some is not, but one thing is for sure, and that's LeBron must start coming through in pressure-filled situations.
Until he does, James won't be viewed as a legendary player by any stretch of the imagination.
I'm not one of these guys who will sit here and tell you that LeBron chokes in the clutch, because he doesn't. James has had more than his share of big late-game moments both in the regular season and the postseason.
But the problem is that the public perception is of a guy who shies away from the big moment and routinely doesn't come through in the clutch.
He's the most criticized athlete in sports, and that perception will stick with him his entire career until he starts dominating those pressure-filled situations. 
When he does, there won't be anything left to criticize LeBron for.
Does James deserve to be heavily criticized for bricking two free throws that could have given the Heat the lead in Tuesday's Game 2 against the Indiana Pacers? Absolutely.
He's the MVP of the league and is making $16 million on the season. There's just no excuse to not step to the line and make your free throws. For a superstar such as James to shoot 59.8 percent in the last minute of one possession games, that's a problem.
But when James is criticized for other things late in games it may not be as fair. You have to look at game situation and exactly what type of player LeBron really is.
James will get criticized for not having the ball in his hand for the last shot in both of Miami's playoff losses. Maybe point the finger at coach Erik Spoelstra instead, as neither play was designed for LeBron.
But back to the style of player James is.
He's a point guard in a forward's body, and like any good point guard he elects to defer and pass the ball. There's nothing wrong with that at all.
Some guys throughout time are finishers, such as Kevin Durant, Kobe Bryant, Reggie Miller, Robert Horry, etc.  James is not a finisher. It's not within his personality. Some guys are finishers and some are playmakers.
LeBron is a playmaker, and there is absolutely nothing wrong with that. Great finishers late in games are also great shooters. I wouldn't classify James as a great shooter, which is something that hurts him down the stretch of tight games.
Sure he's finished teams off before, mostly when he's been on fire, but anyone on fire can ride that and get the job done.
To get to the levels where his career should eventually get, James not only needs to win a ring or two, but he also must start dominating the last minute of close games.
There's a reason NBA games are 48 minutes long and not 47. That's because you are expected to play the entire game well.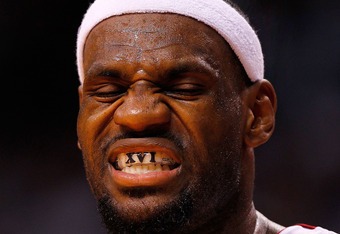 Mike Ehrmann/Getty Images
One way or enough, James must develop the mentality of a killer in the clutch. It's the only thing consistently holding him back.
I don't know how he does that, but aggressively demanding the ball in pressure-filled situations is a start.
If Miami continues to have problems late in games, the pressure is going to build on James to perform well late in games, and until he does, he will never be the legend that his talent says he should be.