New England Patriots: Could Chandler Jones Be Another Jason Pierre-Paul?
May 7, 2012

Otto Greule Jr/Getty Images
He was a player New England Patriots fans had to talk themselves into liking. When the Patriots shot up to pick No. 21 in the 2012 NFL draft, plenty of highly-touted players remained. Fans wanted one of them. Whitney Mercilus. Nick Perry. Courtney Upshaw. Any of those guys.
Then the pick was announced. Chandler Jones, a 4-3 defensive end out of Syracuse, was the choice. To be more specific, Jones, a 4-3 defensive end with very raw skills, was the player picked to instantly upgrade what has traditionally been a 3-4 defense.
There's reason to think this move could wind up being years of trying to cram a round peg into a square hole. There's also a reason to think this move could be a home run on a Richard Seymour or Rob Gronkowski scale.
That reason currently kills quarterbacks in New York. After all, the story that's being repeated here is that of Jason Pierre-Paul. If that's an exaggeration, it's at least the first chapter.
When Pierre-Paul was taken 15th overall in 2010, the scouting report was much the same. Pierre-Paul was raw, with potential through the roof. His football background wasn't extensive, but his talent was so prodigious that the development into an outstanding pass-rusher was more an issue of when, not if.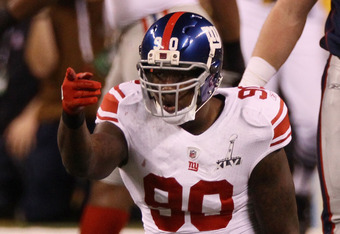 Win McNamee/Getty Images
With Jones, the Patriots are thinking along the same lines. He has a terrific frame, and shows every sign that, with a little development, he'll grow into a force on the defensive line.
His path is already looking like Pierre-Paul's, which can only mean good things for the Patriots. In only his second season, Pierre-Paul made the leap to the upper echelon of NFL sack artists. He totaled 16.5, and was the best pass-rusher on another fearsome defensive line in New York that resulted in another Lombardi Trophy for the Giants.
It's too much to expect Jones to become a Pierre-Paul clone, but that's the kind of player the Patriots should be eager to add to the mix. If Jones brings the same sort of pass-rushing skill set that Pierre-Paul does, he's immediately an asset. It doesn't matter what the defensive scheme is; there's a place for that kind of player.
According to scouting reports, Jones won't be that player that fans anticipated. He won't step in Day 1 and change the game. He won't start the season in a quarterback's face. That's for later on down the road.
And if Jones follows his precedent's path, down the road is looking pretty good for New England.