NBA Draft: Who Will the Portland Trailblazers Select in the 2012 NBA Draft?
May 3, 2012

Jim McIsaac/Getty Images
The Portland Trailblazers were one of the most confusing teams in all of the NBA this past season.
They started off incredibly hot and were considered one of the top teams in the Western Conference after the first two weeks of the season. Soon after, though, some problems became evident. Road games were nearly impossible to win, no matter the opponent, and the chemistry within the locker room and with former coach Nate McMillan was clearly not there.
Fans complained, and braced for a rough rest of the regular season.
At the trade deadline, though, some hope was injected into the future of the team. Interim GM Chad Buchanan made multiple deals which set this team up for what could be a truly franchise changing off-season. This summer needs to be done right, and it all starts with the draft.
In anything that involves the draft and the Blazers, it's hard to make guarantees about anything. But if we assume that there are no outside forces that will affect the NBA Draft Lottery on May 30th, the Blazers should end up with the number six (from the New Jersey Nets) and number 11 pick of this year's draft.
If they end up with these two picks, the following players should be at the top of the Blazer management's draft board at both the number 6 overall pick and the 11th pick.
Pick #6: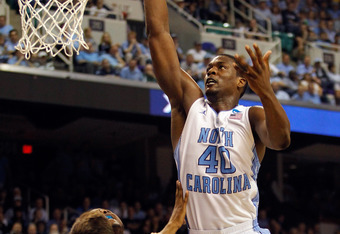 Streeter Lecka/Getty Images
1. Andre Drummond, 6-11, 270 lbs., Connecticut

This would most likely be a very controversial pick if it were to happen, but there is no denying the immensely high ceiling that Drummond has. If he is still available at pick number six, he will be the best player on the board and should be taken.
There have been questions about his passion for the game, which have led to the Kwame Brown comparisons, but a true center who can defend is something the Blazers desperately need. Drummond would fill that role.

2. Harrison Barnes 6-8, 223 lbs., North Carolina
Barnes is a quality wing prospect who has tremendous shooting ability. There have been questions over his ability to take over games and get to the hoop at times, but there is no denying that Harrison Barnes can shoot the ball consistently, which is something this team needs desperately.
A high character individual who is also a smart basketball player; few Blazer-maniacs would be disappointed with this selection.

3. Jeremy Lamb 6-5, 185., Connecticut

Some think he may still be available at pick number 11, but it seems as if he would be selected before then by a team with shooting guard needs such as Golden State.
Lamb is a very interesting prospect and has drawn comparisons to Brandon Roy with his natural scoring abilities and defensive potential. Interestingly enough, he would finally fill the scoring gap that has been left by Brandon Roy from the shooting guard position.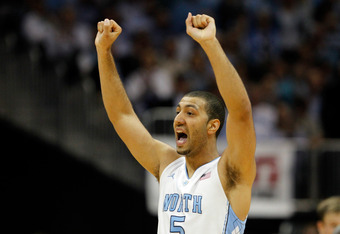 Streeter Lecka/Getty Images

Pick #11
1. Kendall Marshall 6-4, 197 lbs., North Carolina

Marshall may not be available at number 11, but if he is, Portland would be getting most likely the best passing point guard in the draft.
He won't be called on to score, but he will carry a leadership presence at point guard on this team. Blazer fans would fall in love with his skills, much the way they did with Andre Miller during the two seasons he spent as a Blazer.

2. Tyler Zeller 6-11, 240 lbs., North Carolina

Zeller is very athletic for his height and also has a great scoring touch. Needs to bulk up a bit to be a solid NBA defender, but there is no denying the skills that he already has. 
Zeller would not be a prospect that many fans get extremely excited about, but he would certainly provide Portland with a big man who can come to play every night. He has been able to play two seasons without injury despite going through an injury-plagued freshman and sophomore year at North Carolina.
3. Austin Rivers 6-4, 203 lbs., Duke
Rivers is capable of playing both the point guard position and the shooting guard position. He would be a very interesting pick at number 11 because of the hype that has surrounded him during his one and only collegiate season.
He can score in bunches and will certainly be selected mostly for his offensive ability. If he can learn to play lock-down defense, there is nothing that would be stopping him from being a perennial All-Star down the line in his career.  

All of these players would bring something new and exciting to Portland. When you combine these two picks with the fact that the Blazers have a large amount of salary cap space to go out and sign a big- name free-agent, we should be looking at a very different (and potentially very good) Blazer team next season.