Dana White Calls Public's Request for PED Testing "Impossible," but MMA Needs It
April 15, 2012

Michael Nagle/Getty Images
During the post-fight conference for Saturday's UFC on FUEL TV 2, UFC president Dana White expressed his frustration with the public's calls for more drug testing.
The battle that I have to get these guys to get their f------ bout agreements back and show up for press is un f------ believable. The fact that I have to make personal phone calls to tell guys to talk to the f------ press. Now I'm going to start making personal phone calls to go show up for random drug tests?

The general public and the media need to grasp some f------ concept of reality, okay? The reality of us doing all the f------ things that we're doing, when we already have the gold standard in drug testing, and then trying to chase 375 guys all over the world to randomly test them too? It's impossible.
White is right about one thing—drug testing all of his fighters in the way much of the public is asking for could prove overwhelming, especially when the UFC does work hard to maintain this "gold standard in drug testing."
However, he can hardly call it impossible.
The problem lies with the UFC as a self-regulating promotion company. With the UFC's push for global expansion, the organization must deal with numerous national regulations. Moreover, these regulations in the U.S. vary from state to state, forcing even more complications upon an already complicated matter.
UFC Vice President of Regulatory Affairs Marc Ratner explained the honest problem with a promoter working as regulator in an interview with Sports Illustrated's Ben Fowlkes.
You don't want a promoter self-regulating. For us, what we've been doing is trying to grow the sport. But when I'm in charge, I still work for the promoter, so there's an inherent conflict and we're the first to admit that. But you can't grow the sport unless you do that to start with.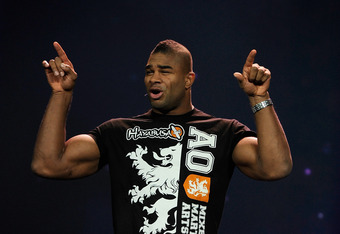 Kevork Djansezian/Getty Images
For the UFC to begin their promotion with a strong consideration of drug use and its protocol, as Ratner speaks to here, was a sensible move for the organization. But this year alone has seen a huge growth in popularity and excitement from countries who have or will receive a UFC event soon and from some of the biggest planned events in UFC history.
This self-regulation has reached a breaking point.
The most recent PED debacle—the discovery of Alistair Overeem's elevated testosterone level after random testing by the NSAC that destroyed UFC 146—has outraged the public and brought criticism about the use of PEDs. It has unveiled the overwhelming fear from fans and fighters about the presence of PEDs in the sport. More importantly, this also reveals the weaknesses in the UFC's infrastructure as a growing organization.
Even if the UFC follows state regulations when hosting fights in the U.S., the states themselves are victim to the same broken system.
While Overeem fell to the NSAC's random testing for levels of testosterone to epitestosterone higher than 6:1, that's still more lenient than the World Anti-Doping Administration's 4:1 limit. And on a separate but related note, the California State Athletic Commission approved an amendment allowing the use of many banned substances by fighters, including testosterone and marijuana, so long as they are prescribed for medical use (via SI.com).
Each of these as separate cases are not necessarily harmful. What is unsettling, however, is that so many regulatory boards are moving in so many different directions in response to so many different questions regarding drug use.
It's enough to have any independent board of regulation throw their hands in the air. The end result is already confusing and is likely headed toward a bureaucratic mess.
With White, fighters and fans frustrated with the system in place (though all for very different reasons), it may be time to welcome a new board of international regulation. I recently argued that the newly-formed International Mixed Martial Arts Federation—a Swedish organization who aims to enforce the safety of MMA on a worldwide scale—could make the sport stronger in its support for the development of fighters.
Given this latest cry of distress over PED regulation, it may have more to offer as a governing body as well.
While the UFC doesn't appear to be letting go of its job as regulator and the IMMAF hasn't spoken to any future policies about the issue of PED use, reaction to these latest events will measure how the sport will own up to regulation. If the IMMAF wants to develop MMA on a global scale through a focus on regulation and safety, it cannot miss this chance to address the regulation of PEDs. And if the UFC really does want to hand over such regulation, it has the chance—not to mention expected political pressure—to work with the IMMAF on a solution.
Without taking advantage of this moment, the UFC may miss a great opportunity to move on as a promoter while further committing to a responsible global existence of MMA.