Jack Wilshere: Why It Is Best to Leave Him out of England's Euro 2012 Squad
April 15, 2012

David Cannon/Getty Images
In the final week of January 2012, Jack Wilshere, Arsenal's exciting youngster and England's breakthrough young talent of 2011, felt some pain in his ankle after he had returned from a long layoff from football due to a serious ankle injury that had led to a surgery in September, just when the 2011-2012 season was commencing.
On Friday of that weekend, Wilshere returned for consultations with the specialist from whom he had been receiving treatment.  The prognosis was not good.

Reacting to the situation, Arsene Wenger described Wilshere as "gutted" by the news.
It is a massive disappointment and I am really disappointed for him as well because he is a football animal. I am so sad that at that age you have to be out for such a long time without any obvious reason," said the manager.

If you had told me that Jack would not have played one game by February I would have said that's impossible. 
The estimation in late September of a four- or five-month layoff after the surgery appeared to receive a great boost when it was declared in January that Wilshere would be returning from the injury earlier than expected.
"Jack Wilshere is scheduled to return to full training at Arsenal next week, with Arsène Wenger fighting to rein in the midfielder's exuberance and his desperation to make a prompt playing comeback," wrote David Hytner for The Telegraph on January 18.
Everyone—Arsenal and England—was excited.
It was learned that Wilshere was desperate to feature in Arsenal's Champions League last 16 games against AC Milan. His return, furthermore, would ensure he'd be selected in the England squad for Euro 2012.
As the foregoing shows, rather than return, Wilshere exacerbated the injury, even if albeit the setback was at another spot in the injured leg. 
In hindsight, it seems Wilshere had attempted to return too soon. 
It is the reason Arsene Wenger is more cautious this time as Wilshere covers the final laps of recovery from his latest setback.
"I will not take any risks with him," Wenger says responding to the press. "He is making slow progress so we still have to monitor the situation a little bit at the moment."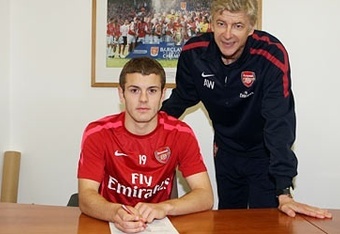 In regards to Wilshere's emotional state, Wenger admits the youngster is "down." 
"How can you be at 19 years of age when you're only dream is to play football. He's down."
"Jack is mentally strong. But what is holding him back is that he can't play football, so he can't be happy."
As to when exactly he'll be returning from the latest injury, Wenger says the following:
We are now in mid-April, the Euros start in the middle of June. Jack has not played for the whole season and anyone who knows what is required at the top level, in terms of intensity, it's getting short now.

As I told you last week, the next three weeks would be decisive and now we have two weeks in front of us. I cannot tell you more.
England's major news outlets have reacted to this development by parsing it in terms of Wilshere's chances or lack thereof to feature in Euro 2012 and even in team Britain in the forthcoming summer Olympics.
I believe, however, that expecting Wilshere to play in the Euros is an error.
It appears already that he will not feature in the rest of Arsenal's current campaign, so when is the gradual unwinding to take place?
The Telegraph's Mark Isaacs sheds more light on Wilshere's current situation.
After overcoming a minor setback in February when he picked up a stress fracture in his right heel, Wilshere managed to resume light training and looked set to make his first-team return in the next two weeks.
The club had set up friendlies and reserve fixtures to give Wilshere every chance of proving his fitness and making himself available for the England squad for the European finals, which open in June, but he has failed to appear in any of those games.
After Wilshere picked up a slight knee problem which forced him to rest for four days last week, Wenger is now uncertain whether he will be ready to play any part in Arsenal's remaining league fixtures.
As is evident here, Wilshere isn't doing to well. Therefore, even if he were to make great progress in the coming weeks, it'd be dangerous to accelerate this progress in a bid to get him to feature in the Euros.
It's be the same kind of mistake that led to the original problem and to the setback.
When Wilshere emerged last year, England couldn't wait to feature him in every match both at senior and junior levels, to Wenger's chagrin, who warned about the danger of burnout or of injury to the young lad.
The last happened and, in the long run, has proved detrimental to England's interests. There's an argument to be made that had he been better paced, the original injury could have been avoided.
Secondly, there is an argument to be made also in favor of the fact that the attempt to return Wilshere to fitness in January is the reason why he isn't playing right now.
In order words, had the club stuck with the original calender of Wilshere's recovery, it is highly probable that he would have returned in March and would be helping Arsenal make the final push to finish line right now, and the question, whether or not he'd play in the Euros, wouldn't be relevant.
While I understand that an argument can be made for the fact that there's still enough safe time for him to unwind and get ready for the Euros, I'd argue that it might be best to not take that chance.
As Wenger has noted, the intensity of these finals is such that it makes great impact on players' fitness, and for a player just coming back from injury, featuring in such a high-stress competition may not be a good idea.
In fact, I fear it could lead to a greater setback, a career-threatening one. 
As it is, the current injury already is career threatening. Therefore, in the interest of the player's career, it might be best to allow him to fully recover, away from the pressure Euro and the Olympics are sure to put on him.
Jack Wilshere in action for England against Wales. Photo by Alex Livesey/Getty Images.
The long-term benefit, I believe, will outweigh the immediate setback of not having him in England squads. 
The question is, do you rush him into these two competition (or any one of them) and risk destroying his career, or do you accept the setback and benefit from it the rest of the player's playing days?
Come to think of it, the World Cup is just two years away, the qualification matches for which will begin soon enough, plenty of matches in which to have Wilshere playing for England again.
My suggestion for this situation is, let Wilshere be, no matter how disappointing this decision is sure to be for both player and country.
Let him unwind slowly within Arsenal's preseason program, and let him comeback slowly in the coming seasonal campaign. After that, plenty of opportunities will come England's way to have him play in the national team again.