Michigan Football: 5 Reasons Denard Robinson Will Win the 2012 Heisman Trophy
April 11, 2012

Matthew Stockman/Getty Images
Even the President of the United States, Barack Obama, has Denard Robinson fever (via AOL Sporting News). There is no doubt that 2012 will be all about Robinson in college football. It will culminate in December with Robinson winning the Heisman Trophy.
Robinson has been the most electrifying player in his three years on the Michigan football team.
Compiling 8,160 total yards over the last three seasons, Robinson is the most potent dual-threat quarterback the Big Ten has ever seen.
There are still two major concerns with Robinson—accuracy throwing the football and turnovers. But, those should be alleviated because this will be his second year in Al Borges' offense.
The biggest challenge Robinson will face this season is the tough schedule the Wolverines have. They start the season against Alabama, the defending national champions. That's followed with a road game against Notre Dame.
Nebraska and Ohio State are also hostile road environments Robinson will have to deal with in 2012. Even with the tough schedule, there is no doubt Robinson should have a great senior year.
Here are the five reasons that Robinson will be Heisman Trophy winner in 2012.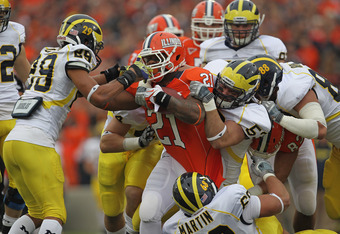 Jonathan Daniel/Getty Images
Michigan's Defense Will Dominate
A good defense is the key to success. A good defense can also take a lot of pressure off an offense and make the quarterback better, too.
With eight returning starters on the defensive side of the football this season and a strong recruiting class, the Wolverines' defense could be one of the best in the country next season.
How does a good defense help Robinson become a better quarterback? Easy: It takes pressure off Robinson having to win games for the Wolverines. That is something Robinson was forced to do a lot of the last two seasons.
When a team trails, it often relies on the quarterback to throw the football to get back into the game. For a quarterback like Robinson, who has struggled with accuracy in the past, this is a recipe for disaster.
If the Wolverines are successful on defense in 2012 (which they should be), it will allow the offense to implement a heavy dose of the running game.
The running game will open play-action passing and ease the pressure Robinson has faced in the past. That could be a deadly recipe for the Wolverines' opponents. 
Robinson Has Shown Improvement Each Season
Although his interceptions increased last season, Robinson seemed much more comfortable in the pocket—especially as the year progressed.
Robinson's completion percentage also dropped in 2011. But, a big reason for that was being in a new offensive system. Borges' system emphasized Robinson being under center. He was a shotgun quarterback his first two years with Rich Rodriguez.
In the final three games of the regular season, Robinson was 31 of 45 (68.9 percent) for 439 yards, five touchdowns and two interceptions. Not only did Robinson show he was getting comfortable in the offensive system, but he also showed a greater trust in his receivers.
That was something Robinson rarely showed in the past. Often times he opted to run the ball instead of letting a receiver make a play for him.
The key for Robinson throwing the football in 2012 will be accuracy (says ESPN). If he can do that, his quarterback play will take a great leap forward.
Experience at the Receiver Position
The loss of Junior Hemingway—the Wolverines' leading receiver and star from the Sugar Bowl win—will hurt Robinson in 2012.
Former wide receiver Darryl Stonum's dismissal (via ESPN's Brian Bennett) will also hurt the Wolverines.
Luckily, there are two returning receivers with plenty of playmaking ability—Roy Roundtree and Jeremy Gallon. Though Gallon is undersized at 5'8" and 180 pounds, he has great speed and the ability to stretch a defense. Roundtree, also undersized at 6'1" and 176 pounds, will be the top receiver for the Wolverines in 2012.
Despite his size, Roundtree has proven during his three years at Michigan that he's not afraid to go across the middle and take a hit.
The biggest key Gallon and Roundtree bring to the field is experience. They were heavy contributors in 2011 (combining for 50 catches for 808 yards and five touchdowns).
They were also the two receivers who caught the crucial, final drive passes from Robinson to give the Wolverines a 35-31 win over Notre Dame last September.
One player to watch emerge this season will be Jeremy Jackson, who will be a junior in the fall.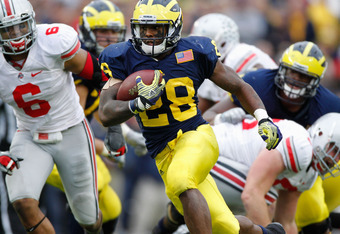 Gregory Shamus/Getty Images
Jackson, son of Wolverines' running backs coach Fred Jackson, has not had much of an offensive impact in his two years at Michigan. But, his size and improvement over the last two years should give the Wolverines enough confidence he is ready to contribute.
Robinson should have enough talent at wide receiver to help have the best passing season of his Michigan career. 
Robinson's Ability to Run the Football
The biggest aspect of Robinson's success has been his superb ability to run the football.
Despite his carries and yards being down last season from 2010—when he set a quarterback record with 1,702 rushing yards—Robinson's legs still put a great fear in opponents.
"I don't know that you ever can prepare for Denard Robinson at the same speed that he plays," Notre Dame head coach Brian Kelly said, prior to their matchup in 2010, according to ESPN.

Since Borges arrived as the team's offensive coordinator, there has been a push to limit the amount of carries for Robinson. It's not to take the ball out of Robinson's hands, but to limit injuries.
In 2010, Robinson struggled to stay on the field for whole games, due to a variety of bumps and bruises.
Last season, despite running the ball 35 less times, Robinson still struggled at times to stay on the field. At one point, he had to leave four of five games with an injury. 
It was revealed after the regular season that part of the reason for Robinson's injury struggles was a staph infection. The infection caused Robinson to spend a night at the hospital at one point during the season, according to ESPN. 
Robinson will still run the football 175-200 times during the season. That means there will be numerous opportunities for Wolverine fans to be on the edge of their seats, waiting to see what Robinson does next.  
Fitzgerald Toussaint Will Ease the Pressure
The Wolverines have been waiting for a consistent starting running back since Mike Hart graduated after the 2007-08 season.
They finally found one last season: Fitzgerald Toussaint.
Toussaint, who will be a junior in 2012, rushed for 1,041 yards and nine touchdowns last season. Even more impressive is that Toussaint did not become the every down running back for the Wolverines until Week 8.
In the last five games of the regular season, Toussaint had 112 carries for 678 yards (6.1 yards per carry).
No Wolverines' running back had more than 618 yards in a full season since Hart's departure.
With Toussaint, the Wolverines have a running back quick enough to be a playmaker, but strong enough to carry a full load through the rigors of a Big Ten season.
His presence for 12 games will take a lot of pressure off Robinson and allow the offense to be much more balanced. Plus, the wear and tear Robinson endures running the football will be less, too.