Houston Texans Mock Draft: Building the Perfect 7-Round Draft
April 10, 2012

Sarah Glenn/Getty Images
The Houston Texans finally made the playoffs last year, and if starting QB Matt Schaub hadn't gotten hurt, they might have made it to or even won the Super Bowl. GM Rick Smith finally can approach a draft without any glaring needs after knocking last year's defense-centric selections out of the park.
How can the draft unfold to give the Texans the best chance of going even farther in the postseason this year?
Round 1, No. 26
Plan A: Kendall Wright, WR, Baylor—Wright fits the Texans passing game like a glove. He can provide speed to stretch the defense and be a threat after the catch opposite Andre Johnson. Wright falling to No. 26 is a dream scenario for Houston.
Plan B: Trade Up for Wright, Georgia OL Cordy Glenn, Boston College LB Luke Kuechly/Trade Down—The Texans could just let the draft come to them in the first round, but unless a player like Wright falls, they are in the no man's land of being too low to get elite prospects at need positions like guard, right tackle or inside linebacker and too high to take the "next best prospect" at those positions.
They could grab a wide receiver outside of the top three or a nose tackle, but once again, many of those players will be available in the early-to-mid second. If Wright, Glenn or Kuechly slide enough for the Texans' extra fourth-round pick (or maybe their third-rounder) to be the price for moving up, Smith should act quickly.
If none fall out of the top 20 or a trade partner isn't found, trade back into the second.
Round 2, No. 58
Plan A: Brandon Thompson, DT, Clemson—Thompson is probably the best plugger in this draft class. He may get sniped earlier in the second, but again, the Texans have ammo to make a move if they have him a clear tier ahead of the rest of the true NTs in this class.
Plan B: Brandon Brooks, OG, Miami-Ohio—The Texans have a few offensive line positions to at least attempt to upgrade, and guard is one of them. Brooks didn't get a combine invite, but his size and natural athleticism still make him worth a pick this high.
Round 3, No. 76 (from Philadelphia)
Plan A: Mitchell Schwartz, OT, California—Our resident draftnik Matt Miller thinks Schwartz could go in the first round, and he even uses Texans' surprise 2008 first-round pick Duane Brown as a reference for the fast-rising offensive lineman.
I wouldn't argue with him in the second, or even in the first because of his ability to play right tackle right away if Rashad Butler isn't ready for prime-time, but him falling to the mid-third would be a boon for the Texans.
Plan B: Josh Chapman, NT, Alabama—If Chapman hadn't torn his ACL, he might be talked about in the first-round mix as the elite nose tackle in this class. The Texans' bump in the third round from the DeMeco Ryans trade could get them in the range to land him.
Round 4, No. 99 (From Philadelphia)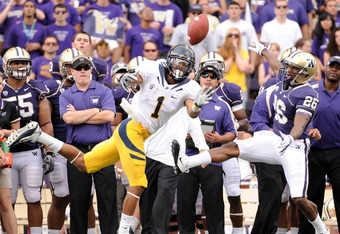 Harry How/Getty Images
Plan A: Marvin Jones, WR, California—If the Texans don't go for a wide receiver in the first or second round, they can hope to snag Jones in the early fourth, a perfect complementary receiver with underrated speed and skills in the air. 
Plan B: James-Michael Johnson, LB, Nevada—Johnson has good speed and a strong presence in the run game. He has long-term starter upside and can push Darryl Sharpton sooner rather than later.
Round 4, No. 121
Plan A: Emmanuel Acho, LB, Texas—Acho's big brother has been a smashing success in Arizona, and that should keep him in the fourth round despite a postseason injury that has kept him from having a full workout. Acho's versatility, in addition to his ability to fit well next to Brian Cushing, should make him a mid-round target.
Plan B: James Brown, OT, Troy—Unlike Schwartz, Brown isn't really a finished product, but he is ultra-athletic and potentially able to fill up to four spots on the offensive line. The team's success with Duane Brown should embolden them to look closer at athletic projects on the line.
Round 5, No. 161
Plan A: Ryan Steed, CB, Furman—The Texans are probably better off at corner than they have been at any time in franchise history, but it is always good to build depth and cultivate competition on the depth chart. Steed is a tough-minded, athletic corner who will fit in.
Plan B: T.Y. Hilton, WR, Florida International—Hilton would provide speed, speed and more speed to the Texans' three-wide sets and return game.
Round 6, No. 195
Plan A: Dale Moss, WR, South Dakota State—Moss' speed and seemingly endless upside as a recent convert from basketball make him a tantalizing late-round flyer.
Plan B: Brandon Lindsey, DE/OLB, Pittsburgh—With Connor Barwin and Brooks Reed, the Texas are set at OLB right now, but developing an upside athlete like Lindsey would be wise.
Round 7, No. 233
Plan A: Aaron Corp, QB, Richmond—The Texans let Matt Leinart go, and T.J. Yates should be a capable backup, but a team should always have a No. 3 QB in the incubator. 
Plan B: Jeremy Lane, CB, Northwestern State—One of my favorite sleeper corners, Lane is a nice fit in a Texans defense that asks their corners to play press/zone.