Auburn Football 2012: On to A-Day and Moving Toward the Fall
April 9, 2012

Mike Zarrilli/Getty Images
These last weeks have been busy on the plains of Auburn. The players and staff have been sacrificing the blood and sweat necessary to organize a competitive team. There have been triumphs, injury and tragedy this spring.
Linebacker Jawara White was forced to give up football due to medical complications that arose from a previous condition. Fullback Ladarious Phillips decided to start anew and move on in his college career. Their personal effort and sacrifice was appreciated and will be missed by many Auburn fans.
Saturday, April 14, 2012 is the day Auburn will celebrate the annual A-Day that signifies spring training coming to a close. This is the only event that is totally open for fans during the spring practice period. This year will bring a show that no Auburn fan should have to miss.
Auburn entered spring training with more questions than answers. There was a new modified defensive scheme brought in by new DC Brian VanGorder and a completely new offensive scheme orchestrated by new OC Scot Loeffler. Both changes have been accepted positively by members of the team.
The quarterback situation at Auburn in 2011 was never truly settled and output from the position was not acceptable for a team that has contention for a goal.
The offensive line proved incapable of sustaining the physicality necessary to compete with the more elite competitors that litter Auburn's annual schedule.
The defensive line did not have the physicality in depth necessary to overcome the more physical offensive lines of team that proved to be true contenders.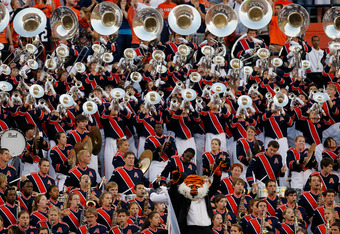 Kevin C. Cox/Getty Images
The linebackers looked to be in disarray in the majority of games during 2011.
The defensive backfield looked inexperienced and even incompetent on several occasions during the 2011 campaign.
A true analysis of the receiving corps was almost impossible all year due to the ineptitude at the quarterback position.
In truth the running backs were the only true bright spot outside of special teams for the 2011 squad.
This does not mean the 2011 team was bad, or that there was a lack of potential. What it does mean is that the 2011 team was not of the caliber expected of a team at Auburn. Plenty of programs would have been ecstatic to have the final results of the 2011 Auburn Tigers.
Since the arrival of Gene Chizik as head coach, the A-Day game has been more about subterfuge and deception than about a true team scrimmage. This is common in programs across the south and one main reason that most are not being considered for TV this year. The majority of common fans do not find such spectacles worthy of their time.
For Auburn fans A-Day this year will be a show that they will hate to miss. No, it is unlikely that anyone will come away with an idea of what the overall offensive and defensive scheme will look like this fall. These details are reserved for insiders and opposition coaching staffs.
What Fans Should Look for at Auburn A-Day
Auburn University will be unveiling statues honoring the three Heisman Trophy winners that played on the field at Jordon-Hare Stadium. Cameron Newton, Bo Jackson and Pat Sullivan are all expected to be in attendance. This is a once in a lifetime event for any avid college football fan.
It is simple to disguise overall schemes in these spring games. What are more difficult to hide are the basic fundamentals. Football really comes down to blocking and tackling. Fans can get a really good idea of how the team is progressing when looking at basic fundamentals of the players expected to break the two deep playing rotations.
Physicality and aggression are very hard to hide. Such attributes should be easily distinguished by the average fan in the stands on Saturday. Athleticism and talent will surly shine no matter what script is used.
In short, every Auburn fan that has the opportunity to show up and watch this event should do so. It is unlikely that any avid fan will come away disappointed from the afternoon of entertainment.  
Prognostications
The quarterback position is no longer a liability for the Auburn Tigers. Kiehl Frazier has progressed through the spring and is showing the potential so many predicted that he had. Auburn fans should enjoy and take advantage of every opportunity to watch this young man play. It is looking more and more like he could be an early target for the NFL in the 2014 draft.
The Auburn offensive line is very strong and physical. They still have a lot of work to do on technique and execution. If this unit keeps progressing through the fall, they should be an asset instead of a liability from opening day.
The Auburn running back situation is simply phenomenal. Every one of these young men will need to improve to meet the highest levels of their potential. As a group, this unit could be the best in the conference, and one of the best in the nation, going into the fall.
The Auburn receivers are solid and seem to be having an easier time grasping the Loeffler offensive approach. They are a solid unit with the potential to get a lot better going into fall practice.
The Auburn defensive line has built depth this spring. With Kenneth Carter, Gabe Wright and Nosa Eguae out for spring practice, some of the players deeper on the depth chart have been forced to perform. It has been a work in progress, but the results should bear fruit this fall.
The Auburn linebackers are more solid than at any point in 2011, but still have a long ways to go. They do seem to be coming around slowly and could come together before opening day.
The Auburn defensive secondary has the potential to be spectacular. They are a long ways from being sound in technique and solid in fundamentals, but progress is coming quickly. This unit should be a lot better for 2012.
Competition Comparison
Defending SEC champions LSU entered this spring as the favorite and projected leader in the conference. They had only a few questions to answer that would have allowed them to hold a commanding lead going into fall practice.
They did not manage to answer any of these questions in a definitive way and seemed to lose momentum this spring. This is not a team that has a definitive advantage over any of the elite programs in the SEC going into fall practice. They have a long ways to go, and thus far, the team leadership has not developed to push them over the top.
Defending BCS champions Alabama are struggling early as expected. They had a ton of positions to fill mostly with inexperienced players. They are a work in progress and will continue to be so into the fall and season.
Alabama will be a tough competitor that grows through the coming year. Their final results will depend on how quickly these inexperienced replacements develop over the course of time.
Arkansas has the best quarterback and receiver corps combination in the SEC. They also still lack the talent on the offensive and defensive line to overwhelm the elite in the SEC. Arkansas approaches the fall in disarray and uncertainty due to the activity of their head coach.
Georgia is not an elite SEC team at this point. Their weak schedule both in 2011 and 2012 allows them the illusion of being elite. This is a program that has severe depth problems at key positions. It is unlikely the 2012 Georgia Bulldogs will be at the level of the 2011 Georgia Bulldogs.  
Auburn is a work in progress, but a work in progress that has made significant progress. They will go into fall practice with the opportunity to overtake the other elite teams in the SEC. Auburn should have little problem in the opener against Clemson. If they do have difficulty in that game, it could be a long year.