The Curse of the Iowa Running Back: AIRBHG, the Unexplainable and an Exorcism
April 4, 2012

Eric Francis/Getty Images
The Angry Iowa Running Back Hating God (better known as AIRBHG) has made his miserable presence felt once again.
This cruel creation, which is the brainchild of the Iowa blog Black Heart Gold Pants, sums up a decade of injuries, legal issues, transfers, flunk-outs and departures at one position, in one city.
The timeline of Iowa running backs is as troubling as it is long, and since the 2002 season, 14 Iowa ball-carriers have been dismissed or quit the team with eligibility still remaining. The lowlight—the 2004 season in which Iowa's first four running backs suffered torn ACLs—stands alone but is certainly not alone.
There's history here, some good, some tremendously good and some so unbelievably bad that there just must be more to this equation. Hence, a greater, albeit negative, power. The word "curse" has also surfaced plenty as this list has grown, as has the mighty AIRBHG whose powers have seemingly yet to weaken.
Last Wednesday, Iowa running back Jordan Canzeri suffered a torn ACL in spring practice. He was expected to be Iowa's starter for 2012, although he will likely miss the season following surgery. While Canzeri certainly wasn't anticipated to bring Big Ten defenses to their knees, he leaves Iowa incredibly thin at the position until fresh bodies arrive this fall.
His untimely injury (not that any ACL tear ever occurs at an opportune moment) is more deflating because it is all too familiar.
Playing running back at the University of Iowa has proved to be incredibly dangerous. Not because of the field surface or the trainers and coaches (save your Rhabdo jokes), but instead because the percentages say that injuries or off-field troubles will inevitably surface at some point. These percentages don't necessarily have a root, but that doesn't make them any less meaningful. It's the mystery surrounding the origin of this decade of turmoil that makes it even more frustrating.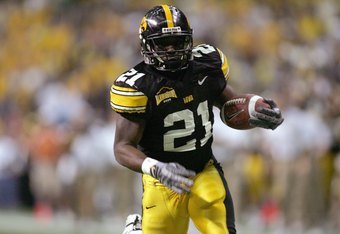 Ronald Martinez/Getty Images
Are you listening, oh mighty AIRBHG?
There have been highlights in this time, as mentioned, perhaps even more than one might expect given the consistent fallout.
The tiny but productive Fred Russell was able to rip off tremendous back-to-back seasons before leaving early for the NFL. Albert Young, after dealing with significant injuries in the prior years, was able to string together a 1,000-yard season. Shonn Greene, who battled back onto the team in outstanding fashion, put together the best rushing season in the history of the program and came away with the Doak Walker Award.
And then there was Marcus Coker, who followed up a monster Insight Bowl in 2010 by rushing for more than 1,300 yards and 15 touchdowns in 2011.
It's Coker, however, that serves as an appropriate but unfortunate bridge to the flip side of this coin. He was suspended for the 2011 Insight Bowl this past season for violating the IU Student-Athlete Code of Conduct. Coker decided to leave the program and transferred to Stony Brook.
Coker's backup, true freshman Mika'il McCall, carried the ball nine times for 61 yards in Iowa's first game when Coker struggled to hang on to the ball. On the ninth carry, however, McCall broke his foot and carried the ball just two more times late in the year. He was then suspended for the remaining part of the season and transferred in January of this year.
In reality, the 2011 season sums up the past decade rather perfectly. Success, suspensions, injuries and transfers all bundled together in one unexplainable train of events. And it is indeed unexplainable—well, at least to a degree.
There are some unsatisfying truths regarding this fascinating decade riddled with departures, ligament tears and bad PR to boot.
The first, of course, is the regurgitated disclaimer that football is just incredibly dangerous. This is something you've known for quite a while now, but the overall theme has remained the same. You don't have to be at the bottom of a massive pile to watch your playing career suffer a significant setback. One wrong foot or awkward step is all it takes, and this has unfortunately been the case.
The training staff, which came under serious fire when 12 players were hospitalized with rhabdomyolysis following intense offseason workouts, are not the reason for this dramatic turnover. Criticism of this 2011 event is certainly fair, but it shouldn't enter the equation while discussing a decade of running back woes.
Bigger than injuries, however, are the departures from the program. Some of these have coincided with injuries, but most revolve around issues with grades, legal matters and differences with the coaching staff and program.
There's no explanation why a particular student will choose not to go to class, why he might have a run-in with the law or why he's dealing with a personal burden that cannot be understood by outsiders. Well, perhaps there is a rather simple explanation. These young men are in college, and things happen in college. People change, temptations are rampant and the stresses of balancing out a social life and an athletic career (something I never had to do) can be overwhelming.
This, of course, explains why one, two or three students may leave a particular school in a short span of time. It does not explain the mass Iowa City exodus.
There is no explaining how a program can remain somewhat successful over a 10-year stretch and continually have to bear this position burden. Assuming anything more is simply grasping for a solution that isn't there. Unless, of course, AIRBHG is simply too tough to tame. Well, let's try.
Consider this an exorcism. A call to the god of such horror to leave once and for all and never come back. You can't see it from your cozy chair, but I am currently covered in knee braces from head to toe, giving the touchdown signal to the sky while offering up a Busch Light as a sacrifice. So long, AIRBHG.
May you never burden another ligament or soul.