Matt Flynn vs Tarvaris Jackson: Breaking Down the Seattle Seahawks QB Battle
March 27, 2012

Jim Rogash/Getty Images
It seemed like the ideal scenario for Miami Dolphins fans—acquiring Green Bay Packers backup quarterback Matt Flynn after hiring his offensive coordinator, Joe Philbin. However, it was not meant to be once the Seattle Seahawks, led by GM John Schneider who also has ties to Green Bay, swooped in and signed the hot quarterback prospect. 
It was a bit of a surprise for some, considering the Seahawks didn't appear to be in the race at first, but Flynn matched what they like at the quarterback position. He brings mobility, game management, accuracy and some familiarity with West Coast offense principles. He was brought in to compete for the starting job with last year's lead signal caller, Tarvaris Jackson.
Jackson surprised fans with his better-than-usual play, and some now back him as the starter. However, while he brings some quality aspects to the offense, he has issues too, just like Flynn.
Is he better than Flynn? Or is Flynn better than him? How will the competition play out? Here are some of my thoughts on the two quarterbacks.
Tarvaris Jackson's Strengths
Jackson had quite a few solid outings during the 2011 season that displayed his talents. One of the games this appeared in was against the Baltimore Ravens in Week 10.
The strengths of Jackson's game, which are his ability to move the pocket and deliver the ball on the run, were on display on one particular play during the game. It was on a 3rd-and-9, and Jackson was in the shotgun set with a motioned-out Justin Forsett that created an empty backfield.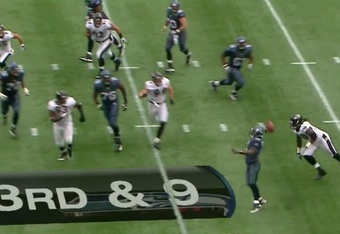 At the snap of the ball, center Max Unger struggled to pick up Ravens nose tackle Haloti Ngata while a slashing Pernell McPhee caused problems for the left guard. Jackson would receive pressure up the middle of the pocket that forced Jackson to flush out to his left. 
Once he flushed left, he kept his eyes downfield and had to make a much more difficult throw than he would have if he was in the pocket. When throwing on the run, Jackson has to square his hips to proportionally balance himself and keep his profile in effort to throw a quality pass.
He did just that, as he hit a crossing Doug Baldwin for a first down.
Tarvaris Jackon's Weaknesses
While Jackson has always shown the talent needed to be a solid starter in the NFL, he has struggled with his decision-making skills, as witnessed against the Dallas Cowboys only a week earlier than the Ravens game.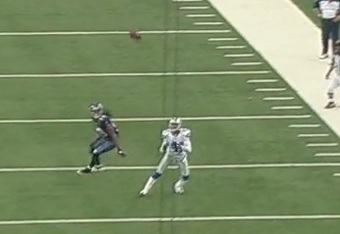 On this play, it's 2nd-and-5, and the Seahawks are on their side of the field. Jackson comes out with 11-personnel grouping, with a single back and tight end.
Once he plants his foot in a five-step drop, he immediately feels pressure on the backside and side-steps to his right. However, in the process, he makes an awful decision by throwing off his back foot to Sidney Rice, who is running deep. 
Instead of throwing the ball away and living to see another down, Jackson forces it, and it results in an interception by cornerback Terrence Newman.
Matt Flynn's Strengths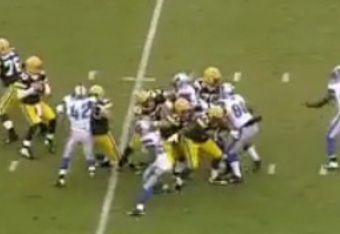 Newly acquired Matt Flynn is a system-specific quarterback in my opinion, and he appears to be a fit for the Seahawks system.
One of his strengths, along with his game management (which is Jackson's issue), is his pocket presence. He does a good job of feeling pressure from the backside as well as from the frontside, identifying it and reacting accordingly.
Take this snap from the Week 17 game against the Detroit Lions, for instance, in which Flynn came out the huddle and lined up in a shotgun set with 11 personnel. Once Flynn receives the ball, he feels pressure creeping from both sides, front and back, and steps up in the pocket.
Once he steps up in the pocket, he gets further pressure and releases out to his left while keeping his eyes downfield, culminating in a completion for over a dozen yards to receiver Jordy Nelson.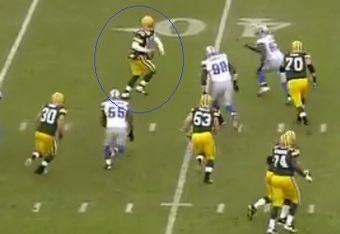 Matt Flynn's Weaknesses
Although Flynn has good mobility, pocket presence and game management, he lacks great velocity on his throws. This has been a weakness of his going back to his college career as a Bayou Bengal, and it sometimes appears on intermediate to deep routes down the middle of the field as well as deep comeback routes.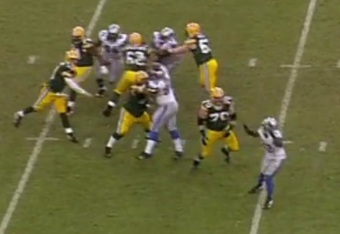 This weakness is sometimes tied into his footwork, and it is other times tied into just plain old velocity—or lack thereof. An example of this was seen in the same meeting against the Lions in which he attempted to throw a deep comeback to receiver Jordy Nelson.
It resulted in a one hopper falling short of Nelson. This is an example of a single play that illustrates the aforementioned issues of his footwork and velocity, which are all tied together. On this particular play, he ended up locking his front leg, which caused his velocity to drop and his accuracy of the pass to suffer.
Overall
The Seattle Seahawks made a big splash when they signed quarterback Matt Flynn from the Green Bay Packers. They swooped in to lure him away from one of his coaches, Joe Philbin ,who is now with the Miami Dolphins, the team that was believed to be Flynn's primary suitor. 
With the acquisition of Flynn, the Seahawks now have competition for Tarvaris Jackson at the quarterback position. While Jackson brings mobility and ability to throw on the run to the Seahawks, his erratic accuracy and decision making is sometimes troubling, which are strengths of Matt Flynn.
Flynn's main knock is his lack of great arm velocity, which is on display on rope throws over the middle and on deep, out-breaking routes. While he does throw a quality deep ball, which is more about arching the ball than throwing it with great velocity, he is slightly limited in throws that require velocity.
Despite this weakness, Flynn is a good fit for the Seahawks system; he is also effective as a play-action passer, which fits in Seattle where they are likely to rely on workhorse running back Marshawn Lynch.
I expect Flynn to claim the starting-quarterback job in Seattle early in the process of evaluation.