Tim Tebow Trade Rumors: Why New England Patriots Are Bad Fit for QB
March 19, 2012
Jim Rogash/Getty Images
The news of Peyton Manning signing with the Denver Broncos has immediately caused speculation as to which team should try to trade for Tim Tebow.
As New England Patriots offensive coordinator Josh McDaniels is the man responsible for drafting Tebow in the first round, the connection has already been drawn.
And I am here to take a battle ax to that connection.
There is seemingly only one reason to bring in Tebow—the aforementioned connection. But there are several reasons to avoid the trade.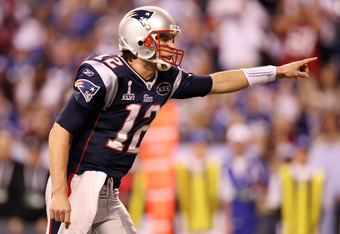 Ezra Shaw/Getty Images
The Patriots want to have their best players on the field at all times. Tom Brady is their best player. Is there a single scenario in which you wouldn't want him on the field? 
In the red zone, Tom Brady has been lights-out despite throwing two picks inside the 20 last year—one of which was a bobbled pass by Aaron Hernandez.
On the goal line, Brady's QB sneak skills are second to none. He notched three rushing touchdowns in the regular season—coincidentally including two against the Broncos—and added another in the playoffs.
Adding Tebow would give the Patriots more options inside the red zone, but there aren't any scenarios in which the Patriots wouldn't have a better option in Brady.
The System
Precision passing is the name of the game in New England and in the Erhardt-Perkins offense. Tebow is far from a precision passer.
McDaniels brought Tebow to Denver in hopes of grooming him into that role. But with that plan now two years in the rearview mirror, it could be awhile before Tebow even knows the offense well enough to execute it, much less develops the mechanics to execute it effectively.
Three Viable Quarterbacks
Tom Brady. Brian Hoyer. Ryan Mallett. 
The Patriots are in the rare and fortunate situation of having a full depth chart of quarterbacks that the team could feel confident in putting on the field if need be.
With two young quarterbacks being groomed and waiting in the wings, the Patriots have no reason to complicate the matter.
Patriots Already Have a Tebow
And his name is Julian Edelman.
Yes, the Patriots wide receiver hasn't thrown a pass since entering the NFL in 2009, but if the Patriots were considering adding Tebow as a hybrid player, why would they do so when they already have such a player on their roster?