Steve Smith: Why the New York Giants Should Welcome the Receiver Back
March 11, 2012

Nick Laham/Getty Images
When free agency begins next week, the New York Giants are fully expecting Mario Manningham to bolt from the team.
It's part of the business. Manningham wants more money than the Giants want to pay him. And so, he'll likely walk.
The Giants have Hakeem Nicks and Victor Cruz as their primary receivers, but what makes both Nicks and Cruz valuable is having depth at the position.
Manningham helped with that depth, but they are on the verge of losing him, so they need to figure out who will help the receiving corps in 2012.
There's one name that has been popping up in rumors for the Giants, which is former receiver Steve Smith.
Back in November, Adam Schefter of ESPN reported that he felt that if Smith went back to the Giants, he would not be surprised.
This was right after Week 11 matchup at MetLife Stadium where the Eagles knocked off the Giants 17-10, and Smith ended up catching a big touchdown pass in the game.
This past week, fellow Bleacher Report writer Matthew Schmidt wrote a story saying how the Giants shouldn't bring Smith back.
I am here to write the counter story of that, because I feel the Giants should bring Smith back.
In Schmidt's story, one of his reasons for not bringing Smith back was because Smith signed with the Eagles last summer.
Big deal. The NFL is a business. And Smith made a business decision when he took more guaranteed money to sign with the Eagles over the Giants.
Smith has no regrets about making that decision, and the Giants understand that, because they understand the nature of the business. The nature of the business is why Brandon Jacobs is now a free agent.
And with Manningham's eventual departure, the Giants know they could use a receiver like Smith on their team, who knows the current offense, is familiar with Eli Manning and when healthy, can be an extremely productive receiver.
On Friday, Schefter appeared on NFL32 and again stated that he expects Smith to return to the Giants for the 2012 campaign.
As a football source, I trust Schefter. He's become one of the more well-known and respected football insiders for ESPN and gets a lot of breaking news scoops.
Plus, it just makes a ton of sense for the Giants to bring Smith back. After Nicks and Cruz, the Giants receiving depth is not great.
Domenik Hixon will be back for 2012, but he's used more on special teams, and has had back-to-back seasons with a torn ACL. Then there's Jerrel Jernigan, who has also been used mostly as a special teamer, but is still very raw.
Then there's also Devin Thomas, who's at best a No. 4 or No. 5 receiver and a special teamer, and Ramses Barden, who hasn't been able to stay healthy enough for the Giants to use.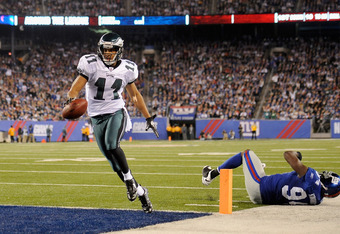 Patrick McDermott/Getty Images
Adding Smith, who when he was with the Giants was a very productive receiver, along with Nicks and Cruz would give the Giants that needed depth.
Now, of course, the biggest concern of Smith is the knee injury.
In December of 2010, Smith underwent microfracture surgery on his knee; which ended up being the reason why the Giants didn't bring Smith back for 2011.
The Giants doctors weren't sure that Smith had recovered fully enough to their liking and might need more time, which is why they didn't offer Smith what he wanted and he ended up taking Philadelphia's offer instead.
Smith's knee rehabbed a lot faster than everyone expected and ended up being ready for the Eagles season opener in 2011.
Kenny Phillips, the Giants current starting safety, also had microfracture surgery back in 2009 on his knee, and it took him a while to recover before returning to form.
I think if Smith is in fact healthy and has recovered from the surgery, then Smith can be an asset to the Giants offense and to Manning, who always loved throwing to Smith.
Before the Week 11 showdown between the Giants and Eagles, Smith felt the Giants were the best fit for him.
After having a disappointing season in Philadelphia, plus watching the Giants win the Super Bowl this past February, I think deep down, Smith knows he made a mistake in leaving the Giants.
Which is why I think in the end, Smith will take a veteran's minimum contract and re-sign with the Giants before the 2012 season.
I think the Giants will end up drafting a receiver as well in April, but adding Smith to the team can't hurt them.
Honestly, if Smith can get back to form and is healthy, then it can only help the Giants if they choose to bring him back.