2012 NFL Mock Draft: Mocking Value Picks for Every NFL Team
March 2, 2012

Darren Carroll/Getty Images
Yesterday's mock first round focused on team needs. Today, a look at how the first round could shake out if teams were slaves to the other dominant school of thought in the draft—taking the best player available.
1. Indianapolis Colts - Andrew Luck, QB, Stanford - Value, need, no matter your approach to the draft, Luck is No. 1 off the board.
2. Cleveland Browns (draft day trade from St. Louis) - Robert Griffin III, QB, Baylor - Griffin is the second most valuable player on the board, and the Browns are the trade partner that can give the Rams the most value for the pick, because they have picks four, 22 and 37 in this year's draft.
3. Minnesota Vikings - Matt Kalil, OT, USC - Kalil might not be quite the prospect that Jake Long and Joe Thomas were coming out, but he's close, and easily the No. 3 value on the board.
4. St. Louis Rams (draft day trade from Cleveland) - Morris Claiborne, CB, LSU - Claiborne is one of three or four near "sure things" after the top three, but his position has the most value.
5. Tampa Bay Buccaneers - Trent Richardson, RB, Alabama - Here is where the concept of "value" gets a bit tricky. If positional value weighs more than prospect quality, Richardson is not fifth. Running back is a fungible position and starters are found in the second round every year. Still, Richardson is the best RB prospect since Adrian Peterson, so his absolute value across draft classes seems to dictate that he is fifth in a "value-based" mock draft.
6. Washington Redskins - David DeCastro, OG, Stanford - Like Richardson, DeCastro is the best prospect at his position in years, so even though it is a low value position, the rarity of a prospect with a floor as high as DeCastro makes him the No. 6 pick.
7. Jacksonville Jaguars - Melvin Ingram, DE/OLB, South Carolina - Ingram might not be the best pure pass rusher in the draft, but he provides the best combination of pass rush punch and all-around versatility.
8. Miami Dolphins - Luke Kuechly, ILB, Boston College - Kuechly looks like a better prospect than Rolando McClain, and closer to the A.J. Hawk/Patrick Willis level when evaluating him across draft classes. You could easily put him fifth in terms of value and I wouldn't argue.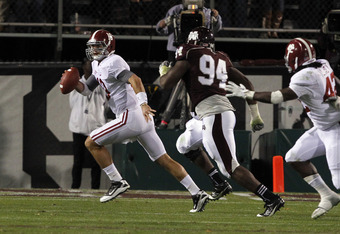 Butch Dill/Getty Images
9. Carolina Panthers - Fletcher Cox, DT, Mississippi State - Cox's combine wasn't as eye-popping as Dontari Poe's, but it showed that he is worthy of a top 10 overall ranking in this class, placing Cox ahead of Poe sticks with the theme of high floor ahead of high ceiling on the value board.
10. Buffalo Bills - Quinton Coples, DE, UNC - Coples senior tape may raise questions, but defensive linemen with his physical tools and natural pass rush ability are too rare to fall any farther on a value board.
11. Kansas City Chiefs - Dontari Poe, DT, Memphis - Like Coples, Poe's lack of production is an issue, but his raw athleticism in a massive frame can be a major tactical advantage for a defensive coordinator. 
12. Seattle Seahawks - Ryan Tannehill, QB, Texas A&M - We are in the midst of a "QB bubble" where the price of quarterbacks in the draft and free agency is skyrocketing if they show any sort of promise. While that might be misplaced, it does still affect the absolute value of a player like Tannehill. He might end up being the fifth most valuable prospect on the board by April 26.
13. Arizona Cardinals - Nick Perry, DE/OLB, USC - Perry has the athleticism to fit in the growing move towards hybrid defenses and he is a formidable pass rusher. The importance of the quarterback on offense is mirrored by the importance of pass rushers on defense.
14. Dallas Cowboys - Dre Kirkpatrick, CB, Alabama - Kirkpatrick is arguably a top 10 value pick if character issues are not given much weight, but his long frame and somewhat stiff overall athleticism pushes him down because he could follow the Malcolm Jenkins/Antrel Rolle career path.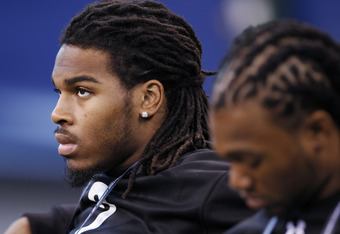 Joe Robbins/Getty Images
15. Philadelphia Eagles - Mark Barron, SS, Alabama - From a pure value standpoint, how much to you ding the clear No. 1 safety prospect because of double hernia surgery? I struggled with not putting him higher on my "value" board.
16. New York Jets - Courtney Upshaw, DE/OLB, Alabama - Yes, you read that right, three Alabama defenders in the first half of the first round when we're talking value. Upshaw isn't a sudden pass rusher or dynamic athlete in space, but his hard-nosed all-around game will elevate his teammates.
17. Cincinnati Bengals - Justin Blackmon, WR, Oklahoma State - Finally a wide receiver, and it's arguable whether Blackmon should be No. 1. He lacks the speed to stretch defenses, and while he might be a very productive player, it's unclear how much value he'll have from a tactical perspective.
18. San Diego Chargers - Jonathan Martin, OT, Stanford - Martin won't test out as an elite athlete among his position, but his tape protecting Andrew Luck for three years is excellent, and he has the classic left tackle frame and movement skills. I wouldn't argue with Martin being five to seven spots higher.
19. Chicago Bears - Michael Floyd, WR, Notre Dame - Floyd is right on the heels of Blackmon in terms of value because his superior size and straight-line speed will be harder for defensive coordinators to account for in game plans.
20. Tennessee Titans - Whitney Mercilus, DE, Illinois - My premium on pass rushing ability could justify Mercilus in the top 10 according to absolute value—it is that important. I am dinging him as a one-year wonder possibility and he shows less potential than Ingram or Perry in a hybrid scheme.
21. Cincinnati Bengals - Janoris Jenkins, CB, North Alabama - Jenkins might be the single toughest player to slot in terms of value. His film is that of an easy first round pick, especially when he was at Florida, but he is the biggest character risk of any player in the first round mix. The scarcity of prospects of his quality at his position still puts Jenkins in the top 25.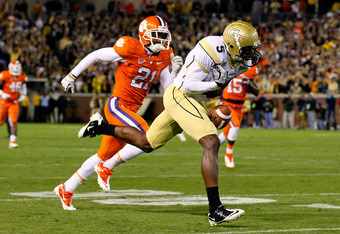 Kevin C. Cox/Getty Images
22. St. Louis Rams (draft day trade from Cleveland Browns) - Stephen Hill, WR, Georgia Tech - We might still be underestimating Hill's value despite some major holes and unknowns about his game. 6'4" and sub-4.4 speed equals keeping defensive coordinators up at night.
23. Detroit Lions - Riley Reiff, OT, Iowa - Highlighting just how level the even the prospects from 5-25  are in this draft, Reiff takes a tumble simply because he might project best as a right tackle, like his college teammate that slid on draft day, Bryan Bulaga. Still, he's a high floor player who will make a team feel great about spending their first round pick on him. I wouldn't call him a major reach in the top 10, so you can see how tightly packed the second tier of first round prospects is this year.
24. Pittsburgh Steelers - Cordy Glenn, OG/OT, Georgia - He's massive (6'5" 345) and versatile, he's able to play guard and right tackle. Glenn isn't an elite offensive line prospect in terms of athleticism or polish, but he is battle-tested and he'll save an injury-ravaged line by being position-flexible.
25. Denver Broncos - Michael Brockers, DT, LSU - Before the combine, we might have put Brockers closer to the Dontari Poe/Quinton Coples "planet theory" tier—players that are that big that can move like that are too rare to pass on for too long in the first round. Post-combine, we have to question his reputation for having elite athleticism, and the production isn't there to merit more than a late first.
26. Houston Texans - Kendall Wright, WR, Baylor - I think Kendall Wright can have almost as much impact as Blackmon, Floyd or Hill on his team's offense, but there are similar players available later in the draft, which hurts his value.
27. New England Patriots - Andre Branch, DE/OLB, Clemson - Branch could end up being as good as Ingram or Perry with more consistency and proof that he wasn't a one-year wonder, but the uncertainty pushed him down to the third tier of first round prospects.
28. Green Bay Packers - Peter Konz, C, Wisconsin - Clearly the best center prospect in this draft, but not quite at the level of an Alex Mack or Maurkice Pouncey.
29. Baltimore Ravens - Devon Still, DT, Penn State - He has the frame and strength to fit inside in a hybrid scheme and free up others to make plays, though, Still's draft value is hurt by his lack of production and the depth of the DT class.
30. San Francisco 49ers - Jerel Worthy, DT, Michigan State - Worthy is a classic "bowling ball of butcher knives" who will consistently disrupt plays against the run and pass. His value is hurt by the likelihood of being more of a rotational DL.
31. New England Patriots - Kevin Zeitler, OG, Wisconsin - Good enough to be the best pure guard in a lot of classes.
32. New York Giants - Dont'a Hightower, ILB, Alabama - Hightower is hurt in this value-based mock by the history of his position. He's a high quality prospect, but not elite enough to merit top 20 considerations.