Pittsburgh Fans Should All Thank Hines Ward, the Ultimate 'Steelers Guy'
March 2, 2012

Gregory Shamus/Getty Images
On Feb. 29, 2011, the Pittsburgh Steelers made it publicly known that they would not be re-signing arguably the greatest receiver in the history of their franchise, Hines Ward.
While some fans have acknowledged that the move was inevitable, especially considering his dipping production in recent seasons, others have not been so keen on the notion of a Black and Gold roster without No. 86 in 2012. Logistically, taking all emotion out of the decision, it seems quite plain that the Steelers are doing the right thing.
However, even with the good sense to rationalize the team's position, any fan worth his or her salt that witnessed the career of "Psycho" Ward can't help but to feel the slightest pang of regret, an obvious emotional reaction to the loss of a character and player so beloved.
Ultimately, fans won't remember the player that lost yardage on his final reception or that he wasn't able to retire on his own terms. They'll vividly recall the tough-nosed receiver that was equally capable of laying the key block or snagging the key pass. The blue-collar heart of the Steel City still beats strongly, even during this pass-friendly era, giving those who bleed Black and Gold an added sense of pride when they refer to Hines Ward as the most "physically dominant wide receiver of all-time."
And make no mistake, that is exactly how he will be described. Then, with that laid out on the table, Steelers fans will inundate all of those who deny his greatness with the touchdowns, amazing catches and uncanny performances that made Ward a great all-around player.
From galloping 80 yards to paydirt against the Patriots in 2005 to clinching "one for the thumb" in Super Bowl XL, the Hines Ward highlight reel plays back like one would expect for a player so beloved. 
If the specific plays and accomplishments were never enough, Ward was always willing to decorate his performances with a well-timed river dance, flying eagle (you have to love T.O. mockery) or tomahawk chop (a K.C. special).
In response to the inevitable news, Ward communicated with Pittsburgh's passionate fans via Facebook:
This isn't how I wanted this chapter of my career to end. I did everything in my power to remain a Steeler and finish what I started here 14 years ago. I want to thank the organization, my teammates and coaches and everyone who made my run as a Steeler the best years of my life. To Mr. Rooney, thank you for allowing me to play for one of the greatest organizations in the world. To my fans and in particular Steeler Nation, thank you for your support and all the great memories. I gave my heart and soul for you every down and I will always bleed black and gold.

I do feel that I still have more football left in me and I am looking forward to playing in the NFL again this upcoming season.
Playing in the NFL again this upcoming season...? 
The idea of Hines Ward not being out on the field in his prime and making critical plays for the Black and Gold is foreign enough. Seeing No. 86 (or, for that matter, Ward in another number!) wearing different colors is a likely reality that will certainly bother many fans. Steelers fans, welcome to the Twilight Zone!
Other former players, such as Franco Harris, have attempted careers in other locations. The risk of an inglorious ending for such a hard-working Steelers player seems wrong. More importantly, a knight in anything but armor seems...simply inaccurate.
Rarely is the identity of a player, as well as his style of play, in complete and utter harmony with ideals of the franchise he plays for, as was the case with Ward. The Black and Gold way is a physical manner of play, steeped in the proud tradition of winning, without the compromising of integrity and hard work.
When one embodies these values to the highest degree, he's one of our own. When he takes a position and redefines it in the mold of those values, against all preconceived notions of how the position is to be played, that player ascends to a brand new level of authenticity—perhaps super-authenticity?
Hines Ward's status as a Black and Gold guy has that "super-authenticity." 
Hines isn't just a football guy; he's a Steelers guy! And, in that sense, he'll never here a "boo" in his life from any of the dignified Steelers fans worth their salt.
Besides, sports fans in Pittsburgh have to save those moments for the once-acclaimed "Mario, Jr.," Jaromir Jagr.
Despite the respect fans in the Steel City will afford Hines in any circumstance, make no mistake that seeing Hines with anything but triple hypocycloids about his crown on Sundays will simply seem wrong.
Outside of of literally denouncing the Rooney name and burning his Steelers memorabilia on the front lawn (hello, T.O. moment!), Ward could literally do almost anything and still remain in the fans' good graces. He gave so much to us, and hopefully, we give it back to him in spades by speaking of his legacy with great pride and passion.
In Pittsburgh, icons that define the vision of the franchise are thought of as linebackers (Jack Lambert), defensive linemen (Steel Curtain, anyone?) and killer cornerbacks (Mel Blount) who force rules to be changed. Pride beams from the masses when accounts of a four-time Super Bowl winning quarterback are made, and the Steelers heart in us all swells like the biceps of Mike Webster when the team of the 70's is brought to our attention.
Make no mistake that Hines Ward was a critical component of the heartbeat that brought in the second championship era in team history. Beyond just playmaking, Ward leaves the Steelers with a legacy of physicality at a position not known for such descriptions.
It's safe to say that no receiver going forward will ever be the same as Hines Ward, and one could argue that no wideout will ever come close to creating the emotional bond and DNA-level connection No. 86 did with Steelers fans.
It's safe to say that no receiver going forward will ever be the same as Hines Ward, and one could argue that no wideout will ever come close to creating the emotional bond and DNA-level connection No. 86 did with Steelers fans.
Yet, if a future receiver were to want to attempt to duplicate Hines' relationship with the Steel City, what would he have to do to come close?
Simple. First, he would make the unpopular decision for that position to be a receiver that delivers bone-crushing (sometimes, literally) blocks.
And, atop this, he would have to make the modern day Ed Reed cry!
Additionally, he would need to display a hybrid of unique talents that make his play a huge commodity, grappling for that extra few yards all while making sensational catches on throws that nobody has any business grabbing.
At the feet?  Catch it.  Slightly behind your head?  Catch it.  Just beyond your grasp but grazing the edge of your extended pinky finger?  Catch it.
Well, okay that last part could be exaggerated a wee bit...
Then, if you can do all of that, all that is left is setting the team record for receptions, earning 1,000 catches, putting on a Super Bowl MVP performance, grooming a new wave of young talent that will carry the team beyond your tenure and leaving an organization with the utmost of class and graciousness.
After one accomplishes all of those things, then and only then, they could possibly come close to embodying the stature and heart of a Hines Ward in a way that makes them even nearly as beloved as Ward became in the city that embraced him.
At that point, the guy will be so embraced for his raw physicality and sheer talent that jealous rosters around the league will begin to call him "dirty."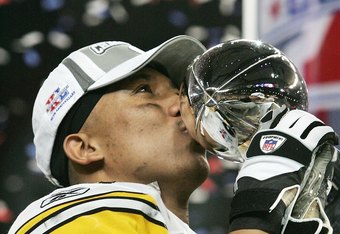 Harry How/Getty Images
In response to the criticism about the big-boy football he plays and the broken jaws he leaves behind, Steelers fans will rally behind this pillar of blue-collar greatness, pointing out the error of such perceptions by those who would love to have the man playing for their team!
Still convinced somebody can do it?
Well, let me know if and when another receiver comes close in any city, sinner the Steel City. Then, we'll set him up in the slot, have him get pile-driven to the ground by a head-hunting safety hungering to taste blood and ask him to get up, flex his muscle and smile to the camera!
If he's convincing enough and those pearly whites are flashing through his helmet, I'll be proven wrong.
Naturally, I'm being cynical. There will never be another Hines Ward, nor should one ever expect there would be! By the same token, great players down the road will define their own legacies in their own ways, many with parallels to the man that Tunch Ilkin often described as "tougher than woodpecker lips."
The bigger point is that no matter what jersey he wears, Hines is right in essentially saying that he will always be a "Steelers guy."
And, as Steelers guys go, this one was pretty damn special. When Ravens head coach Brian Billick said, "I hate that guy, but I'd love to have him on my team," it was a ringing endorsement.
Thankfully, I love that guy. We love that guy. And, he played for our team, entertaining all of us other "Steelers guys (and gals)."
Thanks for all of the memories, Hines!