Alex Rodriguez: The Enigmatic and Misunderstood Legend
March 1, 2012

For eighteen years, Alex Rodriguez has played professional baseball.
In 2,402 games, Rodriguez has amassed 629 home runs, 1893 runs batted in and has a .302 lifetime batting average.
It is hard to believe that the man known to many as "A-Rod" is only 133 home runs shy of Barry Bonds' record setting number of 762.
The five men ahead of Rodriguez in long balls have all played 22 seasons, Hank Aaron (755 HR) played 23 seasons.
Injuries have plagued A-Rod's run at greatness and has slowed him down quite a bit.
Rodriguez only played in 99 games last season, the first time he has played that few since his second season in Seattle in 1995.
A-Rod has set a personal goal to play at least 150 games, a number he hasn't reached since his last MVP season in 2007.
It is no denying that Rodriguez's best years are likely behind the slugger, but I do think he has one last hoo-rah.
Despite all of the numbers I just listed and the impact Rodriguez has made on this game, there is more doubt about his legacy than any other player in recent memory.
Before the 2009 season, a news article broke by Sports Illustrated's Selena Roberts crippled A-Rod's career quicker than any injury on the field could amass.
Previously, in a 2007 60 Minutes interview with Katie Couric, Rodriguez said he had never taken a performance enhancing drug.
After the story broke in 2009, Rodriguez changed direction and admitted to use of performance enhancing drugs during his time in Texas in 2001-2003.
The admission is a true black eye on the game and his career without a doubt.
However, before that story even broke, Rodriguez was already receiving negative criticism from baseball fans around the world.
It only fueled the fire of words lashed out towards the New York Yankees third baseman, and gave nearly everyone watching the game of baseball a reason to dislike him.
The problem with him from my point of view,  is that he just wants to be accepted and liked.  Because of this, it overcomes him and he ends up either trying too hard, or coming off as a selfish jerk.
I try to overlook all of that and focus on his love for the game of baseball and how he plays the game.
Instead of most baseball fans who could be witnessing history, they choose to act like it isn't even happening because of who the player is.
If Ken Griffey Jr. was in this spot right now, every sports station in the nation would be covering his run at history.
Some question if Rodriguez will be considered for the Hall of Fame once he goes into the dugout for the last time.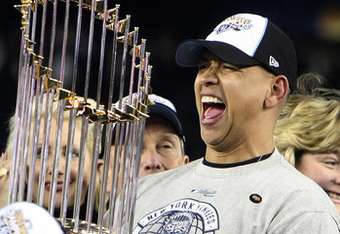 I know it has a huge question mark on it, but his situation is different than the likes of Barry Bonds, Mark McGwire and Rafael Palmero, to name a few.
Not only has A-Rod admitted to using performance enhancing drugs unlike those other stars, he is still an active player.
Post steroid admission, Rodriguez helped the Yankees secure their 27th World Championship in 2009 with a stellar post season.
His six home runs and 18 runs batted in, which mostly came in clutch situations, guided him to his first World Series ring.
The magical season and championship just happened to be the same year that his admission took place before spring training.
In the most recent offseason, Rodriguez took some advice from Koby Bryant and had surgery performed on his ailing right knee and left shoulder in Germany from Dec. 5 to Dec. 9.
The surgery is called Orthokine therapy, which involves a healing activator used in the popular blood-spinning treatments known as platelet-rich plasma therapy, or PRP.
I don't know if all of that fancy stuff will result in Rodriguez having a healthy season, but anything could help at this point.
A-Rod turns 37 in July and Father Time is not being kind to him.
I am one of his biggest supporters, so of course I want him to have one more great season left in him.
With that, I would hope that another championship run is in store as well.
I firmly believe that one more ring would put a bit closer to the Hall of Fame than he currently is.
Everything he does in his career post admission is huge to get into Cooperstown.  However, I doubt some writers care either way and have their mind made up already.
A-Rod had doubters about performing in the clutch during the postseason and put a lid on that with his 2009 performance.  
I wouldn't be surprised if he does the same thing with his 2012 campaign and comes out swinging for the fences.