Arsenal: Reward Wenger by Backing Him Not by Sacking Him
February 22, 2012

Laurence Griffiths/Getty Images
The times are dark at the Grove.
The sun hides behind sullen clouds ashamed to show its face. More so, after Milan's Rossoneri humiliated North London's Red and White, on a day when the guns refused to fire and the Gunners whimpered home in shame.
Millions of Gooners were stunned.
Reactions have been varied, but the conclusion is unanimous. Things must change at the Grove. The only persistent disagreement is how things are to change.
"Disband the team," cry the rash ones. Every last one of the players is dung (ehem, except Robin van Persie, of course). Note: It only needs one more game from van Persie without scoring  and he too is dung.
Already the wunderkind, Alex Oxlade-Chamberlain no longer is "wunder" to these people. This is where Sunday's praise and Friday's crucifixion acquires new meaning.
"Sack the board," offers another section of the fans. 
The reason? The board has been too business-minded. It has saved too much money. It has managed the club's debt too prudently. But football, as we know, is not managed by the balance sheet (Spreadsheet, they sneer). It is managed by debts.
Take loans and buy Yaya Toure, Juan Mata, Shay Given, even Lassana Diarra. Any player, so long as he is not already an Arsenal player.
And finally the wise ones: sack Arsene Wenger.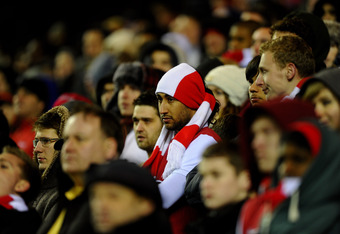 Laurence Griffiths/Getty Images
Why should Wenger be sacked? He hasn't bought the stars. Why hasn't he bought the stars? He has refused to spend. Why has he refused to spend? 
Stupid, stupid, stupid...excuses...yes, excuses.
True.
Wenger hasn't bought not because he is a fool or because he doesn't like winning, but because there have been militating factors, but who wants to hear that when you don't care for any rational consideration of situations?
Saying this is not to say fans have no right to be frustrated. You wouldn't be a true Arsenal fans if you were not frustrated by the current situation. What it means is that frustration can easily lead to foolish actions.
This is therefore not the time to sack Wenger. Wait until he has the resources to compete favorably with his peers. If he continues to fail, then by all means sack him.
He has stood by the club and has been successful even with less resources than many of the top managers. Why forsake him when the so-called trophy-less seasons (a myth, by the way) haven't been of his own making?
Before Wenger, the success that Arsenal now knows existed only in the realm of dream and imagination. Wenger brought the success that has given some fans jaundiced eyes.
No, the more virulent ones were babies when Wenger started at Arsenal, else, how can one explain the amnesia?
If it is not that, then it is arrant ingratitude.
Ingratitude, thou marble-hearted fiend,

More hideous when thou show'st thee in a child

Than the sea monster.
These kinds of fans should be the ones run out of town, not Wenger.