Tim Tebow Rightfully Voted America's Favorite Athlete in ESPN Poll
January 11, 2012
Garrett Ellwood/Getty Images
How can you not like Tim Tebow?
Honestly, when Tebow Time rolls around, even the other team is excited to see what No. 15 is going do next.
The Denver Broncos quarterback has been at the forefront of a media storm since early this season, even when he was third string, and it hasn't stopped.
Now, as the starter of a team marching into Foxborough on the heels of an overtime victory against the defending AFC Champion Pittsburgh Steelers, Tebow has earned himself a prestigious honor that only 11 other athletes in the last 18 years have accomplished.
According to David Scott of ESPN:
Tebow was recognized by 3 percent of Americans surveyed as their favorite active pro athlete, placing him above Kobe Bryant (2 percent), Aaron Rodgers (1.9 percent), Peyton Manning (1.8 percent) and Tom Brady (1.5 percent) in the Top 5.

It is by far the fastest and earliest any athlete has assumed the top position since the inception of the poll in 1994.
Scott went on to quote Rich Luker, founder and director of the ESPN Sports Poll, who said:
"To put this in perspective, Tim Tebow rose to the top before the end of his second pro season. It took Tiger Woods three years, LeBron James eight years and Kobe Bryant 11 years."

The only other athletes to hold the top spot for at least a month since 2007 are Brett Favre, Manning, Woods, Bryant and James.
There should be no surprise to this, but Tebow is well deserving of the honor.
No player has been subject to so much scrutiny in such a short period of time and so early in their career. Analysts, former players, former coaches, writers and fans alike have negatively piled on Tebow since the day he left Florida.
They said he couldn't start. They said he couldn't throw. They said he couldn't sustain the surprising early success he was having. They said he couldn't beat the Steelers.
Hell, some still say he's not a quarterback.
But he's done all those things, and he is playing quarterback.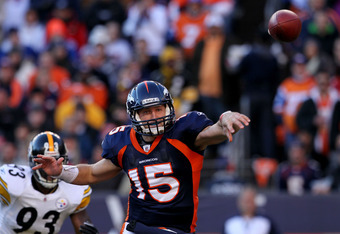 Jeff Gross/Getty Images
He's defied the odds more times this year than Evel Knievel. And he's turned a 1-4, dead-in-a-ditch Broncos team into a division winner and potential Super Bowl contender.
He certainly hasn't been alone—there are 52 other players on the Broncos roster, after all—but Tebow's earned himself some credit once and for all.
Tebow's not just a football player either, and his popularity doesn't just stem from his on-field exploits.
We've seen countless stories this year about Tebow's generosity and general desire to help people off the field. He himself has said he wants to use his standing as an NFL player as a platform to make the world a better place.
The Tim Tebow Foundation partnered up with Dreams Come True to create the "Wish15" program. Tebow has met with a different kid before and after every game this season. He doesn't just take a picture and sign some autographs, he actually spends time with them talking about his game day experiences and listening to their experiences as well.
This all sounds fluffy and nice, but it truly is who Tebow is.
He doesn't care what his critics think, and that is likely the reason so many people dislike him too.
There are plenty who do like him, though, and that is evident from this poll. There truly isn't a player in any sport who deserves to be recognized as America's favorite athlete more than No. 15 of the Denver Broncos.