College Football: The BCS Is What We Thought It Was!
January 9, 2012
Chris Graythen/Getty Images
The BCS Game kicks off tonight and some people are still clamoring for a boycott.  Others have called for a split "championship" should Alabama win the rematch.  These reactions seem to pretend that there has never been controversy or such criticism in the past.
Of course, this should have been known long ago.  The BCS is almost predicated on controversy.  And yet, every time it happens, so many people act surprised.
Let's first clear up something.  I do not care what people try to tell you, but no one wanted to see Oklahoma State face LSU.  No one!  Maybe some Oklahoma State fans, but that is it.  No one in the United States wants to see a one-loss Cowboys team — a team that lost to Iowa State — face the undefeated Tigers.
Just like no one wants to see Alabama faces LSU for a second time.  What people want to see is a more legitimate way to determine a champion at college football's highest tier.  And yet, what we are left with is an illogical system that does nothing but cause problems.
I have laid it out before that I think that — based on its system — that the BCS got it right in terms of the two teams.  And I have already laid it why I think that is the case.  But, just to revisit it.
Oklahoma State beat some quality opponents.  But no Cowboys advocate wants to talk about quality losses, which head-to-head Iowa State is a far worse loss than Alabama losing to LSU.  And while people want to argue that Alabama lost at home as a (slight) favorite, it is not as though Ames is known as a tough place to play…especially when your are nearly a four-touchdown favorite!!!
Additionally, Oklahoma State was buoyed by two teams that were scheduled for an easy "W" — UL-Lafayette and Tulsa.  While Tulsa does put out good teams,  the Ragin' Cajun were expected to finish at the bottom of the Sun Belt (arguably the worst conference in the FBS).  That UL-Lafayette and Tulsa finished with 8-4 records likely inflated Oklahoma State's strength of schedule.  (The opposite could be argued for Alabama, as Florida finished far worse than anyone expected, though OK-State can also point to Texas and Texas A&M).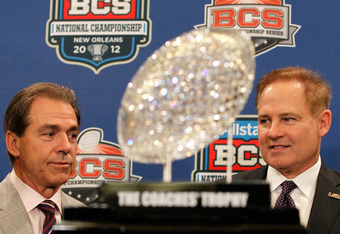 Kevin C. Cox/Getty Images
And finally, the Oklahoma victory gave Oklahoma State a last-ditch emotional push.  But, like the Iowa State game, the timing is the problem here.  What if the Iron Bowl, which could not be played on the same day, were also played at the same time?  I think there would have been a clearer juxtaposition between the two teams — Alabama dominating an Auburn team that likely overachieved, and Oklahoma State destroying a depleted Sooners teams.
But do not blame Alabama for the rematch.  Blame the system.  The BCS did exactly what it was supposed to do and yet everyone is trying to misplace the blame.
SEC Cartel?
Do not blame the SEC, as Mark Bradley of the Atlanta Journal-Constitution attempt to do.  Here is a cat who tries to make it out like the SEC has some monopoly over the BCS, all the while ignoring the travesty of the Big East still carrying an automatic bid to the BCS.  Of course, as Dan Wetzel notes, it was the SEC and the ACC that tried to correct the illegitimacy of the BCS by offering a "plus one" model; guess which conference (among many) shot it down?  
Now Mark, why would a conference that allegedly has its claws deep into the BCS want to change the BCS?
Of course, Bradley is the same guy who spends parts of his article taking potshots at Nick Saban while somehow being surprised that brand matters.  Hello!?  Why else has Boise State and TCU been ignored for so long?  The entire bowl system is all about money and Bradley is somehow shocked that it is the same for the BCS!?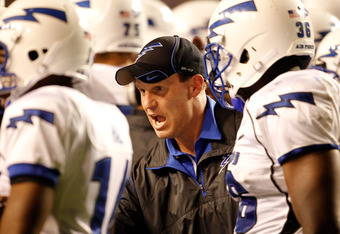 Tom Pennington/Getty Images
Bradley also seems to believe that a team not winning its on division playing for the BCS title is something new.  Not so; the 2002 Rose Bowl rewarded Nebraska despite the Cornhuskers not winning the Big 12 North.  Guess why that was the case…the BCS!!!!!!!!!!!  Not the SEC cartel, or more appropriately in this case the Big 12 cartel.  The BCS was the reason Nebraska went to the Rose Bowl to play against (and lose to) Miami.
And one final point, on this notion that the #2 team must be a conference champion.  I laid out the potential for a situation where the highest ranked conference champ may not even be in the top five.  But, are people like Bradley suggesting that Arkansas State is better than Alabama simply because they won their conference?  Goodness, imagine if UCLA had won the Pac-12 title!!!!  Would the Bruins be considered better than Alabama?
Winning the conference — or even the division — is not a prerequisite to being number two in the BCS.  Again, blame the system; not the SEC or Alabama.
Crazy Voters in the Polls?
Next, we have people who want to blame Troy Calhoun, head coach of the Air Force Academy.  Why?  Because Calhoun, who has a vote in the Coaches' Poll, voted Oklahoma State fifth!  But Calhoun's ballot needs to be taken into context.
Following the loss to Iowa State, Calhoun dropped the Cowboys down to ninth! While it is not clear how all other pollsters voted, it is obvious that the Falcons' head coach rightly punished the Cowboys for that loss to the Cyclones.  I would hope that the same would have occurred had Alabama lost to Vanderbilt (the Cyclones and Commodores are comparable).  Since then, Oklahoma State climbed in Calhoun's ballot up to fifth.
But Calhoun is not to blame here, but the system is.  The entire polling process is arbitrary and fueled by perception.  According to USA Today, instructions to pollsters are simply to rank the teams 1-25 based on performance.  The rules are so ambiguous that each voter is left to form their own rubric.
So, for Calhoun, maybe he viewed the ISU loss much more harshly, as he did when Boise State lost to TCU.  He moved the Cowboys up one spot coming off of a bye week, and then three spots after their win over Oklahoma.
But look across the board and you will see more puzzling ballots.  Todd Berry (Boise State 13th)?  Pat Hill (Boise State fourth; TCU ninth)!?  Les Miles (TCU 21st)!?!  Sonny Dykes (Houston ninth)!?!?  Friggin' Tom O'brien (Georgia ninth)!?!?!?!?!
But, it is not just the Coaches' Poll.  Have you seen the Harris Poll?  Brentson Buckner has Baylor eighth and did not even rank Nebraska.  Tony Jones has Arkansas ranked 19th, right behind Southern Mississippi; but at least ahead of Texas (23rd).  Derrick Mayes has Clemson eighth, Georgia unranked, and Oklahoma State sixth!!  Jim Walden has Alabama fourth (behind Oklahoma State and Stanford), Houston eighth and Penn State 13th!!!
And, the most egregious of all the ballots, George Wine has Oklahoma State SIXTH behind Alabama, Stanford, Boise State and……HOUSTON!!!!!!!!  Who are these people and what are they watching!?  It is NOT the Houston Texans!
But, again, it is not the pollsters themselves but the nature of the polls.  Ambiguously regulated and arbitrarily determined, when the rubric is left up to the individual pollsters, this is what you get.  So, do not blame Troy Calhoun or even George Wine; blame the system.
Sour Grapes?
Lastly, there are some sour grapes.  Berry Tramel decided to publish perhaps the most embarrassing response one can make to the BCS travesty — you [Oklahoma State] do not want to go New Orleans, anyway.  Instead, go enjoy suburban Phoenix!
Yeah…that's mature.  In his sad article, Tramel decides to resort to stereotypes, hanging on to vestiges of Dixie and harping on the SEC cartel.  And while some LSU fans are rude, it is not as though there are not similar fans for all other universities.  Stanford's civilized fans?  Have you seen the Stanford band (which I love, by the way)!?
But the sour grapes from Tramel is just more whining and blaming of others.  It must be Saban, or "Dixie," or ESPN, or Iowa State.  Oops, wait a minute.  Tramel is right about that one…at least he is willing to admit that Oklahoma State also blew their chance.  After all, every game counts!
And that is the thing.  Every game did count.  All of Alabama's games and all of Oklahoma State's games counted.  And when it came down to it, one counted more than the other — a loss to a 6-6 team.  It is why even though they have the same number of wins over BCS ranked teams (one), Stanford is in a BCS game over Boise State…the Broncos' loss to TCU "counted" more than Stanford's loss to Oregon.
[Side note: Stanford did beat a very good Southern California team that, due to NCAA penalties, cannot be ranked in the BCS].
But if every game truly counted, then LSU should already be crowned the "national" champion.  They are the only unbeaten team.  Tramel wants to punish Alabama because their loss should be "counted," then the same should apply to Oklahoma State, Stanford and Boise State.  They all lost.  
If, say, Oklahoma State were to have been given the slot in the BCS Game and then beat LSU, what happens next?  Should Stanford get a shot at Oklahoma State since they now all have one loss?  This is not boxing or mixed martial arts!
Nevertheless, perhaps Mike Gundy said it best when he said that "we believe in the system."  And therein lies the issue for it does not matter how much Tramel and Bradley blame Nick Saban or the SEC or ESPN, the system is to blame.  It is the system that is giving us Alabama v. LSU.  If it were Oklahoma State to have been selected, it would have been the same exact system.
The game everyone wants to see is NOT Alabama v. LSU, nor is it Oklahoma State v. LSU.  At the very least, it is Alabama v. Oklahoma State…and maybe LSU v. Stanford with the two winners meeting for a legitimate national title.
But that is not what we have; we have a system to which all the big boys agreed would decide the "national" champion at college football's highest level.  There is no conspiracy, T. Boone!  If you want to investigate, you should have been doing it when your school's conference was benefiting from it in 2001 (Nebraska) and 2003 (Oklahoma; a team that lost in the Big 12 title game).
The BCS is what we thought it was!  And we continue to let it off of the hook!
This article first appeared at Uncle Popov's Drunken Sports Rant on December 5, 2011.