Miami Heat's Chris Bosh: LeBron James Gets Dogged over Improving, Why Not Bosh?
January 7, 2012
Mike Ehrmann/Getty Images
I recently wrote a piece that touched on the need for Chris Bosh to evolve into a tougher low-post player in order for the Miami Heat to thrive (well...thrive more).
The response was mostly negative, and mostly stat-laden in defense of Bosh
The refrain went as follows:
Bosh averaged 18 points and eight boards last year, so shut up.
No other third banana did that much, so you're an idiot.
You can't ask him to be a low-post player, because that's just not the kind of player he is...also, you're crazy.
In the midst of my traditionally long-winded replies, something dawned on me...for a member of the "Big Three," Chris Bosh sure gets a lot of leeway.
What I mean is we don't really seem to be asking more of him than he's been giving, even while admitting that all zingers aside, he's quite a talent.
This would have been lost on me if it wasn't in such stark contrast to our treatment of everybody's favorite Boy Wonder...
Has anybody every stopped and wondered why it is that we excuse Bosh's need to grow as a player while we hold an atomic microscope to the rest of the Three Banditos?
In regards to LeBron James, all we read about is how he needs to become a better leader, develop a post-game, be clutch in the playoffs, etc., so why does Bosh always get a pass in regards to his level of play?
I never thought I'd come to LeBron's defense, but come on...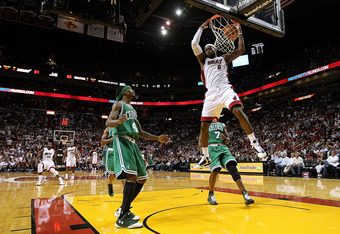 Mike Ehrmann/Getty Images
You're telling me we can't cut a guy some slack after he's been an MVP, scoring leader, top-tier floor general and all-around beast for close to a decade?
And at the same time, a guy like Bosh—who still has more upside than accolades—gets bailed out of every call to improve by "he's just not that kind of player"?
Of course, part of this is because LeBron is an athletic anomaly, and we don't grade Bosh on the same scale. We (have been taught to) think LeBron should be capable of any and everything under the sun, and that the fault is his own for not unlocking it all by now. Nobody will ever blame Bosh for not being that kind of freak...
While we may be grading on a curve in LeBron's case—which influences expectations—I still don't understand how Bosh winds up with a no-test and automatic pass...
Aren't we still talking about a six-time All-Star?
A guy who was touted two summers ago as a franchise player, and when he joined Miami, as one-third of arguably the greatest trio to ever play the game of basketball?
Shouldn't that carry some sort of higher personal expectations with it?
The point is not to just squeeze out another 6 and 3 each night... stats aren't the point. A guy could score 30 points per, and still be a flawed player... ask Allen Iverson. Bosh would be best served by discovering new areas of his game with which to help the Heat, not just fine-tuning the ones he already has.
And for God's sake, what would help this team the most right now?
What have fans and critics been saying the Heat's one true deficiency is?
Low-post help, of course.
With a guy like Bosh, the idea is not so much to improve or outdo himself, but to evolve...to dig deep within himself and make a home out of that jungle of elbows and forearms from which so few emerge unscathed...also known as the painted area.
Some will point to Udonis Haslem as the guy who can step up in the rough-nose department, ignoring the fact that scoring-wise, he isn't in the same county as Bosh. We're talking about basically filling it up underneath the basket here, Haslem is almost too rugged for his own good.
Show me an All-Star who can bang in the paint with regularity, and I'll show you the answer to those zone problems the Heat keep having.
If Bosh could discover his mean streak—or whatever it takes for him to take it into the opposition's chest—the Heat would be all the more lethal in the playoffs; teams would have even fewer answers for them. This is something Miami needs rather badly, and it should be perfectly reasonable to think Bosh might want to explore new areas for the betterment of the team.
Luckily, Bosh has bulked up and gotten mad, which is an obvious step in the right direction, but apparently it still grates on Heat fans if you hold his need to get a new niche against him.
LeBron gets no such mercy, not even from his own fans. We believe in him so much that we're prepared to give him hell over small areas of his All-Universe game, as if everything else he does on the court isn't enough... Oddly, I've never heard anybody say "LeBron's just not a post-up player."
Bosh already has the tools to dominate down low; all he really needs is a minor shift in on-court attitude in order to get comfortable playing there. But you can't ask that, apparently, because "he's just not that kind of player." It's okay if he tries and fails to become that player, but since when do we pre-emptively write it off as impossible?
Aren't we in a sense disrespecting his ability to evolve?
I'm all for grilling LeBron, if only for the cheapness of the path he's chosen...but I'm not one for contradiction, I do enjoy being the voice of reason once in a blue moon.
That probably sounded arrogant, but darned if my backspace key isn't broken.