Philadelphia Flyers: How Peter Laviolette Is Destroying Ilya Bryzgalov
January 2, 2012
Christopher Pasatieri/Getty Images
On June 23, 2011, the Philadelphia Flyers signed Ilya Bryzgalov to a nine-year, $51 million contract to be their starting goaltender.
The starting goaltender.
Bryzgalov was signed because in the past the Flyers never really committed to the goaltending position and it has hurt them come playoff time. Since Ron Hextall's first stint with the Flyers, only Roman Cechmanek came close to being considered an "elite" NHL goaltender. And even Cechmanek flamed out after three seasons—mainly due to personality conflicts with his teammates and management.
Bryzgalov is looking dangerously like Cechmanek and he's not even a full season into his nine-year deal. However, a lot of that has to do with how his quick-to-hook-the-goalie coach Peter Laviolette is treating him.
Bryzgalov is a headcase, which the Flyers knew before his signing. He's a very streaky goalie, which the Flyers also knew before the signing. He's also a goaltender who averaged 33 victories a season his past four seasons with the defensively deficient Phoenix Coyotes.
He won a Stanley Cup in 2007 with the Anaheim Ducks. Yes, he was the backup goalie on that team, but played in five games during those playoffs and he played well—going 3-1 with a GAA of 2.25 and a save percentage of .922.
His backup Sergei Bobrovsky played two seasons in the inferior KHL in Russia and had 16 wins and 47 losses. His rookie season in the NHL started out strongly, but by season's end the league began to figure him out (hint: shoot high).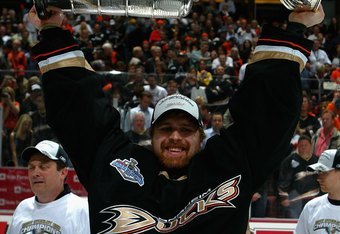 Dave Sandford/Getty Images
By the time the playoffs started Bobrovsky was outclassed.
After playing a decent Game 1 against Buffalo—only giving up one goal—he gave up three goals on seven shots in Game 2 and had to be replaced by journeyman, career backup goaltender Brian Boucher.
Bobrovsky's play was so bad that he finished the Buffalo series watching from the press box as Boucher and third-string goalie Michael Leighton bumbled their way through a series the Flyers somehow managed to win in seven games.
Bobrovsky was back between the pipes in the Boston second-round series as the Flyers got torched in a four-game sweep. Bobrovsky and Boucher each played in three of the four games.
To say the Flyers goaltending was a mess would be too kind. It was also the reason why they needed to sign a guy like Bryzgalov, who has 23-career NHL shutouts.
The Flyers have the highest paid goalie in Bryzgalov on their roster and a backup goalie that makes $1.75 million dollars—an absurd amount of money for a guy whose chief contribution to the team is to open and close a bench door.
It's Bobrovsky's contract, which is why Laviolette is playing him as much as he has.
Bryzgalov started the season strong winning his first three games and recording his first loss of the season in the fourth game in overtime. The Flyers recorded seven out of eight possible points to start the season.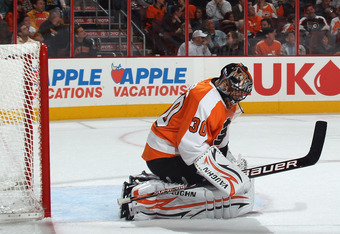 Bruce Bennett/Getty Images
Bryzgalov—who again is known as a streaky goaltender—has not responded well to sitting out, and usually struggles his first game back. The Flyers however—again—knew this when he was signed.
The game early in the season that people who are critical of Bryzgalov point to is the Winnipeg debacle—which the Flyers lost 9-8 to the Jets. Bryzgalov famously went off on himself, stating he had zero confidence in himself and was "lost in the woods."
What people forget is: Of those nine goals surrendered by the Flyers, Bobrovsky was in net for five of them. By the time Bryzgalov got into the game, it was a mess. It resembled a pond game in Moose Jaw, Saskatchewan more than it did a NHL game in South Philadelphia.
After that game, Laviolette kept bouncing back and forth between Bryzgalov and Bobrovsky and the Flyers went 8-5 over the next 13 games.
Laviolette then settled on Bryzgalov as his No. 1 goaltender—which is what the Flyers signed him as—and the team won six straight with him in net. Despite having a hot goaltender and the team on their longest winning streak of the season, Laviolette—for some reason—went to Bobrovksy for a game in Montreal against the 13-19 Canadiens.
Bobrovsky played well, but not great. He gave up three goals, and the Flyers won 4-3. But Laviolette unnecessarily went away from the hot-hand starter and put his backup in.
Bryzgalov then, as usual so far, struggled mightily against the Boston Bruins, who were one of the hottest teams in the NHL at the time and had a record of 21-10. Bryzgalov seemed to rebound—playing well in a 3-2 shootout loss to Colorado.
Laviolettte rewarded Bryzgalov's good play and his bouncing back from the Boston drubbing by going with Bobrovsky for the next game in Dallas against the Stars. The Stars came out of the gate hot in October, but have been struggling as of late. The Flyers won 4-1—a lot can be attributable to the adrenaline injection the team received by the return of their best player and league leading scorer Claude Giroux.
Giroux, by the way, had a goal and three assists that night.
Laviolette then went back to Bryzgalov, and the Flyers lost to the New York Rangers, who have been battling with the Flyers for first place, 4-2 at Madison Square Garden in New York.
Two goals were bad deflections and the third goal was a breakaway that the league's leading goal scorer Martin Gaborek had for at least half of the ice. These goals weren't exactly the goaltender's fault.
The next game in Tampa Bay was a fiasco: Bryzgalov gave up five goals on 16 shots.
Instead of showing confidence in his starting goalie by sticking with him for a big game against the Pittsburgh Penguins, Laviolette went to Bobrovsky. The Flyers won 4-2. The team played great in front of Sergei, and he only faced 26 shots, giving up two goals.
Laviolette has decided to go with Bobrovsky for this Monday's "Winter Classic" game against the first place Rangers.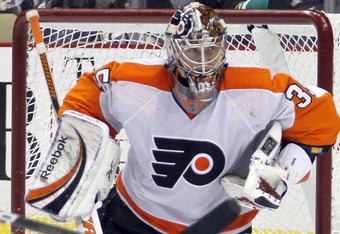 Justin K. Aller/Getty Images
Much fuss is made over The Winter Classic, but the honest fact is this: it's just a regular season game worth two points to the winner and at least one point to each team—should it go into overtime.
Losing or winning this game won't mean anything more to the Flyers than any other regular season game.
It's pageantry is a showcase for the league and the players. It's a gimmick basically used to draw in TV viewers for NBC's coverage of the league. It's a nice showcase for the Flyers, the fans and the city, but in the large scheme of things, it means just as much as a game played in November in Winnipeg, in February in Phoenix, or March in Minnesota.
Bobrovsky may give the Flyers the better chance to win Monday, we'll see.
But, the team's long-term success for this season is dependent on Bryzgalov's play. He's a goalie who likes to get in a groove—and since being named the starter for his previous team in Phoenix—has played in 55, 65, 69 and 68 games during the past four seasons.
He is a goalie who plays better the more he plays.
Keeping Bryzgalov focused, and happy, is in the best interest of the team. Because overall, he is their better goalie. He has a better pedigree and has excelled in the NHL and in International play.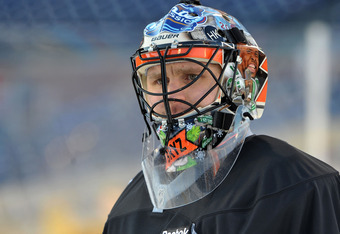 Christopher Pasatieri/Getty Images
Laviolette is playing with fire by see-sawing between his eccentric, sensitive starting goalie who is used to playing an average of 64 games a season and his backup, Bobrovsky.
It would be better for the team to go with Bryzgalov.
Allow him to play in the big showcase game—a game that obviously meant something special to the goalie, who had a special mask commissioned for the event and ordered new "retro-looking" goaltending pads, blocker and catching glove.
Allow him to get his feet under him, get his confidence back and put together another string of wins like he did for the team in early December when they were the hottest team in the NHL.
History has shown there is not a lot of scoring in these outdoor games anyway. A nice 2-1 win would do a load of good for Bryzgalov's confidence.
Sergei Bobrovsky is the backup.
There's an old saying that the two most popular athletes in any given town are the backup quarterback and the backup goalie. It's a "grass is always greener" scenario.
The fans are enamored with Bobrovsky now because he's done well in short spurts when he's played this season—usually against inferior competition. He also doesn't produce head-scratching and sometimes cringe-worthy quotes after his starts.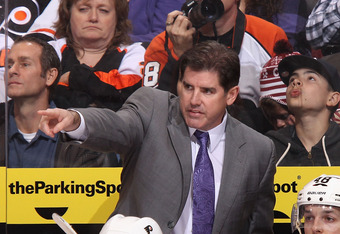 Christian Petersen/Getty Images
Bryzgalov is an odd ball: most great goalies are. He is temperamental and sensitive. He's also very, very good.
Laviolette has a history of juggling goalies. He did it and it worked while coaching Carolina to the Stanley Cup in 2006. He had Martin Gerber and Cam Ward split up playing time. He did it in 2010 with the Flyers—although that had more to do with injury situations and the fact that the team technically didn't have a real No. 1 goalie. They had two career backups in Brian Boucher and Michael Leighton.
Laviolette's goalie carousel in the playoffs last season became a league-wide joke. But again, he didn't have a clear No. 1 goalie: He had a wet behind the ears rookie who seemed to melt in the spotlight, and those same two career backups he had in 2010.
This season is different. He has a No. 1 goalie, and his name is Ilya Bryzgalov. He should be starting tomorrow.