French Open 2011: 5 Keys for Roger Federer To Take Down Rafael Nadal in Final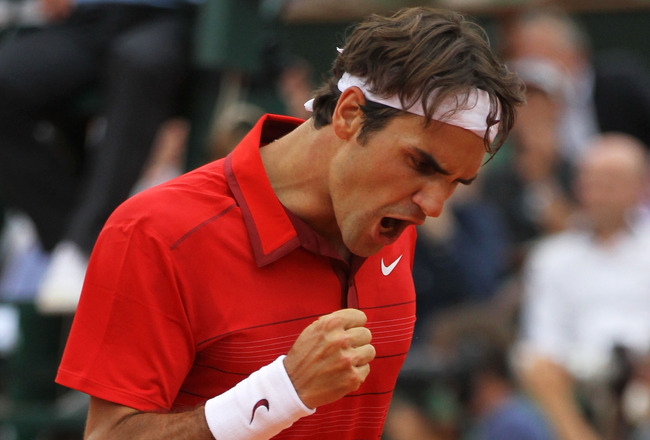 Matthew Stockman/Getty Images
When the tennis world focused in on Roland Garros for the 2011 French Open in May, much was made of Novak Djokovic's astounding win streak, and Rafael Nadal's dominance on the French clay.
So naturally, it was almost a forgone conclusion that Djokovic and Nadal would meet on Court Philippe Chatrier for the men's final.
And as the top four seeds filled the semifinals, the Djokovic-Nadal matchup seemed almost unavoidable.
But, quietly making his way through the draw without dropping a set was Roger Federer.
Never before has the 16-time Grand Slam champion been such an afterthought. And never before has Federer played this well at Roland Garros.
After Nadal beat fourth-seeded Scotsman, Andy Murray, Federer and Djokovic took Chatrier for their semifinal match. Federer dominated from the start, playing aggressive and taking advantage of every Djokovic miscue. Federer won 7-6 (7-5), 6-3, 3-6, 7-6 (7-5), ending Djokovic's consecutive win streak to start 2011 at 41 wins, putting the clamps down on Djokovic's chance to take over the No. 1 ranking from Nadal.
Leave it to the great ones to prove everyone wrong. Is it really a surprise that Federer and Nadal will meet in yet another Grand Slam final?
Here are five keys for Roger Federer in his quest to take down Nadal for the first time at the French Open.
Josh Rosenblat is a high school student from Chicago looking to find a way to break into sports journalism. He often writes about the NBA (primarily the Chicago Bulls), as well as the MLB, college basketball, Tennis and the NFL. You can email him at joshua.m.rosenblat@gmail.com or follow him on Twitter @JMRosenblat. Feel free to send him comments
5. Keep the Backhand Consistent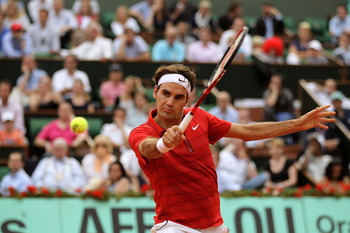 Matthew Stockman/Getty Images
In recent years, Federer's backhand has become somewhat of a liability.
At times he struggles to make clean contact and he has a tendency to become a little too tentative by leaving his shots too short in the court, allowing his opponents to attack it more frequently.
Rafa Nadal has always given Federer trouble on his backhand side due to Nadal's extreme amount of topspin that makes the ball kick up around Federer's shoulders on the clay. In order to counteract this, Federer must be willing and able to be aggressive with his backhand and take his chances hitting the ball on the rise. This means that Federer will need to step up into the court in order to meet the ball before it becomes too high for him to handle.
This will be a huge factor in Federer's chances because there is no doubting that attacking Federer's backhand side will be a major focal point in Nadal's game plan.
4. Start Fast; Do Not Let Nadal Get into a Comfortable Rhythm Early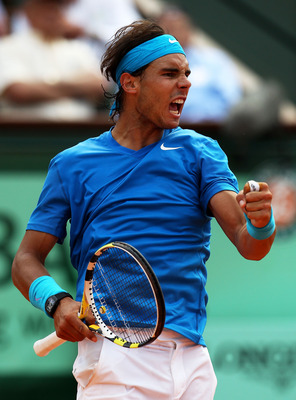 Alex Livesey/Getty Images
From the first game in the match, Federer must attack Nadal before he becomes comfortable.
Nadal is the best player in the game when he is in a rhythm, and Federer cannot afford to fall down an early break to arguably the greatest clay-court player in history.
The last time Federer beat Nadal on clay was back in 2007, so it will be an immediate emotional boost if he is able to put some early pressure on the five-time French Open winner Nadal.
With a fast start, Federer could get into a groove early, maybe breaking Nadal's serve, which could quite possibly lead Nadal to question his own ability on his favorite surface.
3. Feed Off of the Crowd's Energy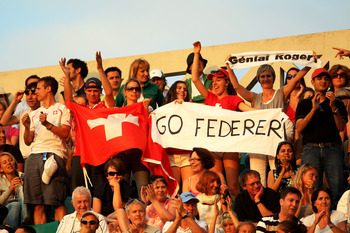 Alex Livesey/Getty Images
During Federer's decisive fourth-set tiebreak the NBC broadcasters compared the atmosphere at Chatrier to a Davis Cup match.
And in the final, Federer should be loved, yet again, by the French crowd. If Federer is able to capture a majority of the crowd for himself, it will become very unfamiliar territory for the fan favorite Nadal. This advantage could prove to be a major boost for Federer during the match.
If Federer is able to successfully feed off of the crowd, then Nadal could become subconsciously tentative during the match, due to the raucous crowd.
2. Dictate As Many Points As Possible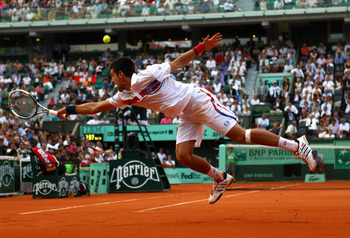 Clive Brunskill/Getty Images
During Novak Djokovic's semifinal loss to Roger Federer, he was forced to hit many balls where he was off balance and lunging.
Federer did a great job attacking Djokovic with his forehand, forcing him to scramble to stay in points.
Going up against one of the best defensive players on tour in Nadal, Federer must be able to control points and use his forehand to attack and unsettle Nadal on his favorite surface.
Also, if Federer is able to force Nadal to run all over the court, it may pay huge dividends for Federer late in the match, as he may be able to tire Nadal to some degree.
1. Continue the Hot Serving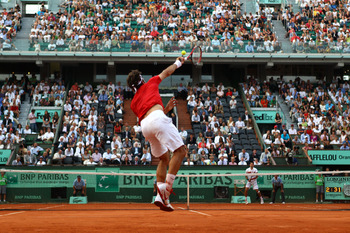 Clive Brunskill/Getty Images
Currently, Roger Federer's serve has never been better during his career.
Frankly, Federer has been on fire.
He is leading the French Open in aces, and is third on the tour in percentage of first-serve points won with 77 percent. This transformation in his game has been a major catalyst in his run to the final at Roland Garros.
With his newfound power game, Federer is now able to put far more pressure on his opponents to match him blow for blow.
The serve will be an even more important factor facing Nadal because Rafa is one of the best players in the world when it comes to breaking his opponents' service games.
Overall, the serve will be the most important key for Federer as he tries to win his second French Open title against Rafael Nadal.
Keep Reading