Washington's Fate Left in the Hands of Donovan McNabb's Redskins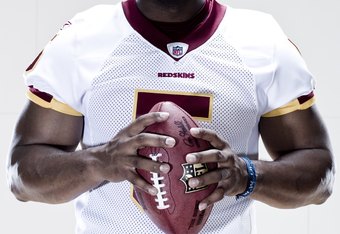 Chris McGrath/Getty Images
The Washington Redskins haven't won a Super Bowl in 18 years.
During the subsequent seasons, Washington only made four additional playoff appearances (last time in 2007), and hasn't won the NFC Championship since.
After two disappointing seasons in 2008 and 2009, it's about time for the Redskins to become a threat in the NFL again.
Washington, D.C., needs a sports team that can compete.
The Capitals are nearly there in the NHL, though they were just eliminated from the Stanley Cup Playoffs in the first round. This is in spite of having the highest-scoring offense in the league and the best regular season record. The Wizards and Nationals have both performed badly in recent seasons as well.
With all of this disappointment, it's time for Washington to succeed in the NFL.
Daniel "Instant Gratification" Snyder has once again shuffled a coach with a Super Bowl or two under his belt into the Washington locker room. Some hailed it as the first move in rebuilding, while critics would liken this move to the Joe Gibbs situation a few years ago.
For Redskins fans, the initial conclusion was that there would indeed be rebuilding, perhaps a top quarterback choice in the draft, and maybe a season or two in the middle of the standings before the team might be able to compete.
Then, Donovan McNabb gets traded to the Redskins.
Amidst the Mike Shanahan hype, he declares that the Redskins aren't simply rebuilding. The Official Washington Redskins blog quotes Shanahan at the 2010 Draft party at FedEx Field saying, "[...] We've got one goal, and we've got it together, and that's to win a Super Bowl. And we will get it done."
Pretty ambitious stuff for a team that just went 4-12, no?
The 'Skins suddenly have a franchise quarterback, an experienced Super Bowl-winning coach, and the offensive coordinator who ran the best pass offense last year. They want to make a run at the big game.
It could actually happen, but the fate of the Redskins this year falls into McNabb's hands.
Shanahan has absolute faith in McNabb. He went along with what will go down in NFL history as one of the strangest trades ever to get the quarterback to Washington.
Then, he dumped former starter Jason Campbell, sending him to Oakland. Campbell could have been a solid person to have at backup (who believes in Rex Grossman, honestly).
Yet instead, Shanahan chose to clear things out and put all his faith on Donovan McNabb to lead his new Redskins to a Super Bowl victory.
In order to give the Redskins a shot, McNabb is going to have to play better than he ever has. He'll have to put all of that Philadelphia stuff behind him, adapt to the Shanahan's scheme, and play some of the best football of his career.
He also has to be a leader, to command his troops in the way Campbell never really did, and to inspire the team to play its best, too.
Mike Shanahan and company can only do so much. On the field, and even on the sideline, the players will look to McNabb to lead them to greatness.
It's a daunting task, to try and bring a 4-12 team into the playoffs, and even a Super Bowl.
But I think McNabb is up to the task.
He's been to the Super Bowl, but never won it, despite countless NFC Championships. This is a guy who, like the Redskins, has come close but not made it there.
Maybe together, this season, McNabb and the Redskins can do something amazing and achieve their mutual goal.
Washington, D.C., sports fans would surely thank them.
This article is
What is the duplicate article?
Why is this article offensive?
Where is this article plagiarized from?
Why is this article poorly edited?

Washington Redskins: Like this team?