Tic Tac Toe: The Improbable New Orleans Hornets Have Won Three in a Row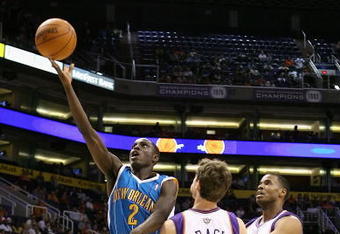 Christian Petersen/Getty Images
In an unlikely turn of events, the New Orleans Hornets have won their third game in a row by defeating the Atlanta Hawks, 96-86, Saturday night in the Hive. Coming into this game, the Southwest Division leading Hawks had the best record in the NBA.
This is the second division leader in a row that the Hornets have defeated. In their previous contest against the Phoenix Suns, the Hornets avenged an earlier blowout by beating the Suns, 110-103.
The Hornets were a team in an obvious rapid decline. Just 10 months ago, most analysts had the Hornets ranked third in the NBA power rankings. Many had the Hornets ordained as the team who would dethrone the Lakers dynasty.
New Orleans then began what many would call a death spiral at the end of last season. In January, they were strong challengers for at least the two spot in the Western Conference playoffs.
By season end, they barely made the playoffs. This was culminated in a humiliating first-round playoff defeat at the hands of the Denver Nuggets.
In the offseason, General Manager Jeff Bower began to remake the roster. Through the draft, trades, and free agent acquisitions Bower significantly improved the quality of the bench players.
He also bettered the starting lineup by trading oft-injured Tyson Chandler for Emeka Okafor. His trades and acquisitions also shaved nearly $5 million off the Hornets current season salary cap number.
Despite the roster improvement, the Hornets started this season in much the same fashion as they finished last season. They played with little if any energy and enthusiasm and were getting beat regularly.
Something had to change. With only three wins in their first 10 games, something did. Hornets owner George Shinn pulled the trigger and fired Coach Byron Scott.
Most of the sports world was stunned when Bower announced himself as the new head coach. A man with absolutely no head coaching experience at any level was now head coach and general manager of an NBA team.
In a curious first move, Bower announced the hiring of one-time Hornets head coach Tim Floyd as his lead assistant coach. Most Hornet fans figured by not hiring a big-name head coach, Mr. Shinn was trying to save money.
Bower's tenure as head coach got off to a shaky start. His Hornets lost a close game to Portland, then was blown out in Atlanta by the Hawks. These two games were before the Bower-Floyd regime had their first full practice with the team.
Since Bower and Floyd implemented their new system, the Hornets have not lost a game. All of this without Chris Paul. What has changed?
Let's start with rebounding. The Hornets had been getting killed on the boards under Coach Byron Scott. In their first victory under Bower, the Hornets out-rebounded the Suns 66-38 and the L.A. Clippers 51-36. In last night's victory against the Hawks, Atlanta had a slight edge in rebounding, 52-48.
Next, let's look at the play of rookie guards Marcus Thornton and Darren Collison. Coach Scott had Thornton inactive for most of the season. The reason given by Coach Scott in an interview for the New Orleans Times-Picayune was that Thornton had not yet been able to pick up the Hornets defensive schemes.
The way most teams were scoring against New Orleans, it seems like all of the Hornets had not picked up the defensive schemes. Since Coach Bower inserted Thornton in the lineup, he has averaged 17 points on 51 percent shooting, three rebounds, and just under two assists. Not bad for a draft day second round acquisition.
Darren Collison is a different story. No one in their right mind would have expected Coach Scott to play Collison over CP3. This includes, I am sure, Darren Collison. Collison is playing out of necessity and has responded beyond anyone's wildest imagination.
In the last three games, Collison has played just under 30 minutes per contest. In those 30 minutes, he has averaged 16.3 points, 3.3 rebounds, 7.3 assists against only 2.7 turnovers.
Collison looks as calm and collected as any seasoned professional that I have ever seen on the court. Nothing seems to rattle him at all. Against the Suns, even though he was at one point shooting 1-11, he had the confidence to take some clutch shots as the game was winding down to help seal the victory.
The turnaround in the play of Peja Stojakovic has also been a key factor. Scott used Peja as strictly a spot-up three point shooter. Under Scott, Peja would usually catch the ball high on the wing, give the ball up, slide down to the baseline, then shoot a three.
Peja has played well in every game under Bower. I am not sure if Scott had Stojakovic convinced that he was too old to anything but spot up and shoot threes or if something else was going on behind the scenes.
Under Bower, Peja is cutting and moving all over the place. He is rebounding, setting screens, and yes sports fans, Peja Stojakovic is even playing defense. Against the Suns, he had is best game ever as a Hornet and one of his best ever as a professional.
In that contest, Peja had 25 points shooting 7-11 from beyond the arc. He also pulled down 13 rebounds, for his first double-double as a Hornet. He also played solid defense.
Game management has been significantly improved. Bower appears to be more judicious in his use of timeouts. Because Bower is playing a lot more players in the rotation, he no longer has to call time outs to allow his starters to catch their breath.
Instead, he uses them to interrupt any scoring streaks by the opposition, makes adjustments, and keeps games from getting out of hand.
Most people do not watch the bench during a game. I do. As a coach, I can assure you that bench demeanor can tell you a lot about a team.
Under Coach Scott, the bench looked like they were sitting around in a funeral parlor trying to avoid speaking with the family of the deceased. On the Bower bench, players are enthusiastic. They are high-fiving each other, and high-fiving teammates coming off the court during time outs.
Paul is the head cheerleader. Sitting on the sidelines in a suit and an ankle boot, CP3 is yelling, screaming, and clapping every time Colison makes one of his smooth passes, Thornton knocks down a three, Okafor blocks a shot, and David West posts up for a basket.
The Hornets are obviously improved over the last five games under Bower. Ike Diogu may suit up for the first time next week. CP3 will be back in the next two or three weeks. Could the best be yet to come?
This article is
What is the duplicate article?
Why is this article offensive?
Where is this article plagiarized from?
Why is this article poorly edited?

New Orleans Pelicans: Like this team?