A year ago, Jake Peavy was shipped to the Boston Red Sox and subsequently helped his new team win the World Series. The San Francisco Giants will be hoping he can make a similar impact in 2014. The team confirmed the news on Saturday:
#SFGiants acquire Jake Peavy plus cash from #RedSox in exchange for minor league pitchers Edwin Escobar and Heath Hembree.

— #SFGiants (@SFGiants) July 26, 2014
Peavy will start for the #SFGiants tomorrow on ESPN's Sunday Night Baseball.

— #SFGiants (@SFGiants) July 26, 2014
Fox Sports' Ken Rosenthal notes Peavy's feelings on Bruce Bochy:
Peavy on Bochy: "You know I'll die for that man." #SFGiants

— Ken Rosenthal (@Ken_Rosenthal) July 26, 2014
Alex Pavlocic of the San Jose Mercury News reveals why the Giants made the move now:
Sabean said Cain "going to be out a while." That's why he pushed for Peavy yesterday.

— Alex Pavlovic (@AlexPavlovic) July 26, 2014
San Francisco traded for the 33-year-old right-hander Saturday, shipping minor league pitchers to Boston in return. Jon Heyman of CBS Sports first reported the news:
peavy goes to giants for minor league pitchers #redsox #SFgiants

— Jon Heyman (@JonHeymanCBS) July 26, 2014
ESPN's Buster Olney reported what the Red Sox would be getting in return:
The Red Sox will get Giants prospects Edwin Escobar and Heath Hembree in the deal, pending approval.

— Buster Olney (@Buster_ESPN) July 26, 2014
Olney also broke down how Peavy's salary would be split:
The Giants and Red Sox are splitting remainder of Jake Peavy's salary for this year (about $5 million total; $2.5 million on each team).

— Buster Olney (@Buster_ESPN) July 26, 2014
Tim Kawakami of the San Jose Mercury News notes that the deal makes a lot of sense:
Per @Buster_ESPN report: Hembree + Escobar seems about right... Crick would've been way too much. He might still go, but not for Peavy.

— Tim Kawakami (@timkawakami) July 26, 2014
CSN Bay Area's Andrew Baggarly reports that Peavy will start for the Giants almost immediately:
The Giants acquired Peavy with the intent to start him Sunday against the Dodgers at AT&T Park in place of fill-in starter Yusmeiro Petit, who had made one appearance in the rotation (five runs in five innings at Philadelphia) since the club placed Matt Cain on the disabled list with elbow inflammation.

Cain's uncertain status compelled the Giants to back-burner their pursuit of a second baseman, right-handed hitting outfielder or reliever. They needed to plug a bigger hole in their rotation.
It's a typical July swap.
The Sox, toiling at the bottom of the AL East, have no need for Peavy. His two-year, $29 million deal expires at the end of the season, and unless he finishes the year with 255.1 innings pitched (read: he won't), he won't be eligible for his 2015 player option. Instead of losing him for nothing to free agency, the Sox are able to dump some of this year's salary and get a solid asset in return.

As for the Giants, they are solidifying their starting rotation for the stretch run even if Peavy has been far from razor sharp this season.
He currently owns an ERA well above 4.00 while his WHIP is the worst of his career, but he shouldn't be valued solely on those numbers. He has looked much better recently and has been through this kind of transition before.
"Having been through it twice is something that makes it quite a bit easier," said Peavy, referring to being traded midseason, via The Providence Journal's Tim Britton. "I do understand how it all works."
It certainly worked out pretty well the last time it happened. When Peavy was shipped to the Sox last July, he responded with a clinical August, compiling a 3.18 ERA and 0.96 WHIP over six starts. During that month, the Sox went from up one game in the East to up 4.5.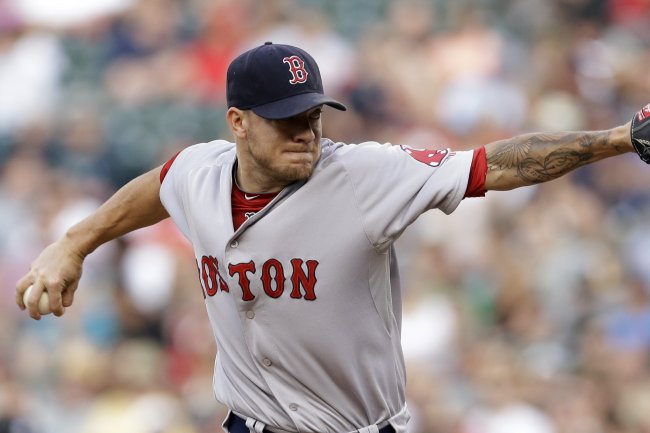 Elaine Thompson/Associated Press
He slowed down in September and October, but the veteran was crucial for the title-winning run in Boston.
Peavy isn't going to anchor his new rotation, but he doesn't need to. He will eat up innings, provide depth and experience and likely come through with some quality starts at key moments.
Although he may not be the same player who once won the Cy Young Award, he can better prepare San Francisco for a run in October. The team that just let him go will attest to that.