Best Sports Story of 2012? Chuck Pagano and the Indianapolis Colts Keep Fighting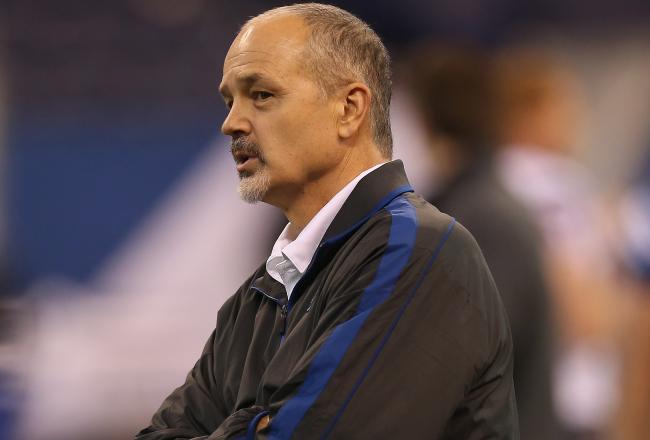 Head Coach Chuck Pagano
Jonathan Daniel/Getty Images
Fighting.
That was the word used over and over again by Indianapolis Colts' head coach Chuck Pagano as he resumed his head coaching duties earlier this week. Pagano has spent the last 12 weeks undergoing chemotherapy treatment for leukemia. What happened in those 12 weeks during Pagano's leave of absence?
Well, the same Colts team that was projected to win maybe three or four games all season long surged behind rookie quarterback sensation Andrew Luck, and their absent coach, all the way to a playoff berth with one game still remaining. For the Colts franchise, in a way, this entire year has been about fighting.
After an offseason full of change—the hiring of Pagano, the releasing of former franchise quarterback Peyton Manning and the drafting of new franchise quarterback Andrew Luck—the Colts entered training camp with very few expectations.
Through their opening three games, they had played somewhat better than those expectations. After getting blown out by Chicago on opening day, they followed up with a solid win against the Minnesota Vikings, and then a tough loss to the Jacksonville Jaguars, a game they should have won. But then tragedy struck.
During the Colts' bye week, Coach Pagano was diagnosed with leukemia. He had to hand head coaching duties over to offensive coordinator Brian Arians. Arians, a survivor of prostate cancer, at first was worried about his friend. Once assured Pagano had a strong plan to battle the illness (chemotherapy), Arians began to focus on football.
Waves upon waves of support came in for the ailing coach. More than two dozen of the Colts' players, and even two of their cheerleaders, shaved their heads to support their sick leader.
In the Colts' first game without Pagano on the sidelines signs were hung with the term "#chuckstrong" behind each goal posts, and team officials wore pins with orange ribbons (orange is the color for leukemia awareness) to support Pagano.
Letters, emails, and text messages were received by the Pagano family from many different faces in the Colts' organization. It meant the world to Pagano, but he merely wanted his team to focus on football.
His illness may have prevented him from being on the sidelines, but Pagano's attitude towards the disease that had hospitalized him rallied the Colts all the same. It gave the team something that tied them all together; a common cause to fight for.
Prior to their showdown with the Packers, Pagano sent an emotional email to his team to make sure they understood that all he wanted them to only focus on was football.
And that's exactly what they did. The next week Andrew Luck out-dueled Aaron Rodgers to get the Colts a much-needed win. With all the momentum seemingly turning the Colts' way they ran into another speed bump against the Jets, losing 35-9 the following week.
At 2-3, their season was at the point where it could have gone on a downslide or they could win, get back to .500 and regain some momentum. Just prior to the start of their game against the Browns that week, Pagano was sent home from the hospital.
Inspired by his coach's success in fighting the disease, Luck played fantastic football that week. He threw for 186 yards, ran for two touchdowns, and led his team to a victory giving Pagano, and the Colts, another win to celebrate.
They rattled off three more wins against Tennessee, Miami and Jacksonville before running into a red-hot New England Patriots. After 11 weeks, the Colts were 6-4 and in perfect position to make a final push towards the playoffs.
Pagano returned to Lucas Oil Stadium in Week 12. Although he still was not able to coach from the sidelines, he sat up in the owner's box and was able to say thank you to all the fans who were in attendance for their continued support. As he stepped out of the box he was greeted by deafening cheers from the Colts' faithful fans.
The Colts went on to win that week and then claimed two more wins in the next three weeks. As they marched into Kansas City last week there were two things on the players' minds. A win meant a berth in the playoffs, and if they were lucky, a full return to work by Pagano was possible that coming Monday, Christmas Eve.
The Colts did their job last Sunday, and Pagano was able to return to work. He had been fighting for his life, and now it was finally all paying off.
The Colts are at home today against the Houston Texans. And while both teams have already earned playoff spots, this is a big game for the Colts for two reasons.
First, it is Pagano's return to the sidelines. Lucas Oil Stadium is going to go nuts when he is introduced. Colts fans are going to give him an unbelievable, and well-deserved, welcome back.
Second, out of all the games the Colts have won this year only two teams, the Packers (already clinched a spot) and the Vikings (vying for a wild-card berth), are involved in the playoff picture.
Multiple times this year the Colts have failed to perform against the best teams in the league, leading some to ask the question, just how good are they? This game against the Texans could prove to be a game of massive importance because if the Colts can win it might give them the final push of momentum needed to make a deep run in the playoffs with Pagano back at the helm.
However, the Texans are not going to make it easy for these Colts. Houston is still trying to clinch home field advantage throughout the playoffs. In addition, the Texans are one of the five teams that the Colts have already lost to.
With a little revenge and some possible momentum on the line, Chuck Pagano and the Indianapolis Colts are going to do what they have done all year long: they're going to keep fighting.
This article is
What is the duplicate article?
Why is this article offensive?
Where is this article plagiarized from?
Why is this article poorly edited?

Indianapolis Colts: Like this team?