Projecting the Seattle Seahawks' Final 53-Man Roster After Preseason Week 2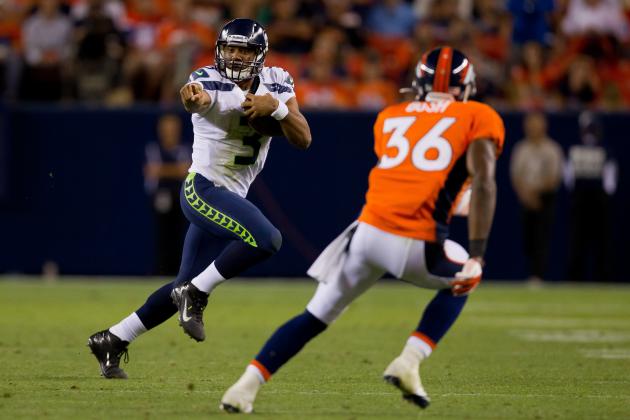 Justin Edmonds/Getty Images
Look! Fake Defender!
With two preseason weeks in the books, it's high time to take a stab at projecting some roster cuts. Seattle's depth has been great late in games, as evidenced by Seahawk backups trouncing the backups of the Denver Broncos and Tennessee Titans.
For those unfamiliar with the process, the team must cut down to 75 players after Week 3, and then must be down to 53 a few days before the season opener.
So, let's predict who will make the cut!
Please feel free to argue below.
Begin Slideshow

»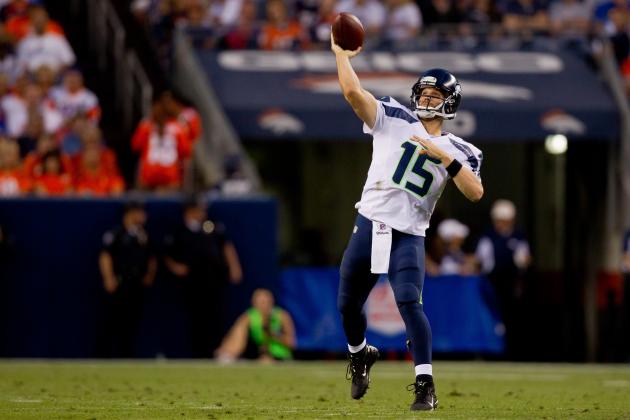 Justin Edmonds/Getty Images
I'm pretty sure T Jack is going to start.
Quarterbacks
1. Matt Flynn
2. Russell Wilson
Call me crazy, but I say that the Seahawks only keep two QBs on the roster this year. Josh Portis is practice-squad eligible, and that's where I expect he'll stay in 2012. We all know that Tarvaris is on the outs, and with the probability that the team keeps four tight ends, they need to steal a spot from somewhere.
Running Backs
2. Robert Turbin
3. Leon Washington
4. Michael Robinson
Although Tyrell Sutton and Kregg Lumpkin performed admirably on Saturday night, they most likely won't make the team. Leon Washington shouldn't see too many carries; he'll primarily be a return man.
Wide Receivers
1. Sidney Rice
2. Golden Tate
3. Doug Baldwin
4. Braylon Edwards
5. Deon Butler
6. Ricardo Lockette
Yeah, after that Week 2 performance, I don't see TO making this roster. Deon Butler is showing good chemistry with Flynn, and should be a good safety valve throughout the season. Ricardo Lockette still has tons of untapped potential, in my opinion, and should get that last roster spot.
Tight Ends
1. Zach Miller
2. Kellen Winslow
3. Anthony McCoy
4. Cameron Morrah
I'm predicting that the team carries one more tight end than usual for a couple of reasons. One, as injury insurance against Winslow's suspect knees, and two, to balance the roster and have two blockers/Y-tight ends (Miller and McCoy) and two joker/H-back tight ends (Winslow and Morrah).
Offensive Linemen
1. Max Unger
2. Russell Okung
3. John Moffitt
4. Breno Giacomini
5. Deuce Lutui
6. Paul McQuistan
7. Lemuel Jeanpierre
8. JR Sweezy
Sorry, Alex Barron, JR Sweezy has stolen your roster spot. I could see the team only keep eight linemen this year, as the coaches have been giving all the players reps at multiple positions to keep them versatile.
Roster Spots Used: 24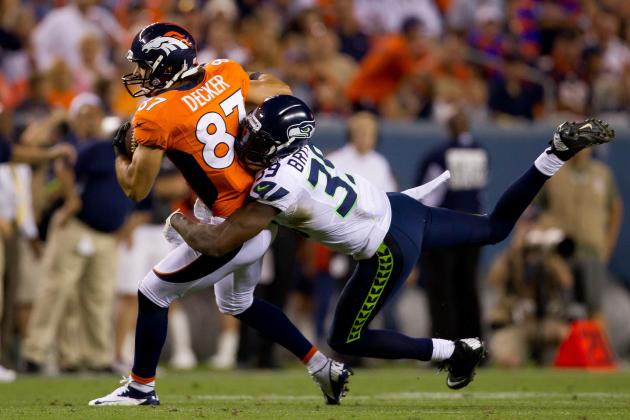 Justin Edmonds/Getty Images
I love you, man.
Defensive Line
1. Red Bryant
2. Jason Jones
3. Chris Clemons
4. Brandon Mebane
5. Alan Branch
6. Bruce Irvin
7. Jaye Howard
8. Clinton McDonald
9. Greg Scruggs
The only surprise here is that Greg Scruggs, a seventh-round pick, is going to beat out Dexter Davis. Davis has been a perpetually injured player, and Scruggs has played very well this preseason. Pete's not afraid to reward performance.
Linebackers
1. KJ Wright
2. Leroy Hill
3. Bobby Wagner
4. Barrett Ruud
5. Mike Morgan
6. Heath Farwell
7. Korey Toomer
8. Matt McCoy
Not too many surprises here either. Mike Morgan and Heath Farwell are both good special teams players and have had solid preseasons thus far. Both should see some playing time in special packages this season.
Defensive Backs
1. Earl Thomas
2. Kam Chancellor
3. Jeron Johnson
4. Chris Maragos
5. Richard Sherman
6. Brandon Browner
7. Roy Lewis
8. Marcus Trufant
9. Jeremy Lane
Winston Guy most likely won't make this team; Jeron Johnson and Chris Maragos have made plays that will earn the backup spots to Kam Chancellor and Earl Thomas. Besides that, there really aren't too many surprises on the roster.
Roster Spots Used: 26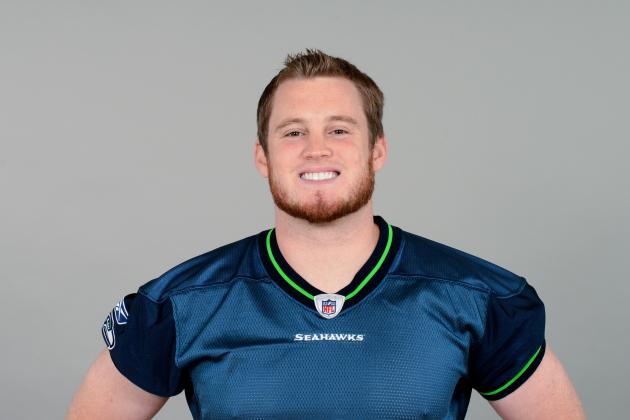 Handout/Getty Images
Stud Muffin.
Long Snapper: Clint Gresham
Place Kicker: Steven Haushka
Punter: Jon Ryan
Nothing should change here. All 2011 starters will retain their roles in 2012.
Roster spots used: 3