Why Andrew Luck's Supporting Cast Isn't as Bad as You Think
May 25, 2012

No NFL team has undergone more extensive plastic surgery over the 2012 offseason than the Indianapolis Colts.
While most ball clubs spent the last few months applying new coats of paint to spruce up their look, the Colts bulldozed their roster to the ground with an epic vision of building a bigger and better team, brick by brick.
The blueprint starts with Andrew Luck. He's the cornerstone of whatever identity this team plans to embrace moving forward. And while we can all see the virtue of going all-in on a prodigy like Luck, the fact is that it's still a gamble. Peyton Manning is one of the 10 best quarterbacks in the history of the NFL and Luck has never played a single game on the professional stage.
From a common sense standpoint, opting for Luck over Manning was a slightly bold, mildly insane and totally admirable roll of the dice. But the fruits of this gamble can't be truly understood until everyone shows their cards.
It's the eternal question of present vs. future, wisdom vs. condition, proven champion vs. limitless potential. There's no right or wrong answer until we see how good Luck really is or how well Manning has recovered.  
There is a point at which Colts fans can ultimately say, "We made the right decision." The question is: Where is that point? If Peyton Manning is, indeed, one of the best slingers of all time, then at what point does the gamble on Luck pay off? Does it begin and end with a championship? A dynasty? Does Luck need to crack that all-time quarterback list for this experiment to be considered a true success?
Despite a whirlwind offseason for the Colts in which profound moves were made, the truth is that many questions still remain. Until the Colts win a championship, the ghost of Manning will linger.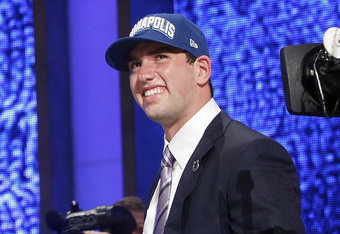 It's a scary time for Colts fans.
Sure, you could describe it as "exciting" to alleviate the burden of the situation, but let's be honest: This quarterback gamble is downright frightening for the Indianapolis faithful. If the Broncos make the playoffs and the Colts don't, or if Denver goes further in the postseason than Indianapolis, it's going to sting.
Like it or not, these teams are emotionally linked now.
On paper, you have to give the edge to the Broncos—at least for now. In addition to having a terrific defense, Manning's illustrious history has earned him the benefit of any doubt in his abilities. Between these two teams, only one of them has a first-ballot Hall of Famer running their offense. Plus, in the event that Manning goes down for any length of time with an injury, they have a remarkable insurance policy with Brock Osweiler. 
Furthermore, there's a divisional issue. The AFC West is weak enough for Denver to wrap up their division early and give Manning a few games to rest for the postseason. There's no such luck for Indianapolis, as the AFC South has suddenly become Houston's stomping ground. 
If the Texans can improve upon their magical chemistry, then they're most likely headed for a bye in 2012. Not only did they come within a hair of reaching the AFC championship last season with their third-string quarterback, they also strengthened their roster by cherry-picking some incredible rookies with Whitney Mercilus, Brandon Brooks, Jared Crick and Ben Jones.
The Colts will be locked in a dogfight with the Texans over possession of the AFC South. Gone are the days of the Colts turning red when they see the Patriots on their schedule. From now on, the Texans are the team they need to beat to prove their worth as a contender.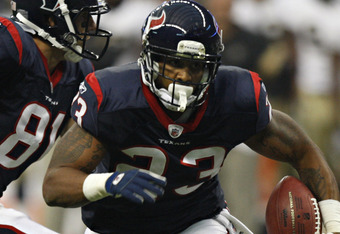 The road to success will be difficult for the Colts in 2012. But at the same time, Colts fans have plenty of reasons to be hopeful. Andrew Luck's supporting cast is much better than you probably think.
Drafting Coby Fleener was a stroke of genius. He's a limber tight end with great hands and quick legs. Bulky and meaty, Fleener is the guy Luck will look to find on third down. He's a finesse player who will be expected to block in a more down-and-dirty style. He can do it. He's more than capable of playing physical football.
Fleener perfectly fills the void left by Jacob Tamme and Dallas Clark. Plus, he's played with Luck before, so he knows how this quarterback operates. Fleener provides Luck with a cushion. His presence on the field will allow Luck to shake out any jitters he may feel. He's the best insurance policy in the world.
Tight end Dwayne Allen has the potential to be a game changer on the field. He's a quick and nimble athlete who runs perfect routes and has enough shake-and-bake moves in his repertoire to create windows of separation. He's athletically gifted and has the ability to fight, flip and squirm for those precious few extra yards. He's a playmaker. If he can stack some more muscle on his frame, he'll be a true presence in the NFL.  
Vick Ballard was also a tremendous pickup for the Colts. He's a full-contact, no-nonsense threat on the inside. He doesn't have elite speed, but he makes up for it with elite energy. With a high football IQ and tremendous patience, Ballard reminds me of a younger BenJarvus Green-Ellis with a higher ceiling.
Not only is he a capable running back, he's also willing to sacrifice his body to make the necessary blocks on the field.
The Colts have serious depth on their roster. Dwight Freeney and Robert Mathis are still the men who strike fear in the hearts of opponents. Reggie Wayne and Cory Redding are deep wells of wisdom who are still killing it on the field.
Look for T.Y. Hilton to have an impact. Austin Collie could really find has groove with a guy like Luck controlling the flow of the offense. Plus, the Colts have Adam Vinatieri, who's still the best kicker in the history of the league.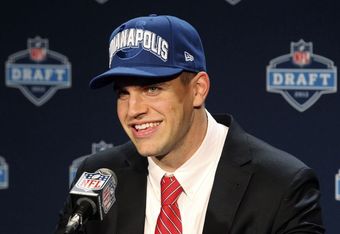 One more name worth mentioning: Chandler Harnish. It's easy to forget about the Colts' other quarterback selection in the 2012 draft because of all the hysteria around Luck. Granted, that hysteria is well deserved. But still, my golden rule for building a strong team is to have competent backups.
Why? Because everything that can go wrong will absolutely go wrong. That's life in the NFL.
When Tom Brady went down in the 2008 season-opener with a devastating injury, Matt Cassel stepped in and won 11 games. Last year, the Texans nearly steamrolled their way to the conference championship, despite a multitude of injuries to their entire roster, including their top two quarterbacks.
Backups matter.
Harnish is a very solid backup to have at the quarterback position. He isn't great, but the kid has skills. He's an agile, mobile athlete with sharp intelligence and excellent patience. He's a thoughtful slinger who can roll out and extend the play with his pure athleticism. He's a good weapon to have when you're rebuilding a team from the floorboards up.
All in all, the Colts are a tremendously well-balanced team. As to whether or not the decision to part ways with Peyton Manning was a good choice, well, only time will tell. But when a kid like Luck is available, it's tough not to pounce on him. His skill set is simply too extreme and too brilliant to ignore.
The question that Colts fans need to answer is: What constitutes a successful 2012 season? 8-8? 10-6? 6-10? Wild Card round? Divisional round? You make the call.
As of now, everything is up in the air for Indianapolis. The only certainty for the Colts in 2012 and beyond is that nothing will ever be the same again.