Mike McCarthy: If Nick (Collins) Was My Son, I Would Not Let Him Play
March 25, 2012

Streeter Lecka/Getty Images
In a conversation partially transcribed on Twitter, ESPNMilwaukee's Jason Wilde asked Mike McCarthy to comment on the status of Packers safety Nick Collins. 
The answers he received were not reassuring. Said McCarthy:
"Dr. Pat McKenzie and our medical staff, they're conservative by nature. We're not going to put him in harm's way. If he's on the field, he'll be cleared, he'll be 100 percent, everybody will be comfortable."
Collins, who was injured September 18, while tackling Carolina Panthers running back Jonathan Stewart, had spinal surgery with hopes of playing again. The Milwaukee Journal-Sentinel reported March 22, Collins future hinges on a meeting with a spinal specialist, scheduled sometime in the next week or two, at that time.
McCarthy's comments above are very much coach-speak. The comments that follow are not:
"If Nick was my son, I would not let him play."
Those sentiments echo Steelers coach Mike Tomlin, who kept safety Ryan Clark from playing in Denver's high altitude stadium. If McCarthy learns Collins' return to play will present a risk to his spinal health, an early retirement could be recommended.
Of course, Collins could get the "100 percent" clean bill of health and go-ahead from a specialist. If that's the case, the Packers defensive backfield will look much better on paper.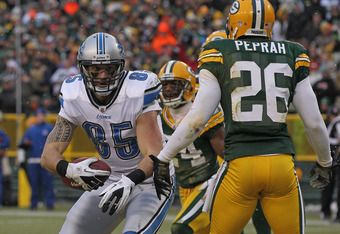 Jonathan Daniel/Getty Images
Morgan Burnett and Charlie Peprah are the incumbent starters at safety if Collins is unable to return, which would in turn increase the likelihood Green Bay spends a mid- or late-round pick on a defensive back.
Regardless of Collins' uncertain future, it is likely Green Bay uses at least one pick on the defensive backfield. Charles Woodson, while still head-and-shoulders above most corners in the NFL, turns 36 in October and clearly lost a step last season.
Beyond Tramon Williams, who plays opposite Woodson, Green Bay's defensive back depth is very thin.
The Packers re-signed Jarrett Bush this offseason, but he's primarily a specialist and dime corner. Bush is certainly not equipped to take a starting role on defense, particularly if Green Bay's pass rush doesn't make a resurgence in 2012.
The lack of a pass rush, evidenced by Green Bay's defensive sacks dropping from 47 in 2010 to 29 in 2011, has inspired the consensus Ted Thompson will pursue and draft a pass-rushing outside linebacker to play opposite Clay Matthews. USC's Nick Perry is a popular candidate.
But unless Green Bay receives some good news concerning Nick Collins, those draft plans may change.