WWE TLC 2011: Why CM Punk Needs to Win at TLC, and Who Is Natalie Slater?
December 15, 2011
This Sunday at WWE TLC 2011, CM Punk will be defending his WWE Championship in the first-ever Triple-Threat Tables, Ladders and Chairs Match against former champions Alberto Del Rio and The Miz.
Punk won the title from Del Rio at Survivor Series and vowed from that moment to make the WWE title interesting again.
He certainly has not disappointed thus far. The video tribute to John Laurinaitis in the style of a 1980s video package was absolutely brilliant, and it also reminded some of the younger fans that Funkman does indeed have a background in wrestling.
He has also had some great matches over the past several weeks including one with Dolph Ziggler, which showed what a great program the two could have if given the right amount of time.
With his current run and progression over the last year, it is hard to dispute his claim of being "The best in the world."
This Sunday is Punk's chance to prove that he not only deserves his spot, but that he can keep it for a long time.
The five-time champion has worked hard to get to where he is by delivering high-quality performances no matter if he is on PPV in front of millions or if he is at a house show in front of thousands.
By many reports, he is actually more entertaining at house shows because he does not have the same restrictions as when he appears on TV.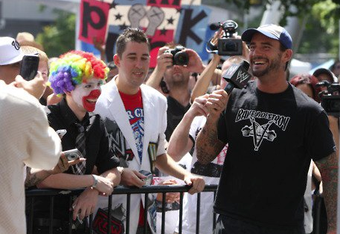 This is notably the first PPV in a long time where John Cena has not been booked in a match, meaning Punk has that much more pressure on him to carry the show as the top star.
I do not think this will be a problem for Punk for several reasons. The first reason being that this match is sure to be the most exciting match on the card based on who is involved.
Alberto Del Rio and The Miz have both had a great 2011, and Sunday night will definitely be a great way to cap off the year whether they win or lose.
Being in the main event with Punk in a very high-profile match without Cena gives all three men a chance to shine and show WWE that they have more than three guys they can trust to bear the weight of the championship.
With the reputation of being especially brutal matches, I only hope all three men come out of TLC uninjured.
Who Is Natalie Slater?
Pictured here is Natalie holding the championship belt from SugarSlam, a wrestling-themed baking competition she puts on.
During Monday's Raw, CM Punk accepted his prize for "Biggest Pipe Bomb" at the Slammys and he mentioned someone who might not be a familiar name to wrestling fans.
He made special mention of a woman named Natalie Slater. Slater is Punk's long-time friend from Chicago and an avid baker.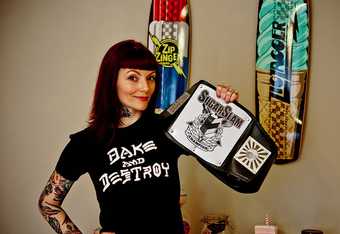 She runs the site BakeAndDestroy.net where she shares her love of baking and other passions with the world. Some of you may also recognize her from her appearances on the baking reality show Cupcake Wars.
I reached out to Natalie and she agreed to provide me with a couple of pictures and links to her work. In my short communication with her and after reading her site, I can tell she is a very interesting person.
Natalie is planning on publishing a book soon based on her recipes from the website; I am going to be trying the Boston hardcore pie and pumpkin and maple cream cheese whoopie pies myself.
If you are a vegan/vegetarian or you like french toast donuts, then she has plenty of recipes for you so check out her site, read her posts and buy her merchandise.
Here is a quote from the punk rock baker about her buddy Phil Brooks:
"I've known Phil since I was a kid and I'm so proud of him. He's always been the most determined person I know, I knew he would end up where he is now even when we were teenage comic book nerds."