MMA: Has the Sport Killed off Traditional Martial Arts Values?
October 22, 2011
The title of this column is bound to cause an explosive stir among the MMA community.
Some may agree with my points and others might become so enraged that they will print out pictures of my beautiful face only to urinate on the photo before bursting it into flames.
Nevertheless, I believe this is a topic that needs to be put out in the open and brought to the attention of those who can make the necessary changes.
The Ultimate Fighting Championship has come a long way since its inception in 1993.
Originally billed as a NHB (no holds barred)/bare-knuckle spectacle to determine the single greatest fighting discipline on the planet, the concept eventually evolved into a sanctioned sport that combined those disciplines together.
UFC President Dana White—along with his billionaire partners Frank and Lorenzo Fertitta—bought the company in 2001 and has done a phenomenal job of legitimizing the sport and bringing it to the mainstream level that it is headed towards today.
From bolstering the popularity of MMA with the very first season of The Ultimate Fighter on Spike TV in 2005 to signing a multi-year deal with FOX Sports in 2011, the UFC has become one of the largest sports organizations in the United States.
I have followed the sport religiously for several years, and if it isn't already apparent through my previous articles, MMA is my love and passion.
However, I am also a martial artist that, from the young age of four, was instilled with the values of the traditional martial arts.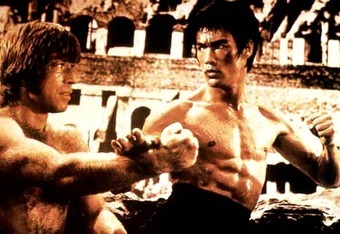 Honor, respect, modesty and self control are some of the most significant principles taught in any traditional martial art discipline. 
I've carried these principles with me throughout my whole life up to this point, and they have been bolstered significantly upon my enlistment into the United States Air Force.
Which is why, lately, I have become extremely frustrated with what I have been seeing from professional fighters, promoters, coaches and managers in MMA.
The sport is labeled as mixed martial arts, yet the traditional values are becoming a rarity in and out of the cage or ring.
Let's first talk about the traditional core value of respect and how it is lacking severely in both the UFC and also outside organizations.
I'm not referring to intense trash talkers such as Chael Sonnen or Rashad Evans, because I believe microphone antics, while disrespectful at times, are vital when it comes to hyping fights.
If every fighter was nice and respectful to their opponents in interviews, MMA would be very dull outside of the physical action.
Sometimes you need to hear a competitor like Sonnen cut an off-the-wall, pro wrestling-style promo to wake you up from the "He was a tough opponent, and I just want to thank my sponsors" speeches that the average fighter puts an audience to sleep with.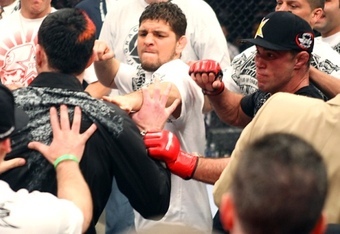 When I say that there is a lack of respect in the sport, I am talking about something different entirely.
When Nick Diaz no-showed a UFC 137 press conference for a championship fight against Georges St-Pierre that he was set to headline, that was disrespectful.
White did the right thing initially by removing Diaz from the fight, only to re-book him in the co-main event against B.J Penn. That fight is now the main event due to St-Pierre dropping out of the card due to an injury.
It was also disrespectful when Michael Bisping landed an illegal knee on Jorge Rivera at UFC 127 and then spat on Rivera's corner after the fight.
To be fair, White was furious and did not award Bisping with a win bonus on that night, but he did give the Brit a coaching slot on the 14th season of The Ultimate Fighter, which is currently airing weekly on Spike TV.
Speaking of TUF 14 and disrespect, how about when Team Bisping openly mocked and cursed out Team Mayhem's Bryan Caraway at the weigh-in before Caraway's second fight on the show? Or when Team Bisping's Akira Corassani taunted his opponent, Dustin Neace, after their quarterfinal fight?
I could go on and on about disrespectful antics in the sport, but the point I'm trying to make is that just like every other business in the world, values are tossed to the wayside in favor of ratings and money.
Longtime professional fighter Mark "Fightshark" Miller presented a great point to me the other day on Twitter about this very same topic.
"It's a name [that was] given to [the sport] long ago...when was it ever about martial arts, Mitch?  It's fighting for public consumption," Miller said.
"I have been practicing martial arts for over 30 years, and I can accept the difference. Fighters like [Lyoto] Machida make me very happy, but at the end of the day, most modern MMA fighters and probably zero promoters have traditional martial arts training."
It's a very accurate point on Miller's part. Most of the individuals working in the MMA industry today did not grow up studying traditional martial arts.
They don't represent the core values because they never received that mental training and, therefore, they do not understand.
To them, the sport is all about the violence and the paycheck. That's fine, but that is not what martial arts is all about, and it is a disgrace to its heritage to promote it as such. 
MMA is a great sport but, other than the techniques, it has nothing to do with martial arts. The name of the sport may as well be changed to Ultimate Fighting, which is what most casual fans think the sport is called as it is.
Most MMA fighters will tell you that they aren't martial artists—they are fighters. They don't care about honoring the lineage of the traditional martial arts. Whether they will admit it or not, they fight for the fame and fortune.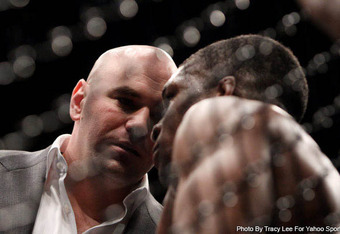 Athletes such as Georges St. Pierre and Anderson Silva are an exception to this, though, as they both embrace their traditional heritage. Silva and St. Pierre are vastly considered the best fighters in the entire world, and it is no coincidence.
Combining modern day MMA techniques with traditional martial arts values is the recipe to build a world champion.
It's not about bowing or meditating or karate chopping blocks of ice. It's about how you carry yourself, in and out of the cage.
Honoring the values of a traditional martial artist is what will essentially set apart a good fighter from a great warrior.
Unfortunately, the sport is flooded with far too many good fighters and not enough great warriors.
Mitch Ciccarelli is the sexiest featured columnist on B/R MMA and a United States Airman. Follow Ciccarelli on Twitter   @mitchciccarelli