Eagles vs. Redskins and Other NFL Week 6 Predictions
October 14, 2011
Chris McGrath/Getty Images
Week 5 in the NFL may have been the most tumultuous week since Week 1. The Lions are still undefeated, the Eagles are 1-4 and the Giants lost to the Seahawks of all teams (who loses to the Seahawks?).
San Francisco crushed the Bucs and Minnesota got its first win on the back of Adrian Peterson. Hopefully this week is a little easier on my picks...and my fantasy team.
Get ready for Week 6...BOOM!
Sunday, October 16, 1:00
Carolina Panthers at Atlanta Falcons
Cam Newton looks awesome, and the Panthers almost pulled it out against the Saints last week. Unfortunately, their defense wasn't good enough to keep rattling Drew Brees. The same goes for this week.
Atlanta's front line might be one of the worst in the league, but the Panthers D is so bad it won't matter. Look at what Chicago did to them in Week 4. I didn't know the Bears could score that many points.
Julio Jones may be out, but there's still plenty Atlanta can do to keep the score high. The game will be a shootout, but the home team, in the dome, should take it.
Winner: Atlanta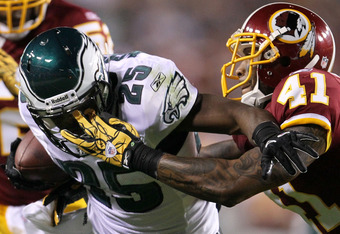 Chris McGrath/Getty Images
Philadelphia Eagles at Washington Redskins
Philadelphia is awful. The Dream Team is turning into something like "The Long Hard Road Out of Hell," with a defense that couldn't stop Eli Manning (he lost the Seahawks...the Seahawks) and an offense whose main goal is to see how many concussions a QB can take before going comatose.
The Redskins are at the head of their division and, I can't believe I'm saying this, looking...good? Rex Grossman, of all people, is playing mistake free, and against a defense that couldn't stop a Pop Warner team from scoring 40 points, that basically means he's invincible.
Plus, their at home after a bye; goodbye Dream Team, hello 1-5 nightmare.
Winner: Redskins
Buffalo Bills at New York Giants
The Bills may be 4-1, but beating the Eagles and Pats, both of whom have no defense of any kind, isn't much of a feat. Okay, maybe beating the Pats is, but they still haven't really done as much as the media likes to say they have. Remember, their one loss came at the hands of the Cincinnati Bengals...the Bengals.
Al Bello/Getty Images
The Giants cannot believe they lost to the Seahawks, but "tip drill" does normally go in favor of the defense, so at least all of Manning's interceptions can be attributed to poor receiver play. The floor is beginning to fall out under the Bills, and this weekend might pull the carpet out from under them too.
Winner: Giants
Indianapolis Colts at Cincinnati Bengals
Curtis Painter had a chance to get his first career starting win against the terrible Chiefs last week, but the Colts couldn't even do that without Peyton Manning.
Against a Bengals team that's trending upwards (they're 3-2, tied with the Steelers for second place in the AFC North) behind their rookie quarterback and distraction-free receiving corps, I doubt the Colts will look any better. They could be this year's 2008 Lions.
Winner: Bengals
Jacksonville Jaguars at Pittsburgh Steelers
The Jaguars may have Maurice Jones-Drew, but they're still one of the worst teams in the league. Nothing they've done can help them win, or save Jack Del Rio's job.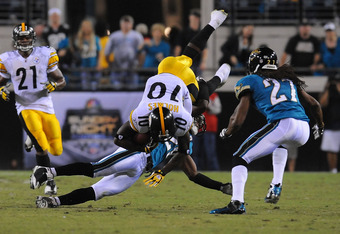 Sam Greenwood/Getty Images
The Steelers, despite my hopes of them going 0-16 this season, are actually looking like they might be back to form, destroying the Titans last week. Granted they did lose to the Texans, who didn't have Andre Johnson for most of the game, so maybe there's a chance...but not really.
Winner: Steelers
San Francisco 49ers at Detroit Lions
The 49ers looked awesome last week, completely demolishing the vastly overrated Buccaneers, 48-3. The most surprising part? Alex Smith looked good. Something tells me the front four of the Detroit Lions might change that.
There is no way for the 49ers to stop Jahvid Best or MEGATRON, and Smith will look like...well, like Alex Smith. This Lions team and its fans are hot right now, and they'll be damned if one missed day of practice will stop them...they're tied for first in the whole league.
Winner: Lions
St. Louis Rams at Green Bay Packers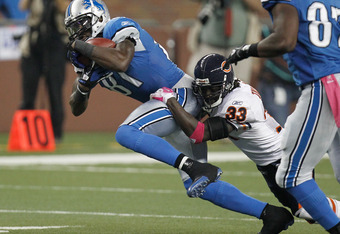 Gregory Shamus/Getty Images
The Rams are looking pretty sad. They have one of the league's better quarterbacks, running backs and receiving corps, but almost all of them are injured.
Needless to say, they're going up against the best, most powerful offense in the game, and there's nothing they can do to stop Aaron Rodgers, Greg Jennings, Donald Driver, Jordy Nelson, James Jones and Jermichael Finley.
The Packers look unbeatable, and they're getting Brian Bulaga back on the offensive line. If A.J. Hawk and Clay Matthews stay healthy (and stop facemasking people), this will not only be a blow out, it could be a shut out.
Winner: Packers
Sunday, October 16, 4:05
Houston Texans at Baltimore Ravens
The Texans lost to the Oakland Raiders in the most embarrassing way imaginable: intercepted in the last second...when the Raiders only had 10 men on the field. Sure, Oakland was emotional and playing for Al, but still...10 guys? I would have run it to the (really, really) weak side, destroying all their hopes and aspirations.
But seeing as how Houston couldn't pull it out when there wasn't even a full team playing against them, how do they expect to beat the Ravens? Sure, Flacco is inconsistent at best, and Cam Cameron doesn't know how to call plays, but the defense is crazy good. After the bye, expect them to be even better.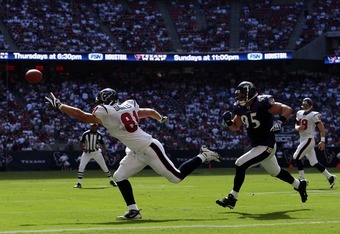 Ronald Martinez/Getty Images
Winner: Ravens
Cleveland Browns at Oakland Raiders
Colt McCoy could be a pretty good quarterback at this level, but he plays for the Browns. Peyton Hillis may be suffering from the Madden Curse, as he only has two touchdowns in four games, despite being the first-string running back.
The Raiders, despite being the Raiders, look like they're pulling it together. Their emotional win last week, coupled with their dismantling of the Jets in Week 3, makes them one of the upward moving teams. The Browns are the Browns, and there's nothing anyone can do to change that.
Winner: Raiders
Sunday, October 16, 4:15
New Orleans Saints at Tampa Bay Buccaneers
The Saints almost blew it last week, coming from behind to win against the upstart Panthers. Their defense will have to perform much better if they want to win the division. But not this week.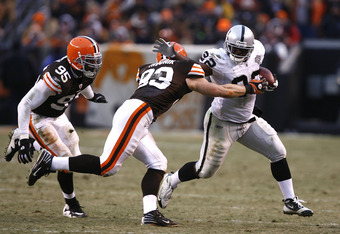 Matt Sullivan/Getty Images
Tampa Bay showed their true colors last week in a complete trouncing handed to them by the 49ers. Their defense looked awful, their offense looked stagnant and, well, they are the Bucs. Look for New Orleans to go in and really run up the score.
Winner: Saints
Dallas Cowboys at New England Patriots
Apparently, there are people out there who think the Cowboys can win. Those people are idiots. The Cowboys have Tony Romo, who throws more interceptions than touchdowns, can't complete to monster receivers Dez Bryant, Miles Austin or TE Jason Witten after the first quarter and has a hole in his lung (supposedly).
The Patriots have Tom Brady...Tom Brady, and a new-found weapon in the law firm BenJarvus Green-Ellis. They score more points than anyone in the league. Their defense is terrible, but a moving cardboard cutout could stop Dallas. Did I mention that Brady hasn't lost a regular season game at home in...some unfathomable amount of time?
Winner: Patriots
Sunday, October 16, 8:20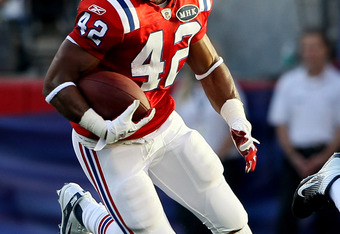 Elsa/Getty Images
Minnesota Vikings at Chicago Bears
Okay, so Minnesota remembered that Adrian Peterson was on their team and then proceeded to run down the throats of Arizona. Granted, they still have McNabb as QB, no passing game to speak of and a defense that's given up more fourth-quarter leads than you can imagine.
Since there's no defense, Jay Cutler should only get sacked 12 times this game, so look for the Bears to have a pretty solid day. Assuming Urlacher has gotten over his bout of Lobstein syndrome, Chicago should be able to stop the Vikings from scoring for once.
Winner: Bears
Monday, October 17, 8:30
Miami Dolphins at New York Jets
The Dolphins are coming fresh off a bye week, hoping to renew their downward spiral where they left off. Looking for a repeat of the 2007 season, they've already lost mediocre quarterback Chad Henne, and have since replaced him with a trained tarsier, who is projected to do much better.
The Jets look like they're getting ready to implode, what with Rex Ryan proving to have the leadership qualities of Nero. They might be able to beat the Dolphins at least, though the 'Fins do give them trouble every year. No matter; even Sanchez can pass on this defense.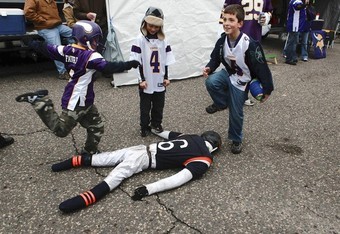 Winner: Jets
Super Bowl XLVI: Green Bay Packers defeat Baltimore Ravens
As of right now, the Packers are still the team to beat in the league, and the Ravens are ranked first in the AFC. I don't know how they'll do coming off a bye to host Houston, but I'm going with the rankings on my Super Bowl pick...
Let's hope this week has slightly fewer upsets. I just can't see the Cowboys winning.
I don't think they can either.