How Will Steelers Fair at Lucas Oil Stadium Against the Manning-Less Colts?
September 23, 2011
Elsa/Getty Images
Recording their first shut-out since December 2008 against the Cleveland Browns, the Pittsburgh Steelers played the way we thought they would, taking care of a bad team like the Seattle Seahawks in a very business-like manner.
Now on the road again, the 1-1 Steelers will face a division foe: the 0-2 Indianapolis Colts.
The last time the Steelers played in Indianapolis was the AFC Divisional Championship Game in the RCA Dome, where the Steelers advanced to the AFC Championship game in Denver and eventually won their fifth Super Bowl title.
Sunday, the Steelers will play in Lucas Oil Stadium, which opened in 2008, but instead of facing Indy's QB Peyton Manning (out due to neck surgery), they will be facing another familiar opponent: QB Kerry Collins.
Collins was the Tennessee Titans' quarterback during the 2008-2010 seasons. 
Although the Steelers went on to win their sixth Super Bowl title in 2009, they were defeated by the Titans in December 2008, 31-14 with Collins at the helm.
Supported by a good running game from RB Chris Johnson, Collins felt very comfortable in the pocket against the vaunted Steeler defense, completing 20 of 29 passes for 215 yards and one touchdown.
Of course, that was three years ago and Collins went into retirement.
Collins' current challenge is getting accustom to a new offense. At least he has his old Penn State QB coach, head coach Jim Caldwell, to support him.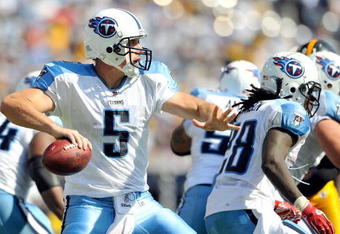 Grant Halverson/Getty Images
I bring this up because in 2005, the Steeler defense was able to rattle and confuse Peyton Manning to win the division title in 2005; Collins is not so easily shaken.
This will be his third week with the Indy offense accompanied by some veteran offensive weapons who know how to make plays: wide receivers Reggie Wayne, Pierre Garcon and tight end Dallas Clark.
Defensively, the Colts have two veteran disrupters in DE Dwight Freeney and Robert Mathis, who could be headaches for an offensive line that has not jelled or played well enough in red zone opportunities, and has been deficient on pass protection.
Rookie RT Marcus Gilbert, who had suffered some ups and downs in his first NFL start last week, will face Colts DE Robert Mathis; LT Jonathan Scott will face DE Dwight Freeney.
Steeler QB Ben Roethlisberger was sacked twice, forced to run five times and was hit on the knee while completing a pass during the Seahawk game.
He has been sacked six times in two games and lost fumbles on two of those plays. The line has got to get better on short yardage opportunities.
Against the Seahawks in the first series, the Steelers had a 4th-and-1 opportunity on the Seahawks one-yard line, but could not punch it in for the score. The line is not knocking off defenders to punch in for touchdowns, nor are they getting any movement and they are giving up ground.
As bad as they looked against Baltimore, they didn't look any better against Seattle.
The Steeler defense dominated Seattle as expected. They allowed 13 rushes for 31 yards, no touchdowns and cause a shutout.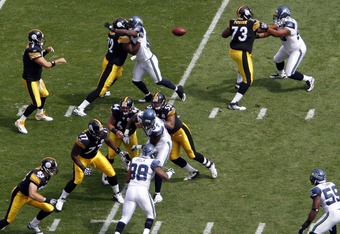 Justin K. Aller/Getty Images
But the defense played vanilla, not putting pressure on Seattle's QB Tavares Jackson and did not force one turnover (FS Polamalu dropped a potential INT).
To win, the Steeler offense will need to establish the run.
Indianapolis' 27-19 loss to the Cleveland was partly due to the running game by power RB Peyton Hillis. Unfortunately, the Steeler offensive line does not support the running game as well as Cleveland, who has a good offensive line partly because of LT Joe Thomas.  
The line needs to be more consistent in moving bodies and creating holes for RBs Rashard Mendenhall and Isaac Redman.
Redman ran 10 times for 49 yards, most in short yardage situation, and that included a 20-yard TD run. Redman is getting more carries as the No. 2 back this season and has 13 carries, compared to 52 all of last season.
To support the line, the Steelers need to insert TE David Johnson in as fullback to add additional blocking for the running game. We are finding that without a fullback presence, the Steeler running game suffers.
Roethlisberger seemed to have gotten into a rhythm with his wide receivers—Mike Wallace, Emanuel Sanders and the " Kid from Central Michigan," Antonio Brown—Sunday against the Seahawks with no interceptions, no lost fumbles and a 115.7 passer rating on 22 of 30 passes for 298 yards.
However, he has only completed 62 percent of his passes in the last two games and threw for two touchdowns and three INTs.
He needs to have better protection of the ball and be more efficient. Averaging 284 yards passing per game, Roethlisberger should be averaging two touchdowns each game instead of one.  
The defense will need to concentrate on the run. Against Baltimore, the defense had allowed Ravens RB Ray Rice 107 yards rushing. Although the Seahawks running game was held to 31 yards, the Colts RB Joseph Addai is averaging 4.7 yards on 22 carries.
It is interesting to note that both teams are having trouble converting third down conversions. However, the Colts are having an even tougher time in this area.
Through two games the Colts are five of 23 (22 percent) on third down conversions and allowed teams to be 13 of 27 (48 percent) on third down.
The Steelers, on the other hand, are 11 of 24 in third down conversions (46 percent), allowing 32 percent conversion with their opponents.
Also, the Colts haven't been doing a very good job of getting opposing offenses off the field on third downs either.
Steeler offense ranks 9th in pass, 19th in rush and 13th overall.
Steeler defense ranks 4th in pass, 12th in rush, 2nd overall.
Colts offense ranks 23th in pass, 22th in rush and 1329th overall.
Colts defense ranks 10th in pass, 29th in rush, 16th overall.