USMNT: Costa Rica Friendly a Glimpse at the Future of American Soccer
September 5, 2011
Kevork Djansezian/Getty Images
Those who were lucky enough to stay up and watch the 11:00 p.m. (Eastern time), late-night friendly between the United States and Costa Rica got to see a thirty-minute span in the first half where the Americans looked like a sophisticated, professional, world-class side.
The play culminated in a brilliant combination between Jozy Altidore, Brek Shea and a near miss by Landon Donovan, albeit an opportunity Donovan should have absolutely put away.
That play also included a grounded Maurice Edu playing a defensive midfield role that Carlos Bocanegra compared to Claude Makelele's role for France's former World Cup-winning national team in an interview with Goal.com, the passing vision and distribution of a capable Jose Torres and even a diagonally-darting Robbie Rogers, who froze Costa Rica's last defender and allowed Donovan to run onto goal unmarked. 
The intelligence in the team's play on Friday night hasn't been demonstrated by an American team, well, in forever really. Despite critics claiming that American players aren't good enough, are a mediocre bunch and can't play this way, they proved otherwise.
There are caveats of course. Costa Rica didn't press much (missing key players, an interim coach and perhaps even an American side playing a very different style than past meetings may have surprised the Ticos). 
Also, the U.S. couldn't maintain its form for an entire game.
Added to that, frustration seeped into the U.S. side as they could not score after such strong play (eventually losing the game 1-0), and some have been left with the feeling that this U.S. team still has some glaring flaws.
Perhaps it's all in deciding whether to look at the positives or the negatives from the game.
The U.S. did lose. The team still doesn't have a solid left back. Overall, the American back line is a porous, uncertain bunch—but that's what happens when a team (or defense in this case) is "rebuilding."
Hopefully, one day someone will have the access and opportunity to write a book on what is going on behind closed doors with Klinsmann and this team, because there was a definitive change in their demeanor and style of play.
The team demonstrated the fast tempo, smart passing and movement successful teams must utilize to break down defenses. Furthermore, it had players like the aforementioned Robbie Rogers, the cast-off Jose Torres and the one-and-done Brek Shea showing fans that they do understand how to play the world's game.
How did Klinsmann do it? 
What are training sessions like to change these players' perceptions?
How did he get these players to play such a different game than what they've played in the past?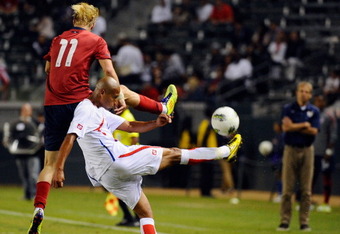 Kevork Djansezian/Getty Images
It would benefit future coaches to know just how convince a team to play thirty minutes like the U.S. did.
It's not all roses, of course. Even though Rogers made one intelligent run, he was left out of a number of attacking movements. When he did get the ball, he was more than willing to pump it into the box no matter the chance of an American head getting on the end of the service.
Landon Donovan seemed to have limited success and appeared unsure of where to actually put the ball once he got in the final third. 
Brek Shea disappeared after the first half, and Jose Torres seems more comfortable distributing and starting the attack rather than asserting himself in front of goal.
But Torres was comfortable taking a touch and waiting for a passing lane to open up,
Brek Shea and Landon Donovan were not anchored to a side of the field and were encouraged to play a more fluid, positionless game (their play resembled Sir Alex Ferguson's Manchester United squads that have a defense and an anchor in the midfield, and everyone else is free to attack—again, a very modern approach). Jozy Altidore found a way to contribute to the offense, even if he didn't score.
Much was made of the United States' inability to play like this for the whole game. Some contributed their failure to a lack of conditioning.
In their defense, in Klinsmann's post-game comments, he responded with, "They don't have it in their system yet, That will be a process that we have to go through long-term."
Many thought he was speaking physically, as Klinsmann focused on fitness during the team's camp and elaborated with this point: "I want them to go through those down periods in a game as well. They need to learn to go through those minutes, they need to fight their way through it."
I don't know if he was speaking physically or about the mental demands this style of play requires.
Jonathan Wilson, who writes for Sports Illustrated and The Guardian, has commented many times that even Barcelona, with it's fast tempo and high-pressure style, must take rests during the game.
For the U.S., when their output didn't result in a goal, the frustration halted their momentum and disrupted their production in the first half. They didn't realize it was a normal dip in their play, flow and momentum.
What Klinsmann may have been trying to say is that there will be lulls in a game. A team can't panic because their play didn't result in a goal. Once the lull passes, it's time to attack again.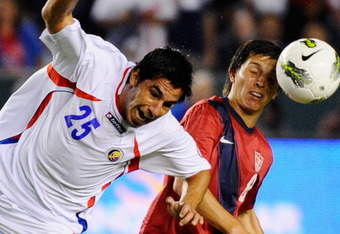 Kevork Djansezian/Getty Images
It will take a talented coach to train a team not to fall apart after they expend that amount of energy and work and don't score immediately.
On Friday, the U.S. didn't realize that what's most demoralizing about a high-pressure, fast-tempo style of opponent is how they slowly break the will of the opposition.
Barcelona is a great example of a team that wears an opponent down over the course of ninety minutes, and the United States could have done the same to Costa Rica.
The U.S. had Costa Rica floundering, only—and this is probably because they have never been in the situation before—they were unsure of what to do when they couldn't convert their effort into a goal.
Once Costa Rica absorbed the pressure and the scoreline wasn't out of reach, they realized they were still in the game, eventually translating into the winning goal (again, against a defense in flux).
Some will look at this game and see where the U.S. fell short.
While I don't believe that this American team will ever be the national version of Barcelona (or Spain), they demonstrated a modern style of play similar to the 2006 and 2010 German sides—German sides that were contenders for both of those World Cups.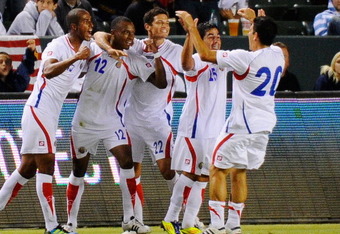 Kevork Djansezian/Getty Images
Their game depends on smart, simple passes, movement off the ball, confidence, a desire to push the attack, press on defense and play to the strengths of a team's personality (for the Germans, it's efficiency and execution—for the U.S. it's fitness and execution).
Both teams are athletic, seem to enjoy being more assertive rather than reactive, and when successful, exemplify the saying the whole is better than the sums of its parts (what Germany has gotten out of Lucas Podolski is a great example of this).
What Klinsmann,is doing with the U.S. team isn't a magic bullet, of course. Arsene Wenger has already proven an open, attacking style with simple passes and much movement can work, but it won't work every time.
When these teams can't score, don't have the players who can finish the attacking movement (Is Germany as dangerous without Klose and Podolski? Germans hope Thomas Muller can fill their shoes. Has Arsenal ever recovered after Henry?), or can't influence the game, they struggle—just like the U.S. did after the first half.
Still, this style of play makes the team competitive, the future alive and hopeful.
There are positives to take away from every game, even losses (something in short supply under Bradley). Most importantly, it's an attractive, attack-minded style most Americans of all ages will take to (the brashness, confidence and assertiveness needed to play is something Americans "get"—Klinsmann's talked of this already).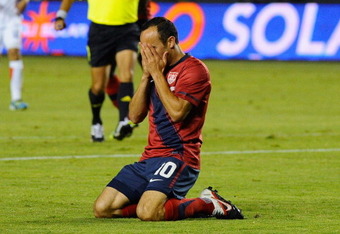 Kevork Djansezian/Getty Images
Implementation at all levels is the key, and because such a broad array of players can fit into the system, because it reflects the modern, fluid, multi-formational/multi-tactical option, it is exactly why fans might also be witnessing the birth of the "American style of play."
What Klinsmann will have to fight now is whether or not thirty minutes is enough for players to buy into his system.
Parts of the game are counter-intuitive. There were calls from analysts (John Harkes) and writers for the team to play faster in the final third, but the team was already playing with a high-tempo!
Instead, players need to be more patient. With the amount of movement and passing, the team will have to look for the second and third options in an attack—something a number of the players, including Donovan (whom Harkes singled out) and Rogers, didn't realize.
That's exactly what Barcelona does so well. It's not the first run that kills a team, it's the second, third and fourth run—the belief and trust that the run is worth it and the ball will get to you—that kills teams.
Of course, Barcelona has grown up playing together.
They have Lionel Messi, and they have Xavi, and they have Iniesta, and they have Busquets, and they can purchase pieces missing from its current team if they need to (David Villa and Cesc Fabregas, for example). National teams, of course, can't do this.
It won't come easy for the United States. Klinsmann demands much more than physical ability and fitness. This style takes patience, mental fortitude and intelligence.
But Klinsmann's already gotten impressive displays out of players thought to be of limited ability.
If American fans, this team and the federation can see the light at the end of the tunnel, then Klinsmann and those who played under him may go down as some of the most important individuals in the evolution of American soccer.