Football Transfers: Should Diego Forlan Have Gone Tottenham Instead of Inter?
August 30, 2011
Denis Doyle/Getty Images
Diego Forlán has signed for Inter Milan on a two-year contract, leaving behind Atlético Madrid, the team with which he won the Europa League.
The 32-year-old stated that he wants to "play well and win" as he steps up to replace the recently-departed Samuel Eto'o. While this is clearly the move that Diego Forlán wanted, was it in fact the right move for the Uruguayan striker to make at this stage in his career? Also, should Tottenham Hotspur have made more of an effort to sign the former Manchester United man?
The first issue is that of the new financial fair play rules. 
Financial fair play has already taken its toll on Inter Milan. They have sold star striker Eto'o to FC Anzhi Makhachkala for around £20 million, and there are constant reports of Wesley Sneijder moving to the Premier League, although a switch to Manchester United seems to have been put on the back-burner and a potential move to Arsenal has fallen through.
Massimo Moratti, Inter's owner, stated before Eto'o left that if the Cameroon international was to leave, it would be because of the new financial rules.
Was it really a good idea for Diego Forlán to join a club that is losing money at an incredible rate at a time when the losses either mean no European football or downgrading and, as a result, losing European football anyway?
According to figures from goal.com, from 2006-2009 Inter lost €509 million.
The only way the club is managing to stay in business is by selling players and bringing in replacement players for less. That is not a sustainable model.
Only through the sales of players like Ibrahimovic, who was sold in exchange for Eto'o and €20 million, has the club been able to keep the books roughly in shape over the last couple of years. It is a policy that cannot work in the long run and implies that the club needs some serious restructuring.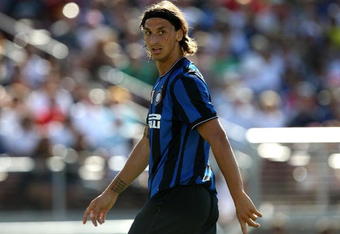 Jed Jacobsohn/Getty Images
Inter Milan gives Diego Forlán Champions League football for this season, whereas Tottenham would have given him the Europa League, no better than Atlético.
But there is a risk that Inter could lose out in the long run as they try to match fair-play targets, and they may struggle to get much further than one round beyond the group stages this year in the Champions League.
Tottenham's lack of Champions League football stems from their comparative lack of spending in recent times. The thing is, though, the smaller expenditure is good.
It leaves them in a better position in the long run, and while the full benefits may not be felt for a few seasons, there is a chance that Forlán could still be around. Perhaps he should have headed to London and experienced some long-term benefits.  
The problem with this, of course, is that some expenditure is definitely required if the North London club want to return to the top four.
The sale of Modric seems ever more likely as Harry Redknapp gets increasingly angry at the Croatian's attitude (understandably so, given the damage it must be doing to moral and on-field performances).
This should free up money and force Spurs to invest in some new faces, which Redknapp has admitted are required. Without these new faces, Tottenham are not going to make it back into the top four. Forlán would have been mad to sign without at least a guarantee of more players arriving with him.
Phil Cole/Getty Images
Tottenham couldn't have had a much harder start to the season.
After seeing their clash against Everton cancelled on the first day of the season due to riots, Spurs instead opened their season with a clash against defending champions Manchester United. They were easily beaten 3-0. They were then subjected to a 5-1 trouncing by the other Manchester club.
While this obviously hints at some serious defensive problems, it is also important to note that they have so far managed just one goal. Their attacking players have not managed a single goal, with Kaboul providing the side's only goal.
Both Jermain Defoe and Peter Crouch have not had the sort of form required for their side to mount the sort of challenge for a top-four position that Redknapp wants.
Robbie Keane, still a top-class striker, has been sold, and Roman Pavlyuchenko could well be on his way out, with both Locomotiv Moscow and Espanyol interested in the Russian, who has never really settled in North London 
Diego Forlán could have been the answer to this attacking problem.
A disappointing last season aside, Forlán has been prolific in recent times. He was outstanding at the 2010 World Cup and returned to that form again in the Copa America as he scored two goals to help Uruguay secure the title.
In addition to being deadly in front of goal, a useful attribute that could have seen him link well with Gareth Bale and Rafael van der Vaart, Forlán is also a tireless worker who could have helped provide chances for any of his teammates.
His work rate is exactly what Tottenham need when they find themselves in difficult situations, as they have in both of their games this season.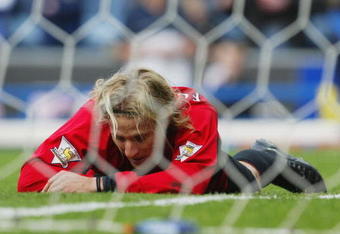 Laurence Griffiths/Getty Images
Forlán has played in the Premier League before, as he pointed out when explaining his decision to move to Italy. That spell in England did not exactly go well.
His time at Manchester United saw him show the odd spot of brilliance, but for the most part he was average—he scored just 10 times in 63 league matches.
Given his form since moving to La Liga, Forlán has as much to prove in the Premier League as he does in Serie A, maybe even more. He may have struggled in the Premier League, but he still understands the style and is undoubtedly a better and more experienced player than he was during his spell at Old Trafford.
He probably wouldn't struggle now much as he did in his 2001-04 spell in England.
The debate over which league is the best league in the world has been a hot topic for a very long time, and I'm not about to solve that particular question.
However, it is generally agreed that the top two leagues are La Liga and the Premier League. Forlán, regardless of his performance last season, is still very much a brilliant striker whom most teams would do well to have.
Even at Tottenham, without Champions League football, Forlán would have been playing for one of the best six clubs in the league and would have greatly benefited not only from playing against some of the best players in the world—which he could have done in Serie A as well—but also from playing against some of the less successful teams who can make life very hard for even the best strikers.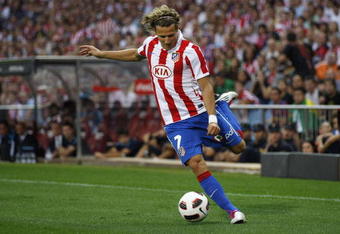 Angel Martinez/Getty Images
The Uruguayan striker is now 32. He may not get another chance to show what he is truly capable of in the Premier League.
His move to Inter Milan seriously reduces the chance of Forlán returning to the league in which he was first introduced to Europe and proving any remaining doubters wrong.
With all that being said, Inter Milan are a bigger club, they have Champions League football and can offer him a real chance of winning a league title, something that was never likely at Atlético and would not have been likely had he moved to Tottenham.
For a player like Forlán, who is closer to the end than the beginning of his career as a top-level footballer, financial fair play is not too much of a concern.
Inter Milan can lose €45 million over the next three seasons, but it means that Forlán will be 35 years old before there is any real damage done to Inter Milan. Forlán's initial contract may well be up by then, and there is no telling how much longer than that he intends to continue playing for. He may even want to return to his home continent.
Forlán shouldn't have too much difficulty adapting to Serie A. It is not dissimilar from La Liga, and he could settle in fairly quickly.
In the very short term, the season does not start until September 11th, which gives him time to get used to his new teammates and their style of play.
While that is really a short-sighted concern, it does give him a better chance of making a good first impression when the season gets under way. In North London, he would have roughly the same length of time to meet his new teammates as a result of the international break but would start his first game for the club at the bottom of the league after two difficult fixtures in which they were not competitive enough.
There would, quite clearly, be a certain amount of extra pressure in such a situation, and a slow start would not really be an option if European football is to be secured.
So, should Diego Forlán have traded in the Spanish capital for the English one? Probably not.
Milan is a bigger club, has Champions League football and can mount a serious challenge for a league title. Tottenham has none of this. They have gotten off to a slow start and have not looked competitive enough to be challenging for a Champions League spot come the end of the season.
Inter undoubtedly have problems. Their finances are a mess and they seem to be leaking players.
However, if the reports that Forlán had his contract with Atlético mutually terminated are true, he will have been a very cheap acquisition for Inter, and they may be able to strengthen further without having to shed any more players.
While the Premier League is a league of a higher standard, Serie A is hardly a joke of a division. They are awarded the same number of Champions League spots as both the Premier League and La Liga, and with teams such as AC Milan, Juventus and Inter Milan, they are hardly short on big name sides or indeed players.
Forlán would have fit in well with Tottenham's attacking unit, but he should have very few problems linking up with Inter.
While it is, of course, too early to judge, Forlán's move has every chance of being a success for both him and Inter. Tottenham may come to seriously regret not making more of an effort to sign the Uruguayan, but the same may well not be true of the player himself.