UFC Hardy vs. Lytle: Henderson, Cerrone, and the Lightweight Title Picture
August 16, 2011
I was right with everyone else who claimed that the WEC guys couldn't cut it in the UFC. I picked against Donald Cerrone in his UFC debut against Paul Kelly for that very reason.
Same with Ben Henderson's debut against Mark Bocek.
Then I did it again last night with Cerrone's fight against Charles Oliveira and Henderson's fight with Jim Miller.
"Cowboy" has already put together three wins since making the jump to the UFC, but none more notable than his beating of Charles Oliveira at UFC Live: Hardy vs. Lytle. He made the young prospect look completely helpless as well as severely undersized, landing the more powerful shots and finishing the fight as soon as he smelled blood.
For "Smooth" it was easily the most impressive performance of his career.
Not only did he put on another dominant performance, but he did so against the clear top contender for the next shot at the lightweight title. Miller was on a seven-fight win streak, suffering losses only to Frankie Edgar and Gray Maynard in his career.
Ben Henderson now has wins in 12 of his last 13 fights, with the only loss coming in a very close decision against Anthony Pettis.
While it was previously thought that his wins in the WEC were less meaningful, Donald Cerrone's performance shows that having two wins over him is something to be proud of.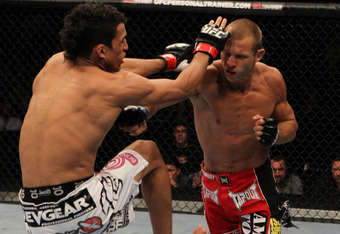 Henderson also has notable wins over Anthony Njokuani, Shane Roller, Jamie Varner, and Mark Bocek.
While Cerrone hasn't quite put himself in title territory, Henderson is firmly in the top 10 with his latest victory.
With Jim Miller's losing, the lightweight division loses another potential title challenger.
Pending his fight against Joe Lauzon, Melvin Guillard may be next in line for a fight with Henderson.
Guillard has won eight of his last nine, although he is hurt by a submission loss to Nate Diaz and less impressive wins over Jeremy Stephens and Gleison Tibau.
Still, his latest victories over Evan Dunham and Shane Roller have showcased his ever-improving hands, and he has simply looked unstoppable.
Also now in the mix is Clay Guida.
Despite Guida's serving as a gatekeeper for years in the division, his recent switch to Greg Jackson's camp has revitalized his career. He's put together four straight wins, including three finishes, over Shannon Gugerty, Rafael Dos Anjos, Takanori Gomi, and Anthony Pettis.
He's hurt by a beating suffered at the hands of Kenny Florian, but he seems to be a new fighter now.
Despite the loss to Clay Guida, Anthony Pettis still needs to remain a top contender in the title picture.
Guida was capable of exposing a hole in Pettis's game—his wrestling. Still, Pettis kept busy on the bottom, didn't take much damage, and constantly threatened with submissions. Before the Guida loss, Pettis had just one loss—a split decision to Bart Palaszewski.
His run in the WEC included notable wins over Danny Castillo, Shane Roller, and Ben Henderson.
Gilbert Melendez has been getting a lot of attention as a possible future contender in the UFC's stacked lightweight division. It may be possible that Dana White was hesitant to make a clear title eliminator due to Melendez's presence.
"El Nino" is now 19-2, with his only two losses avenged. His latest victories have come against Josh Thompson, Shinya Aoki, and Tatsuya Kawajiri.
While Melendez is a viable contender and welcome addition to the UFC, his quality of opponents is lacking. Aoki, for example, is extremely one dimensional, and his recent knockout loss at Dynamite!! 2010 to Yuichiro Nagashima displays his inability to stand with quality strikers.
In addition Kawajiri has no wins over quality opponents, yet has lost to Eddie Alvarez, Aoki, and Melendez.
While Melendez is the Strikeforce lightweight champion, he doesn't deserve to cut the UFC's lightweight line, although it's likely that he will.
Another notable is George Sotiropoulos, who was, at one point, one win away from a title shot.
However, his lack of wrestling was exposed against Dennis Siver, and then his lack of chin was exposed against Rafael Dos Anjos.
Jim Miller was in a similar position, losing his No. 1-contender status, but should still remain among the top lightweights in the world.
He did get dominated by Henderson, although it should be remembered that he was constantly working to finish the fight. Miller went out with something to prove, gassing himself early trying to finish with a standing arm triangle, and got beat up as a result.
He didn't fight the smart fight, but his talent shouldn't be unappreciated as a result.
Dennis Siver has won eight of his last nine, but his loss to a non-contender in Ross Pearson and the controversial nature of his last decision win over Matt Wiman probably leave him out of title contention at the moment.
Rafael Dos Anjos may actually be another up-and-comer to look out for in the division. His latest knockout win, over Sotiropoulos, gives him wins in four out of his last five, with the only loss coming to "The Carpenter," Clay Guida.
Sean Sherk is also a perennial contender, given that he only has losses to current or former champions.
Still, he is constantly injured and doesn't tend to be the most exciting fighter in the eyes of most fans.
"The Muscle Shark" is coming off of a controversial split-decision win over Evan Dunham, which doesn't do much to help his stock.
Personally, I think just about any match-up one makes between these top contenders is extremely intriguing and exciting.
I don't care if Clay Guida fights Ben Henderson, Melvin Guillard, Joe Lauzon or Gilbert Melendez, as long as I get to see all these guys fight.
It is important to note, however, that Cerrone, Guillard, and Guida all fight out of Greg Jackson's camp and are unlikely to be willing to fight unless it is for a title.