Lindsay Tarpley and Manya Makoski Talk ACL Recoveries in Tips from the Pros
June 4, 2011
Jamie Sabau/Getty Images
Practice.  It's drills that these athletes have done a thousand times without an issue.  It's scrimmages with moves they've done more times than they can count.  And then, just once, they misstep, they turn funny, they land awkwardly.  There's the snaps and pops and cracks. 
Sometimes it's barely enough to keep them out for 10 minutes of a training session.  Other times it ends a season before it has even begun or brings one to a screeching halt.  It's the months of rehabilitation instead of training with the team and preparing for each game.  It's long hours in the offseason, not spent running fitness but to get back to being able to run fitness at all.
Check out these players stories in the latest installment of Tips from the Pros: Injuries and Recoveries. 
Lindsay Tarpley was finishing up a small sided scrimmage during a training session prior to the final regular season match of the 2009 WPS season.  Instead of taking part in the season finale, Tarpley would spend the next nine months rehabbing a torn ACL in hopes of getting back into form for both the Boston Breakers for the 2010 season and for the US Women's National team as they prepared for the 2011 Women's World Cup.
Tarpley would make it back in time to begin the 2010 season with the Breakers where she worked her way back into form.  She participated in her first camp with the US Women's National team since her injury in September 2010.
Former Atlanta Beat midfielder Manya Makoski was playing in a preseason scrimmage against Kennesaw State University prior to the 2010 WPS season when she twisted.  She suffered a torn ACL and would miss Atlanta's entire inaugural season.
Makoski made a full recovery and is currently playing with Thor/KA of Úrvalsdeild, which is the top flight of women's soccer in Iceland.
One Step at a Time
Staying motivated through rehab is difficult at times, especially for those injuries (like an ACL tear) that can sideline an athlete for nine to 12 months.
Lindsay Tarpley focused on progressing throughout her rehabilitation process.
"It was a long rehab process so I took each little step and made sure I acknowledged when I had finished one step and moved to the other and kept progressing through my rehab," said Tarpley.
For Manya Makoski, it was her own self-motivation and the focus on the final product—being back on the field—that kept her going through the long process of rehab.
"I'm pretty self-motivated," said Makoski. "I always work hard at whatever I do so it's just wanting to reach that finish line of full recovery.  Everything that I do every day is just one step closer to helping me reach that finish line."
There are battles to fight and challenges to overcome with any injury.  There is the physical battle: regaining strength, power, range of motion and flexibility.  Then there is the mental battle to win.  For some athletes one or the other is just a little bit more challenging as they grind through the rehab and recovery process.
Makoski and Tarpley each had a different take on the mental challenge versus the physical challenge.
"Probably more mentally," Makoski said of the bigger challenge during her recovery. "Dealing with an injury it's a lot of mental toughness that's required and when you're out for so long—a normal ACL recovery is six to nine months—when you're out for that long you're not in that competitive environment.  You're not used to it mentally.  Physically, you're going through strength and range of motion stuff—your body can be prepared for that a little bit—but coming back is definitely more mental."
For Tarpley it was a little bit of both, but one battle got a slight edge.
"I think for me it's both, but I think physically just trying to get strong enough to be out there and get my agility and movement and all of that back," she said.
Patience, patience…and more patience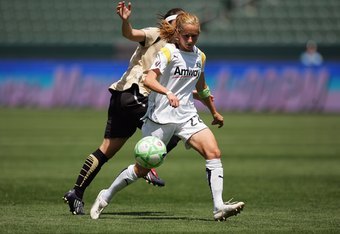 Victor Decolongon/Getty Images
Stay patient.  Two of the most frustrating and difficult words an athlete has to hear during his or her recovery.  It means waiting or holding back rather than going full speed ahead. 
Both Tarpley and Makoski admit the difficulty in staying patient during the lengthy process of rehabbing their torn ACLs.  Normal rehab time for an ACL injury is anywhere from six to 18 months.  Even on the short side of that time frame six months away from the game you love is a long time.
Lindsay Tarpley's biggest key to staying patient was the support group around her.
"It was very difficult to be patient but I think I surrounded myself with a lot of people who always helped me continue to advance and continue to progress in my rehab so it felt like I was making strides towards being back on the field."
Manya Makoski is admittedly impatient.  So the process of her ACL recovery last year was a lesson in patience for the Connecticut native.
"I'm probably the most impatient person you'll ever meet so the injury's definitely teaching me some patience," Makoski began.  "Especially an ACL, you have to have a lot of patience because you don't want to get ahead of yourself and make yourself take a step back in your recovery.  It's teaching me a lot of patience.  I just want to get out there and start running but I'm not even close to that right now."
Real Advice from the Pros
Both athletes gave some great advice for injured young athletes, regardless of what sport they play.
Tarpley says:  "I think the biggest thing is patience and at times it's very difficult, but it's important to see what you want to accomplish and make the little steps towards accomplishing your big goal which is to get back on the field 100 percent."
Makoski says:  "You'll come back stronger if you do your rehab right, you've just gotta keep working hard and do the things that you can do.  Right now I may not be able to work on my game physically, but mentally I can work on mental toughness, aspects, staying positive, trying to do my part as a teammate—I can help my teammates out.  So you can still be involved with the game, still learn.  Just stick with it and it can get you there."
Lindsay Tarpley was named to the 2011 United States Women's World Cup Roster before suffering a second torn ACL in a May 14th matchup against Japan.  She will miss the World Cup and the remainder of the 2011 WPS season.  To show support for Tarpley use the Twitter hashtag #getbetterlindsay or tweet @lindsaytarpley.
To follow Manya Makoski's Iceland Adventures tweet @Makoski22
Lauren Green is a Bleacher Report Correspondent covering Women's Professional Soccer and the US Women's National team.  All quotes were obtained firsthand.