Jim Bouton: Dealing For Dollars With Yankees
December 1, 2009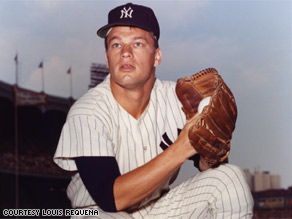 Jim Bouton dealt for dollars with Yankees.
I am currently reading Ball Four  written by Jim Bouton and it is amazing how difficult it was for him to get the Yankees to pay him a decent salary.
The major league minimum salary in 1962 was $7,000 and today it is $400,000. Bouton signed his $7,000 contract in 1962 but he received an additional $10,000 World Series share so he actually made $3,000 more from his World Series share than he earned during the season.
The Yankees offered him a $2,000 raise for the 1963 season and he turned down the offer and asked for $12,000 instead of the $9,000 they were offering. Bouton and the Yankees finally settled on $10,500 after Bouton threatened to go home.
Bouton Posted 21-7 Record in 1963
Then Bouton had a 21-7 season and a 2.53 ERA  in 1963 and figured he would be offered a hefty raise for the 1964 season. Bouton decided to ask for $25,000 but the Yankees only offered him $15,500. He became a holdout when he didn't get a better offer but was threatened by general manager Ralph Houk with a $100  a day reduction from the offer by the Yankees if he didn't sign.
Bouton won 18 games and two in the World Series in 1964 and the Yankees offered him $25,600 for the 1965 season but Bouton held out till he received the $30,000 he had requested.
4-15 Record in 1965
However he lost all leverage when he posted a 4-15 record in 1965 and would have a 9-24 record over his last four years with the Yankees.
He won 46 of his 62 major league wins in his first three seasons. He won the other 16 games over seven major league seasons.
Bouton had to fight for every dollar while players today have losing records and still earn (and am using the word earn in the loosest sense) millions and here are some examples from the 2009 season:
Overpaid Pitchers in 2009
Jason Schmidt – 2-2, 5.60………..$15.2 million
Oliver Perez – 3-4, 6.82…………….$12 million
Jeff Suppan – 7-12, 5.29……………$12.7 million
Aaron Harang – 6-14, 4.21………..$14 million
Gil Meche – 6-10, 5.09……………..$11.4 million
Jose Contreras – 6-13, 4.92………$10 million
Chien-Ming Wang – 1-6, 9.64…..$9.8 million
 The seven pitchers combined to win 31 games which cost their teams $85.1 million for $2.7 million per win.