Donovan Mitchell's 31 Leads Jazz to Win vs. James Harden, Rockets to Avoid Sweep
April 23, 2019
Melissa Majchrzak/Getty Images
No NBA team has ever come back from a 3-0 deficit to win a playoff series, but the Utah Jazz took the first step with a 107-91 victory over the Houston Rockets in Monday's Game 4 at Vivint Smart Home Arena.
Utah still trails 3-1 in the first-round series but has a chance to ensure it plays at home again if it can parlay Monday's momentum into a Game 5 win in Houston.
Donovan Mitchell finished with 31 points, seven rebounds and four assists, while Jae Crowder added 23 points in support. Ricky Rubio tallied a double-double with 18 points and 11 assists.
Utah's defense tested James Harden throughout, and he had eight turnovers to go with his 30 points.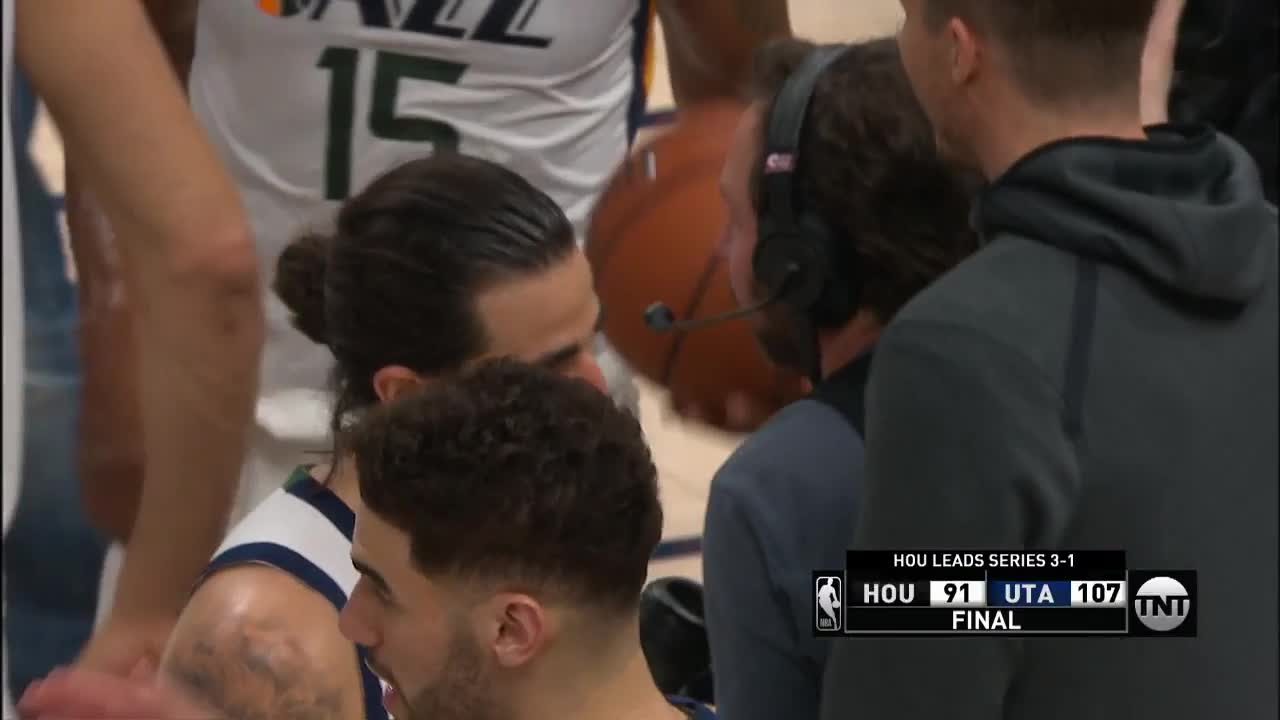 McCollum and the Blazers Snapped Postseason Losing Streak for "Jennifer"

Stars Invest in Plant-Based Food as Vegetarianism Sweeps NBA

The NBA Got Some Wild Techs This Season

Jarrett Allen Is One of the NBA's Hottest Rim Protectors

Wade's Jersey Swaps Created Epic Moments This Season

Westbrook Makes History While Honoring Nipsey Hussle

Devin Booker Makes History with Scoring Tear

29 Years Ago, Jordan Dropped Career-High 69 Points

Bosh Is Getting His Jersey Raised to the Rafters in Miami

Steph Returns to Houston for 1st Time Since His Moon Landing Troll

Lou Williams Is Coming for a Repeat of Sixth Man of the Year

Pat Beverley Has the Clippers Stealing the LA Shine

LeBron Keeps Shredding NBA Record Books

Young's Hot Streak Is Heating Up the ROY Race with Luka

LeBron and 2 Chainz Form a Superteam to Release a New Album

Wade's #OneLastDance Dominated February

Warriors Fans Go Wild After Unforgettable Moments with Steph

Eight Years Ago, the Nuggets Traded Melo to the Knicks

Two Years Ago, the Kings Shipped Boogie to the Pelicans

ASG Will Be Competitive Again If the NBA Raises the Stakes
Jazz's Effective Adjustments on Harden Offer Blueprint to Make History
If there was any team in the Western Conference playoffs that could effectively make adjustments after Harden poured in a combined 61 points in the first two games, it was the Jazz.
They finished second in the league in defensive rating during the regular season, per NBA.com, and provided a blueprint to potentially make history by forcing the reigning MVP to work for every point and clean look.
Utah head coach Quin Snyder has asked his defenders to start almost adjacent to Harden on his left side to take away the drive to his dominant hand and the pick-and-rolls in that direction. He is all the more dangerous attacking the basket while heading left and already has the ball in his passing hand for lobs and open shooters should additional defenders collapse.
What's more, the primary defender has been nearly behind Harden at times to take away his lethal step-back three-pointers. Instead, Harden is being funneled into double teams on the perimeter or rim protector Rudy Gobert (three blocks) and Derrick Favors in the paint.
It was a similar strategy to Game 3 when Harden was an abysmal 3-of-20 from the field and 2-of-13 from deep after missing his first 15 shots from the field.
Harden is still one of the best pure scorers in NBA history and managed to lead his team to victory in Game 3 by scoring 14 points in the fourth quarter and embracing the physical style with 16 free-throw attempts. Yet, it is by cutting into his overall efficiency that the Jazz can chip away at the series deficit and give themselves more chances on the offensive end.
No. 13 started to find his rhythm in the third quarter of Monday's contest when Houston moved its pick-and-pops further from the basket, which temporarily threw off Utah's spacing and created a handful of open looks from deep. Harden finished 6-of-12 from beyond the arc as a result, but the Jazz once again adjusted in crunch time and pressed even further up.
Harden forced the issue far too many times, finishing with eight turnovers to just four assists and getting outplayed by Mitchell in the closing stretch.
Kevin O'Connor

@KevinOConnorNBA

Credit to Quin Snyder for sticking with their unorthodox defensive strategy that was criticized after Game 1 and making adjustments to enhance it. The players executed tonight as well as the Jazz could hope—Rudy Gobert and Derrick Favors were outstanding defending the interior.
Michael Lee

@MrMichaelLee

I won't even say the Rockets let one get away; the Jazz straight jacked this one. Showed incredible fortitude to extend this series after going down 0-3. Even if this thing only goes 5, Utah gave its home fans a prideful effort to take away from this season. https://t.co/7EeucytocA
It should be noted Utah was playing with a desperation that is impossible to replicate for the team leading 3-0 and had a raucous home crowd behind it from the opening tip. Parlaying one win into four straight and history is much easier said than done—especially given those circumstances—but there is at least a defensive blueprint in place.
The Jazz are also not the typical team that finds itself behind 3-0 in a series.
They went 13-3 to finish the regular season, have playoff experience from beating Russell Westbrook, Paul George and the Oklahoma City Thunder in last year's postseason, and have a budding superstar in Mitchell who is capable of taking over for stretches.
Combine all that with a stifling defense that seems to have unlocked a way to prevent Harden from going for 40-plus points with limited turnovers and efficient shooting, and a comeback goes from impossible to a mere long shot.
That's all the Jazz can ask for at this point.
What's Next?
The series shifts back to Houston for Wednesday's Game 5.