Be You Fan Or Foe: Are You Riding With Dale Earnhardt Jr. In Talladega?
October 31, 2009

For the second year in a row, Dale Earnhardt Jr. and sponsor Amp Energy have offered fans a chance to ride with their favorite driver during Talladega's Amp Energy 500.
Last year more than 70,000 names made it onto Earnhardt Jr.'s car and this year has promised to be a repeat performance as more than 105,000 fans signed up to "Get on the 88."
Approximately 73,000 names adorn the car this year, with the remaining overflow of names to appear on a banner in the No. 88's pit box.
The multi-step process of designing and wrapping the No. 88 Chevrolet is a painstaking labor of love.
Last year the process took over 200 hours for the Hendrick crew to pull together. HMS Graphic Director, Jim Gravlin spent 80 hours alone just designing the stencil by hand before creating the program on his computer.
With all of the kinks worked out, this year's sequel proved to be a more streamlined outfit.
HMS graphic artist and car designer Matt Dorton worked with Amp Energy and Jim Gravlin, along with Red Eye Designs to create a two of a kind masterpiece.
Earnhardt Jr.'s back-up car will also sport the specialized wrap.
Dorton designed the basic computerized paint scheme for the Amp Energy/National Guard Chevrolet in about two hours. A Word document, provided by Amp Energy of all 73,000 names was copied and transposed into an Adobe Illustrator computer program. Gravlin and Red Eyes Designs then spent an additional eight-to-10 hours fitting the names onto the decal template.
From there, Hendrick employees from the Nos. 5 and 88 teams placed the decals on the cars. Each name appears in 13 point, thinly stroked, Franklin Gothic condensed font, a typeface which the designer uses to easily curtail the names into tight spaces, while at the same time retaining legible integrity.
Knowing that it would be hard to improve on last year's design, Amp chose to modify the colors from the former white background to black. Regardless of the coloring, it is a slick looking car and an awesome way to show appreciation to Earnhardt Jr.'s die-hard fans of all ages.
Fans like Colin Way, a seventh grader from Susquehanna Valley, whose name appears on the front of the car or Doloras Watts, who in her "late-fifties" thinks of "Dale as a son" and sees the opportunity to have her name on Junior's car as "real treat."
As a loyal card carrying member of Junior Nation, I am proud to say that I'll be riding with Dale Jr. for the second time this Sunday.
Despite his poor performance this year, the fans came out in droves to show their support, proving that Earnhardt Jr.'s appeal is still strong.
But everything is not always what it seems.
On this Halloween weekend, the idiom "one bad apple spoils the barrel" came to mind as I typed my e-mail address into www.ampenergy.com to see where I'd be riding.
As the computer program's bulls-eye honed in on my name, something else caught my eye. 
Just three lines above my name, sandwiched between David Hadrich Jr and Tracy Hadrich was the bad apple.
"JUNIOR SUX"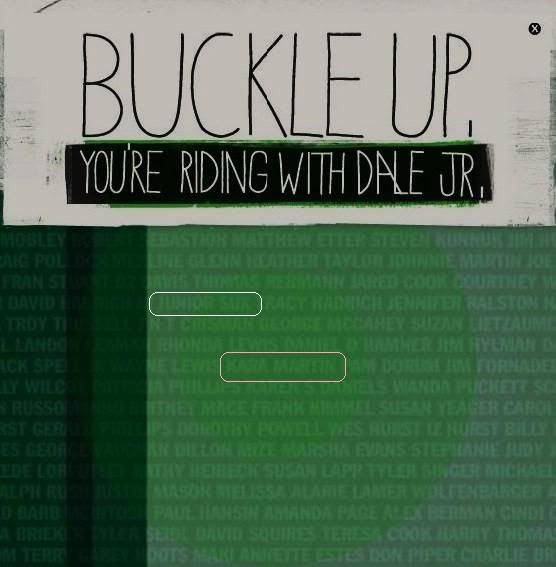 Two simple words that infuriated me on many levels.
Remember, there were over 100,000 people vying for 70,000 opportunities to get their name on the car. 30,000 did not make it.
Thanks to the joker who submitted this "name," there was one less spot available for a well deserving fan.
Upon further research on other fan based sites, I found evidence of ill intent from other Earnhardt Jr. detractors.
One such hater boasted about how he had gotten "Dale Jr Sucks" through the screening process and onto the car, displaying his own e-mail address to enter onto the Amp site as evidence of proof.
While it does not surprise me that this kind of thing can and does happen, it made me curious as to what kind of procedure was used to screen potential entries in the first place.
Last year Gravlin created the stencil by hand, any questionable names could have easily been weeded out; but this year Amp provided the Word document to Hendrick, potentially leaving it up to a computer program to decide what made the cut.
I do know that the names were added to the Word document in the order that they were received, probably through some virtual siphoning process that extracted the names from the entries sent into a tidy format that goes far beyond my own computer comprehension.
I am willing to bet that certain "bad" word were red-flagged in an editing process that would prevent any foul phrases from making it onto the car, but it seems that Junior's clever foes loop-holed their way around that to take a pot shot at NASCAR's favorite driver.
I scanned various sections of the car to see if I could pick up any other misconduct, but with thousands of tiny names filling the screen, it is damn near impossible to do without severe eye strain, but I'd be willing to bet that there are a few more blemishes embedded into an otherwise incredible paint scheme.
Are riding with Dale Earnhardt Jr.? Head over to www.ampenergy.com to find out!