Will Markelle Fultz, Sixers Build Each Other Up or Derail One Another Trying?
November 5, 2018
Mitchell Leff/Getty Images
BROOKLYN — Sure, it's early in the 2018-19 NBA season, but we've also reached the point where results do carry some meaning for second-year point guard Markelle Fultz and the Philadelphia 76ers.
By now you know the background: First overall pick last year. Missed 68 games because of an undefined shoulder injury and perhaps some yips that short-circuited his shooting stroke. Returned for the postseason but played in just three games. Spent the summer ostensibly rebuilding his jumper with trainer Drew Hanlen. Returned to Philadelphia in the fall and was inserted into the starting lineup.
He's remained there for all 11 of the Sixers' games this season and is averaging 24.3 minutes per contest.
Those minutes have been...interesting. At times, the 20-year-old has flashed the skills that propelled him up draft boards. There have been emphatic, coast-to-coast slams. A smattering of nifty dimes. He's even uncorked some smooth pull-up jumpers and the occasional (not so smooth) corner three.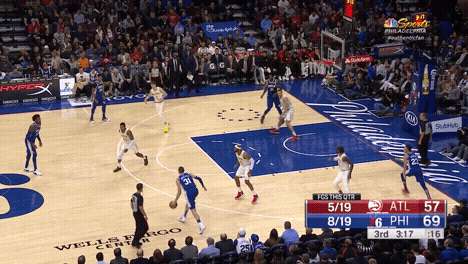 B/R
For the most part, though, Fultz has sunk the team.
Some of that is because of his raw skill set. Some of that is the result of the Sixers' clunky roster and Fultz's awkward fit within it, specifically alongside Ben Simmons. Fultz's presence is not the sole reason the championship-chasing Sixers are just 6-5 and owners of the league's ninth-worst point differential following an embarrassing 122-97 road loss to the Brooklyn Nets.
But it is the primary one.
"I just don't know how his game fits with that team," an assistant coach of a team that faced the Sixers earlier this season said. "I knew the shooting was a problem, but he also isn't attacking like I thought he would."
Just look at the numbers, and they'll tell you almost all you need to know. The Sixers have been 4.9 points per 100 possessions worse with Fultz on the floor this year, according to Basketball Reference. More jarring, though, are the following stats:
Philadelphia's starting lineup (Fultz, Simmons, Robert Covington, Dario Saric, Joel Embiid) has been outscored by a ghastly 9.5 points per 100 possessions in 53 minutes of action, according to NBA.com.
Now take that group and make just one change, swapping in JJ Redick for Fultz. The result? The lineup has still been outscored in 77 minutes (again, the Sixers' problems aren't all tied to Fultz), but by just 2.8 points per 100 possessions. And this is after that lineup blitzed the league last season to the tune of a plus-21 net rating, the top mark among all five-man groups that shared the floor for 300 minutes or more.
This is a math-heavy way of saying that breaking up this unit so that Fultz could get some run as a starter has been disastrous.
Most of the problems trace back to Fultz's crooked jumper. Coming out of Washington, he was a dynamic and explosive playmaker who leveraged the threat of a nasty pull-up jumper into driving lanes to the rim. That player seems to have disappeared.
It's not just that Fultz—who's averaging 9.3 points and 3.5 assists—has struggled to connect from deep. It's that he's afraid to even launch jumpers, sometimes from inside the three-point line, and opposing teams know it.
Most defenders sag off him. Some, such as the Atlanta Hawks, occasionally abandon him in order to crowd Embiid. That Hawks head coach Lloyd Pierce—who, as a former Sixers assistant, spent all of last season watching Fultz up close—was one of the coaches to embrace this tactic is telling.
B/R
"It's a challenge, because it comes back to some spatial issues that affect Joel," head coach Brett Brown said recently. "What I'm trying to do is have it all. Where you can play them a bit together and then separate them; then give one the ball; then the other person the ball. I've said quite candidly that Markelle is a point guard, and Ben was Rookie of the Year as a point guard. We mix and match a little bit, but it is a challenge."
Perhaps the Sixers could figure out ways to better hide and utilize Fultz off the ball if he's the lone non-shooter on the floor. But that will never be the case for the beginnings or ends of games as long as Simmons is in Philly.
This is the root of the problem: The combination of Fultz and Simmons doesn't mesh now, and as reactionary as this sounds, it doesn't seem like it ever will. It's a small sample size, but they've shared the floor for 98 minutes this year, a span in which the Sixers have been outscored by 6.3 points per 100 possessions.
"I think that there is a genuine desire from their part to want to make it work. Math wouldn't say that," Brown said Sunday night. "When you look at them in isolation, they're pretty impressive numbers…those two on the floor together, we're all trying to get through it."
What can the Sixers do in the meantime? In the 23 minutes in which Fultz has taken the court alongside Embiid, Saric, Redick and Covington instead of Simmons, the Sixers have outscored their opponents by 13.5 points per 100 possessions. Fultz has been a big reason why, as he's attacked the rim more, shot better and pushed the pace.
"He's shown that when he's willing to, he can get that 15-foot jumper any time, and some of his moves in the paint or on the break are the kinds of things most guys just can't do," one Eastern Conference scout said. "He's played like 25 NBA games. We need to give him time."

Matteo Marchi/Getty Images
The Sixers' coaching staff is already impressed with some of the strides Fultz has made defensively. He spent the first handful of games this year ceding layups on both dribble drives and backdoor cuts. But the coaches didn't have many problems with his effort. Experience, they believe, will plug most of these holes.
It's on the offensive end where things will get tricky. Fultz has tossed up six corner threes this year, drilling two. The shot is creaky and stiff, but if he grew confident enough to consistently shoot them, he could solve some of these issues, even if his percentages never climb.
Look at Boston Celtics guard Marcus Smart as an example. He jacked 4.6 triples per game last year, despite connecting on just 30.1 percent of them, and the Celtics offense soared when he was on the floor.
Making shots is obviously important, but sometimes the threat of splashing a three is enough to do the trick. Players, after all, aren't robots. When you're flying around the floor on defense, it's hard to remember that certain players are supposed to be left open.
Liam Doyle

@LiamDoyleNBA

Bazemore completely ignoring Fultz, makes things so much harder for everyone else https://t.co/1iEyvQOqNa
Of course, the Celtics, or other teams that thrive despite playing a non-shooter, don't have to feed a 7-foot machine on the low block. Embiid is great, but from a team-defense standpoint, there are few offensive sets easier to guard than a post-up. Defenders can key in and think.
Which leads us back to the Sixers' problem and how they and Fultz could wind up derailing each other in a self-fulfilling cycle. It's not that the Sixers aren't talented or that the pieces can't fit. It's just that their puzzle is more complicated than some of those their Eastern Conference contenders are playing with. The margin for error is thin, and the need for creativity is high.
The Sixers already have two stars who possess distinct skill sets that need to be complemented by the right mix of players. They don't have room for a third. It won't be impossible for Fultz to learn how to play alongside Simmons and Embiid, but given what we've seen so far this year, the odds of him learning how to do so appear to be low.
Yaron Weitzman covers the NBA for Bleacher Report. Follow Yaron on Twitter, @YaronWeitzman, and sign up for his newsletter here.