Alex Smith Believes Chiefs Are Only Committed to Him at QB for This Season
May 18, 2017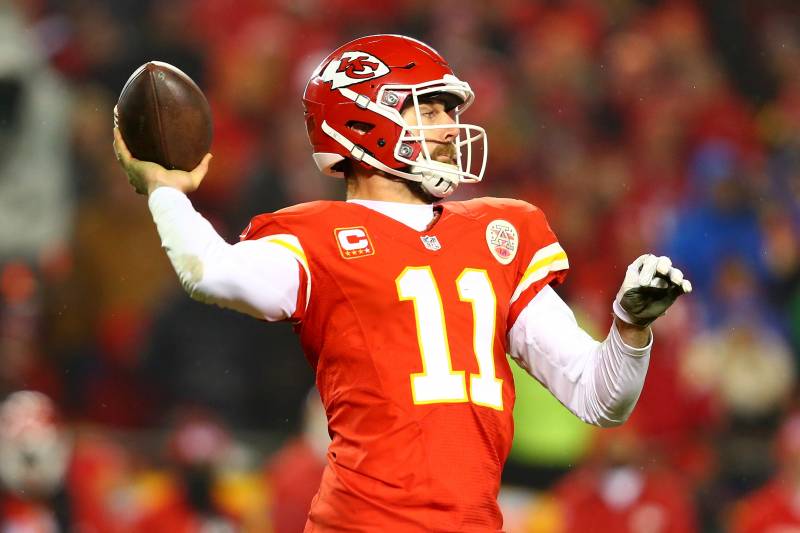 Dilip Vishwanat/Getty Images
Alex Smith knows his time with the Kansas City Chiefs may soon be coming to a close.
Speaking to reporters Wednesday, Smith said he understands the 2017 season could be his final one with the franchise following the Chiefs' decision to select Texas Tech quarterback Patrick Mahomes following a trade up to No. 10 overall.
"I think [the Chiefs are] committed to me [only] through this year," Smith said, per ESPN.com's Adam Teicher. "That's just the nature of it. If you don't go out there and perform, I mean, coach [Andy] Reid and [quarterbacks coach Matt Nagy] are very honest. You've got to go out there and do your deal. We all have to."
However, Smith noted that regardless of whether Mahomes was in tow, he would need to be at his best to maintain a stranglehold on the starting job.
"Whether or not we drafted Patrick, it doesn't change that, right? If you're not good enough and didn't get it done, you're not going to be around long. That's just our culture. I know it. That's the nature of the position."

OBJ's Trade to Cleveland Has the Browns Hyped

Le'Veon's Power Move Pays Off After Signing Massive Deal with Jets

Friends to Foes, Ex-UGA Teammates Meet in Super Bowl

Cooks Gave a Super Gift to This Rams Employee

Mahomes Loves Ketchup as Much as Torching Defenses

Bears Hoping to Ride Club Dub to the Super Bowl

The Worst Fantasy Football Punishments for Last Place

NFL Players Bring Soccer Traditions to the NFL

JuJu Is a Man of the People

Bills Superfan 'Pancho Billa' Continues to Inspire

Happy 26th Birthday to OBJ 🎉

Mahomes Is 'Showtime' Off the Field Too

Thielen's Ride from Underdog to Record-Breaking WR

Shanahan and His Son Carter Are Hyped for Carter V

Browns Winning Off the Field with Community Service

Conner's Journey from Beating Cancer to Starting RB

Does Donovan McNabb Deserve Your 2019 Pro Football Hall of Fame Vote?

B/R Fantasy Expert Matt Camp Gives His Picks for Keep or Release After Week 2

Does Hines Ward Deserve Your 2019 Pro Football Hall of Fame Vote?
As things stand, Smith is scheduled to be under contract with the Chiefs through the end of the 2018 season.
But if the Chiefs are ready to hand the keys over to Mahomes following his rookie season, they will have an opportunity to cut ties with Smith at a discount.
According to Spotrac.com, cutting Smith before June 1 of next year would save the Chiefs $17 million since they have an out that would allow them to eat just $3.6 million of dead cap.
For now, though, Smith is locked in as the Chiefs' starter.
"I don't worry about Alex on this," head coach Andy Reid said, according to the Kansas City Star's Terez A. Paylor. "Alex knows we trust him. Alex is the starting quarterback. Nothing is going to change there. The kid is going to take some time. He understands that."