NBA Rumors: Latest Buzz on Rudy Gay Trade, Blake Griffin and More
November 20, 2016
Rocky Widner/Getty Images
It wouldn't be the early throes of NBA rumors season without members of the Sacramento Kings and Blake Griffin popping up in rumblings.
The Kings remain one of the superstars of the deadline for many reasons, and not just because the organization throwing in the towel and trading DeMarcus Cousins makes all too much sense. 
Rest assured other deadline usuals such as the Boston Celtics will contribute in time. For now, it is all about the Kings, dealing with speculation around a guy like Griffin and the all-important contract extensions. 
Let's get started.
George Hill's Contract Extension
Gene Sweeney Jr./Getty Images
The Utah Jazz brought on veteran point guard George Hill as something of a stepping stone for intriguing youngster Dante Exum.
Now talk has moved toward an extension for Hill.
Hill has been one of the more interesting surprises of the early season. Though the sample size is small, it impresses—the IUPUI product has posted averages of 20.4 points, 5.0 assists and 2.9 rebounds per game on 54.1 percent shooting in 33.9 minutes.
Other than the rebound totals, each number dwarfs most everything Hill has done elsewhere since entering the league in 2008-09. This helps explain why ESPN.com's Marc Stein heard the Jazz have an eye on extension talks: "According to the latest rumbles in circulation on the matter, Hill has emerged as Utah's priority here."
As he should. Proven veterans with years of playoff experience don't come around often for a franchise such as the Jazz, who have to scratch and claw to make noise in free agency and hit it out of the park in the draft to compete.
The trick? Getting Hill a number worthwhile enough to forgo a trip to the market. If he finds a way to keep up this pace, Utah won't be the only franchise opening up the checkbook.
It appears the Jazz want to get out in front of this before it gets out of hand.
All Quiet on the Blake Griffin Front
Gus Ruelas/Associated Press
It was easy to point out Griffin as an obvious trade target after his erratic time with the Los Angeles Clippers last season, highlighted by the odd punching incident that only kept him on the shelf with an injury longer.
Alas, Griffin remains with the Clippers and through 13 games boasts rather typical averages of 21.6 points and 9.4 rebounds per game on 48.6 percent shooting from the floor.
Still, fans can expect to hear Griffin's name floated sooner or later. But insiders such as ESPN.com's Zach Lowe have already cautioned against any sort of move. Buried in a column about where the Oklahoma City Thunder go from here, Lowe mentioned Griffin has no plans for a move. 
"There is no sign Blake Griffin wants to come home, per several sources," Lowe wrote.
Short, sweet and to the point. If Griffin feels out of place or wants to play a bigger role on a contending team, there hasn't been much of a peep to support it. Griffin played college ball at Oklahoma, and his slotting in with Russell Westbrook would seem fun, but most should see what he and a healthy Clippers team can do for once—they currently sit on a 12-2 record.
Now, if an injury or two hits and the team starts underwhelming again, this tune might change. But for now, Griffin isn't a name to watch closely on the mill.
Rudy Gay Rumblings Begin
Rocky Widner/Getty Images
Step aside, Cousins—the rumblings out of Sacramento right now pertain to Rudy Gay.
Gay hasn't been a great fit with the Kings, an odd sort of stopgap solution to help a team win now while grooming young talent. Fans have heard his name on the block in the past, though nothing has come of it.
Now the Connecticut product sits in a lose-lose situation. He's 30 years old with one year left on a deal after this season, but his numbers haven't been great with a struggling Kings team. Last year over 70 games, he dipped to 17.2 points per game, matching the lowest total of his career after his rookie year.
Per the Lowe writeup, the Thunder might still have an interest.
"They remain interested in bigger wings, including Rudy Gay, sources say, in part because such a player would slide everyone down to their intended spots: Oladipo to the bench, and Andre Roberson back to defending shooting guards," Lowe wrote.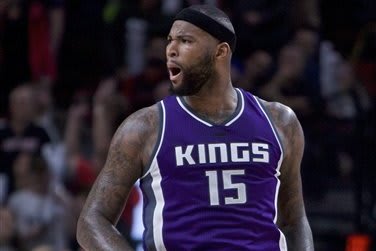 McCollum and the Blazers Snapped Postseason Losing Streak for "Jennifer"

Stars Invest in Plant-Based Food as Vegetarianism Sweeps NBA

The NBA Got Some Wild Techs This Season

Jarrett Allen Is One of the NBA's Hottest Rim Protectors

Wade's Jersey Swaps Created Epic Moments This Season

Westbrook Makes History While Honoring Nipsey Hussle

Devin Booker Makes History with Scoring Tear

29 Years Ago, Jordan Dropped Career-High 69 Points

Bosh Is Getting His Jersey Raised to the Rafters in Miami

Steph Returns to Houston for 1st Time Since His Moon Landing Troll

Lou Williams Is Coming for a Repeat of Sixth Man of the Year

Pat Beverley Has the Clippers Stealing the LA Shine

LeBron Keeps Shredding NBA Record Books

Young's Hot Streak Is Heating Up the ROY Race with Luka

LeBron and 2 Chainz Form a Superteam to Release a New Album

Wade's #OneLastDance Dominated February

Warriors Fans Go Wild After Unforgettable Moments with Steph

Eight Years Ago, the Nuggets Traded Melo to the Knicks

Two Years Ago, the Kings Shipped Boogie to the Pelicans

ASG Will Be Competitive Again If the NBA Raises the Stakes
It's a good thought for the Thunder—and almost too good to be true.
Gay fits into the Oklahoma City lineup incredibly well and even provides the hypothetical situation with some interesting small-ball lineups. Extensions for guys like Steven Adams mean the cap-space situation next year might not lend itself to major splashes in free agency, anyway.
But this more than anything would hinge on the Kings, an organization clearly too stubborn to blow it up. Gay is a movable asset, but a team like the Thunder will need to give up what the Kings want—which even the front office doesn't seem to know right now, if anything.
This is something to monitor ahead of trade deadlines. As usual with rumors around the Kings, the ball rests in their court.
All stats and info via ESPN.com unless otherwise specified.
Follow Chris Roling (@Chris_Roling) on Twitter.