Cincinnati Reds Report Cards: Brandon Phillips
September 29, 2009

Reds' second baseman Brandon Phillips is next up to be graded on his performance this season.
Phillips has been as steady as anyone this season. The longest stretch of the season for him without a hit was six games. From Apr. 15 until Apr. 23, he went 0-21 with an OBS of only .087. Other than that mini-lapse, Brandon has done well at the bat.
He hasn't had much time off this season, playing in 147 of 156 games to this point.
Phillips has also had a decent season with men in scoring position. He is batting .291 with an OBP of .335.
He has already set a career high of 95 RBI, though he hasn't demonstrated the power that he displayed in 2007 when he belted 30 HR. This is the third consecutive year that he has hit at least 20 HR and stole more than 20 bases.
Aside from the couple of occasions when he cost himself a base or more, because of not running full bore on a long drive, he has proved to be a fierce base-runner.
Brandon has 40 multiple-hit games this season, the high being three on 11 different occasions.
His most productive game was on May 5 against the Marlins when he was 3-for-5, with a HR and six RBI.
He again ranks among the top in fielding percentage among second basemen, with a .987, committing only nine errors thus far.
His momentary lapses of hustle have cost him and the team at times. In the past, he has been disciplined by managers for this lack of focus.
A Gold Glove winner last season, it strikes me odd that Brandon hasn't been included on an All-Star squad so far in his eight year career.
Phillips leads the team in games, hits, triples, RBI, SB,  and TB. There has been some discussion of him moving to shortstop (where he started his career), to make way for one of the younger players, because of lack of consistency at by the team at that position.
His stats so far this season:
| | | | | | | |
| --- | --- | --- | --- | --- | --- | --- |
| AVG | RUNS |      HITS |         HR |      RBI |      SB |    OPS+ |
| .279 |     74 |       156 |          20 |       95 |      25 |     101 |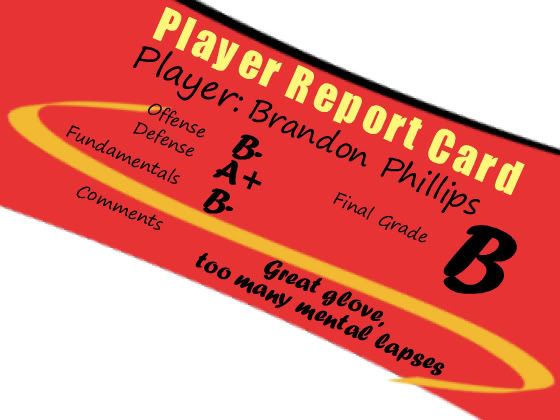 Next up: shortstop Paul Janish
Caesar Cliffius has spoken
sources: Baseball-Reference.com
Cliff Eastham is a BR Featured Columnist for the Cincinnati Reds
(c) 2009 Clifton Eastham
All Rights Reserved